Recap of the first weekend of December (1-2).
This weekend was going to be a busy, but very exciting one – December 1st marked the day I would take possession on my new ski house! I had gone under contract in September, finally closed in mid-November, and then rented back to the previous owner for the rest of the month, so this felt like a long time coming.
However, as possession day neared, I started to wish that it wasn't Saturday. My friend Lynne's baby shower was that day (which I was having to miss), and I also had my work holiday party that night (which meant a rush to get back from the mountains). Fortunately, the weather provided a great out for me. On my way to happy hour from my office in Denver Friday, it started snowing… and a few hours later, Vail Pass closed, making it impossible for me to get there to take possession. I texted the previous owner and we agreed to do the final walkthrough and key transfer on Sunday instead. Hooray!
That meant I was able to sleep late on Saturday morning, and hit the gym. Earlier in the week, I joined Chuze Fitness, a regional chain of gyms that's extremely inexpensive but has all the amenities and services of a fancy gym. Up till Saturday, I had been checking out the cardio / weight equipment (A+) and aerobic classes (they offer Pound, my favorite!!). But I was thrilled on Saturday morning to finally try their "Team Training" class – a mix of running, rowing, and strength training that's supposed to be very similar to Orangetheory.
I had been hearing about Chuze for at least a year from my good friend Heather, who raves about Team Training, so I was especially excited to get to the gym Saturday and see her waiting for class too. Yay! Heather knows what a huge Orangetheory fan I am, and she was excited to see how Team Training compared. Verdict? I loved it! I was nursing a cold (plus, I always have trouble converting my Florida running paces to Colorado altitude paces), so my workout wasn't quite as intense as I would have liked. However, that was totally on me and the effort I put in – the Team Training workout was very similar in style to Orangetheory and I'm really excited to see what I can do in these classes when I'm feeling better.
After Team Training, I hustled home for a quick shower, then quickly wrapped my gifts and started the drive down to Highlands Ranch, where my good friend Sarah was hosting the baby shower for Lynne. Sarah is always the hostest-with-the-mostest, and I wasn't surprised at all to see her home beautifully decorated with a woodland theme for Lynne and her little baby boy.
At the shower, we had a great time playing baby-themed games, enjoying the delicious brunch spread Sarah had made, and of course, opening presents. Lynne is very environmentally-conscious, and she had noted that she was more than happy to receive gently-used gifts in addition to brand new, so our friend Paula had gone to some thrift stores and found several bags of adorable outfits that we all oohed and aahed over. Particularly given how quickly babies grow and how much I've heard that many outfits only get used once (or not at all), I absolutely loved the idea of welcoming thrifted clothing; I will definitely be following Lynne's lead on this someday.
I ducked out of Sarah's shortly after presents, knowing I was short on time, but needing to make one stop before I went home: to Ikea, where I had my eye on two nightstands for the master bedroom of the ski house. The previous owner had absolutely exquisite taste, and in trying to duplicate their style as much as possible, I discovered that the nightstands were from Ikea and only $30 each. Score! I took the shortcut to the market near the end of the rambling loop, and found not only the tables I needed but also various other necessities (a bathroom rug, some dishes, a welcome mat) too. I managed to get everything I needed and check out in just 20 minutes, which I think is an Ikea record 🙂
And good thing, because I really didn't have time to waste. I hustled home, swapped my jeans and sweater for a gown and heels, and then hopped in an Uber to head downtown to my friend Scott's house, where he and his wife were hosting a pre-party before the main holiday party.
Scott and Cori have a beautiful home in Cherry Creek, and Cori had done a stunning job decorating it for the holidays – I couldn't resist a photo in front of the Christmas tree! Thanks to some bad Google Maps directions, I got to the pre-party pretty late, but we all ended up heading over to the official party venue later than expected, so I still had time to catch up with colleagues, many of whom I hadn't seen since the election.
When we got to the actual party, I discovered that I was quite appropriately dressed… as my coworker Matt's wife Elyse was wearing the same exact dress as me! Fortunately, it was in a different color so neither of us felt silly 🙂 This year's holiday party was at the Rockies Air & Space Museum, and I had a fabulous night checking out the planes, enjoying the entertainment, and catching up with colleagues.
Since Denver Advisory people work all over the country, our annual holiday party and promotion day party are sometimes the only times we get to see each other (outside of the occasional airport run-in). I ended the night with a stop off at a local brewery on the way home, where I skipped the beer but was still psyched to catch up with a good friend I hadn't seen in a few months.
Sunday morning, I woke up tired but excited. It was finally possession day! It took me a solid hour to load up my car with all the stuff I had amassed to start furnishing the house (hooray for Black Friday sales!), which put me a little later than expected, but still mostly on time. And, I was thrilled that the roads were easy and dry – so much better than it would have been going the day before!
Two hours later, I met the previous owner at the house for a final walkthrough, and he gave me lots of great tips on little intricacies and nuances. With a house that's over a century old, there were plenty of these! I'm really grateful that he was so accommodating throughout the sale – even sending me a copy of his old inspection report so that I could have extra insight. And once the walkthrough was done, the keys were handed over and the place was all mine! (Okay, mostly the bank's, but also mine!)
Once the walkthrough was complete, my friend Chad joined me to help unload the car. It's amazing how much faster it is to unpack than pack… we got everything inside in only about 15 minutes. Then, the mountains were calling, and we headed over to Vail to get in some skiing!
The snow was absolutely amazing, particularly thanks to the storm the day before. It didn't feel like early season at all – it was as good as February last year! We both loved the fresh powder on the mogul run at Game Creek, and we bounced all over the front side of the mountain getting a lot of different runs in.
My only complaint was that it was pretty cold, and my fingers and toes were feeling it. I think this year I need to invest in some extra warm gloves, and after some research, am leaning toward the Hestra Heli's – anyone have them? And while I can't really fathom shelling out $1000 for a pair of Surefoot ski boots, I learned that there are a few other companies making electronic heated boots that are much more reasonable… so I may consider grabbing a pair of those too. With snow like this, it's going to be an amazing winter, and I don't want anything to get in the way of some great skiing!
Chad and I headed back to the house in the afternoon, and tried to get things a little bit put away and organized. I had warned him up front that while he was welcome to come stay in order to get in two days of skiing without driving, it was going to be a little bit like camping, since most of the furniture wasn't being delivered until Monday afternoon! But it was really fun to have a partner-in-crime to explore the adorable little town of Minturn that night.
We hit up the Minturn Saloon (an off-the-beaten path celebrity favorite) for dinner, and Minturn Country Club for drinks after. I'm so psyched that my house is right on Main Street, which makes it really easy to just stroll down the block and immediately be at the local bars, restaurants, and shops! Minturn is also known for the "Minturn Mile", a three mile backcountry trail that goes from the Back Bowls at Vail right into town, ending a two minute walk from my house. I've been warned that you need to go with someone who knows the Mile very well before you attempt it on your own, and am taking that very seriously, but I'm so eager to give it a try.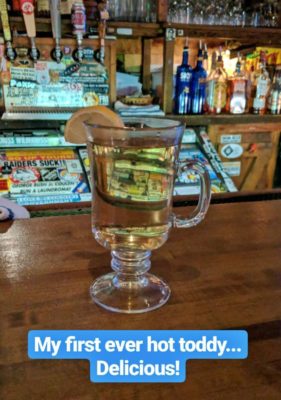 My "weekend" wrapped up late Monday night, as Monday was a mix of skiing, work, and finally getting (almost) all the furniture delivered. I feel so lucky to now have a place so close to the mountains – it makes it really easy to ski a few turns in between work and conference calls! I have a feeling that whenever I have work from home days, I'll be working from Minturn for most of them in the winter, and using skiing instead of the gym as my workout a lot more often 🙂
Looking forward to a fabulous winter season!