Recap of the weekend of December 7-9
This Friday kicked off with my very first "First Friday" as a Town Trustee! This event, an informal breakfast meeting with a few Trustees, was what first got me excited about town politics, so I was thrilled to now get to host it.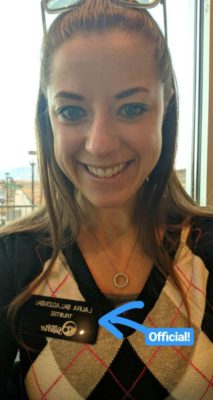 A lot of the regulars were in attendance, but so were some new faces – a few of whom said they had voted for me, and had questions about how I was going to implement some of the ideas I had included in my campaign. It felt amazing to have complete strangers say that they had voted for me (though I guess since I got more than 3,000 votes, it should have been obvious that I didn't know everyone who voted for me), and I was excited that they liked my ideas. I felt guilty that I hadn't yet been able to implement them, but I've only been on the job for a week now 😉
After First Friday, I went home to get as much work as possible done… with a quick break at lunchtime to read to the kiddos at Rock Creek School, which is always one of the highlights of my week!  This week we read an adorable book called Santa is Coming to Colorado, which I just loved, even though it was clearly a mass-produced book that just filled in some Colorado things on certain pages. Then at the end of the day, I packed up my car, picked up Chad, and headed for the mountains! I was really excited for another weekend of skiing and settling into my new mountain ski house. (My coworkers are trying to get me to refer to it as a chateau, ha!)
I had forgotten that it gets dark so early, and I wasn't thrilled to be doing the drive in the dark. I had been pretty nervous when I was driving back on Monday night, and ended up going really slowly, which wasn't fun. But it turns out that it actually wasn't the dark that was the problem; it was how icy the roads had been Monday. This time, with good conditions, the dark was totally fine! That was a relief.
We got into Minturn around 7pm, and while the original plan had been to cook dinner in the kitchen for the first time, we instead decided to hit up the burger and pizza pub on the corner of town. Boy, I am so glad we did that — The Stache turned out to be such a local gem! Friday night was $10 Panino night, and these sandwiches turned out to be a cross of a panini and a calzone (basically, a grilled sandwich where the bread was actually pizza dough).
As you can see from the pic, they were absolutely humongous – I ate two of the four pieces and was totally stuffed. And, I had asked for mine without olives and the cook forgot, so our awesome bartender gave me that one for free while the cook made me a new one! I felt really bad about that (I would have just eaten it with the olives, and told her so), but it was nice to walk out with a heavy box of leftovers, which I froze for later use as apres-ski meals 🙂
I got an amazing night's sleep Friday night, with huge thanks to this incredible mattress I took a chance and bought from Amazon in a great sale for only $180. It is sooooo comfortable, and now I want to see if I can replace my mattress at home with it too. It's just the absolute perfect level of soft and luxurious, but still supportive, and I am in love!
However, when I woke up Saturday to ski, I realized that while I may have gotten a great night's sleep, I probably hadn't been smart in doing a tough Chuze Fitness Team Training workout Thursday morning that included a lot of squats. My glutes were super sore! I hoped I'd be okay to ski as long as I took it easy.
When we got to Lionshead (the base at Vail), we found that the resort was offering free demos of women's skis, so I took advantage of the opportunity to try a new pair. While I'm getting much better at skiing, I really don't know much about equipment. I deferred to the experts doing the fitting, and ended up with the Rossignol Spicy 7s, which I was told would be good for the black groomers I like to ski. And they were totally amazing! I felt really strong and confident on my runs, even though the snow was much more skied off than last week right after the storm.
We took a break for lunch around noon and headed for one of the on-mountain restaurants to meet up with my coworker Colin, who was in town for an awesome package he got through Marriott to ski with legendary skier Bode Miller. Part of his package included a big group lunch with Bode, which ran longer than he expected. And when I walked in to meet Colin, I heard the news from a few others at the table before I heard it from Colin himself – he had proposed to his girlfriend on the slopes the day before!
Unfortunately, I wasn't able to stay and really celebrate with Colin, since I needed to get back to my house and await the final furniture delivery. I felt really guilty that our schedules were complete opposites and I didn't get to ski with him, though somewhat better since I figured he'd rather have time with his new fiancée than with me butting in! And I knew I'd see him later in the week on my final work trip to Florida.
Chad and I headed back to my house for quick showers and time to catch up on email while we awaited the delivery from American Furniture Warehouse. Once it came, we were then ready to drive back to Denver for a holiday party Chad's friends were hosting. Although we were again driving at night, the drive wasn't bad, furthering my suspicion that the only reason it was bad before was because it was snowy. It really is a pretty easy drive between Denver and Vail when the roads are good!
But after all that skiing, I was totally zonked… so while we had gone back to Denver specifically to attend a holiday party, I was so full of yawns at dinner that I called it a night immediately after, skipping the party entirely. Whoops! That was kind of a waste of a drive, but once we were already back, there was no point in forcing myself out when all I wanted to do was sleep. For future, I am noting that if I am going back to town for some sort of event, I shouldn't ski the whole day 🙂
Sunday morning started out pretty slow and lazy – reading in bed (my favorite weekend activity!), a delicious brunch, and some shopping at Marshall's before I headed back out to the mountains. This time, it was sunny and bright. I really don't mind this drive when the weather is that beautiful! I was able to spend the drive catching up on some phone calls and podcasts, and of course, enjoying the views.
I made it back to Vail around 2:30pm, and decided I'd go for a few quick ski runs before heading to my house. I parked in the Lionshead garage that's walking distance from the gondola, thinking my timing was perfect as I'd get close to the two hour free limit when the lifts closed at 4pm. But it turns out that early season, the lifts close at 3:30pm – so I was really only able to get a few runs in before I had to head back down to the car. Noted for next time… but also noted how much I love the late afternoon sun on the mountain!
Finally, I headed to the grocery store to stock the shelves, and then to my house for a mini "retreat". That was my original plan for the weekend – bring some books and my laptop up to the mountains and spend all day Sunday catching up on emails / etc, uninterrupted. Unfortunately, by the time I got to the house after hitting a grocery store and Home Depot for a few other necessities, it was already 6pm… hardly enough time to get much done. My fault for trying to fit too much into the day :/ But I was at least able to catch up on some work emails, and do a ton of prep work for the Town Board meeting I had coming up Monday night.
This was my first full weekend with the ski house all furnished and ready, and while I was afraid it would be a passing novelty, I am loving it so far! It was such a treat to be able to mix skiing with relaxing / cooking / catching up on work, and I am looking forward to doing lots more of this over the course of the winter. Let the season begin!