Ever since my promotion to Director, my travel schedule has gotten a little bit crazier, as I'm now responsible for managing multiple projects across multiple clients – which means a lot more travel. I thought I had packing down to a science, but I recently added a new product to help me corral my stuff: EatSmart's Packing Cubes.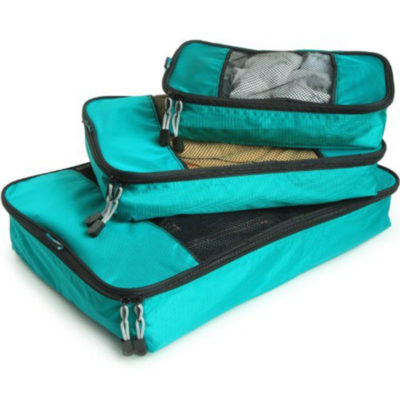 I had never bothered with packing cubes before, as I already typically roll my clothes to save on space – couldn't I keep doing that without a packing cube? However, I discovered that packing cubes are also good for organization. When I'm visiting multiple destinations in a week, it's nice to be able to separate my clothes by the location where I'll need them. I just pull out the packing cubes relevant for that particular location, and leave the rest tucked into my suitcase.
I like that EatSmart's design has open mesh on one side – it means that when I'm taking my dirty gym clothes home, they're still able to breathe. (Pro tip: on Thursdays, I lay my sweaty gym clothes out across the trunk of my car to dry while I'm at the office, then put them into a plastic bag and into my suitcase after I drive to the airport. They're a lot less gross when I get home when they've had the opportunity to dry off first!) Furthermore, the material for the rest is still very lightweight – it doesn't feel like it adds any extra bulk to my suitcase by packing them in there.
Giveaway!
EatSmart wants to give one lucky 50by25 reader a set of packing cubes! This giveaway is open to anyone in the US. To enter, leave a comment telling me your best packing tip, and log that comment in the Rafflecopter widget below (if you're reading this in Feedly/Bloglovin'/email, you'll need to click through to enter). The contest will run through next Friday October 5th at 11:59pm MT, at which time a winner will be chosen by random drawing and contacted by email.
And if you don't win the giveaway, the packing cubes are still pretty affordable, at just $14.95 for a set of three. Click here to purchase.
Disclosure: EatSmart sent me two sets of packing cubes to review. All thoughts and opinions expressed in this post are my own.