A day late on these… my apologies! Hope to be back on track next week.
Want to stay in bed longer? Here's what I've been loving, laughing at, and getting intrigued by all week long. Now cozy up with your laptop/tablet and enjoy 🙂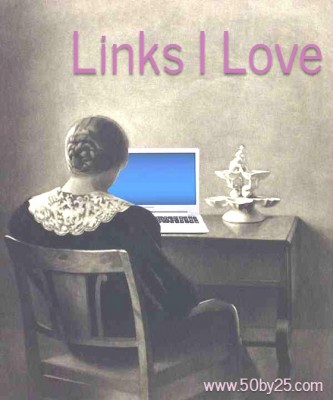 CAREER
How much of a pay raise can you really ask for?. (CNN)
This Giant Company Has a 2 Word Dress Code and It's Actually Kind of Brilliant. (Inc)
Commentary: How Friendship Holds Women Back in Their Careers—and What They Can Do About It. (Fortune Magazine)
Why your desk job is so damn exhausting. (Vox)
Smart companies hire people who don't believe in their mission. (Quartz)
Why Does the School Day End Two Hours Before the Workday?. (The Atlantic)
PRODUCTIVITY/SOCIAL PSYCHOLOGY
This Is How To Make Your Life Awesome: 6 Secrets From Research. (Barking Up the Wrong Tree)
How to Make a Big Decision. (New York Times)
From Conference Calls to Tea Ceremonies, Here's How to Make Your Next Gathering Count. (Heleo)
Scared of too much color in your life? Learn to let go of your fear — and find more joy. (TED Talks)
How to get out of a mental rut, according to a psychologist. (Well & Good NYC)
Which Is Better, Rewards or Punishments? Neither. (New York Times)
Is furiously appsturbating keeping you up at night? Here's how to tap out. (Well & Good NYC)
Imma let you finish because there's a solid (psychology-backed) reason to stop interrupting people. (Well & Good NYC)
HEALTH/FITNESS
The Case for Sleeping on the Floor. (Furthermore from Equinox)
Depression in Mothers Impacts a Child's Immune and Psychological Health. (New York Times)
The Care and Keeping of You. (Kelly in the City)
It's Official: Probiotics Are Not Harmless Cure-Alls. (Lifehacker)
Why meal timing matters when you're working out while intermittent fasting. (Well & Good NYC)
Try This Ritual for More Self-Control When You Eat. (Lifehacker)
The Case for Pulsing. (Furthermore from Equinox)
The Camaraderie of the Long-Distance Relay Runner. (New York Times)
TRAVEL
Singapore's Changi Airport Blazes a Trail by Embracing Automation. (Bloomberg)
Poland Dreams Big With New International Airport, Promising Gateway to Asia. (Bloomberg)China's Bullet Trains Pose a Threat to Hong Kong Airlines. (Skift)
5 Ways an Emirates-Etihad Merger Would Transform the Airline Industry. (Skift)
An Update on Southwest's Hawai'i Plans. (Cranky Flier)
Moxy, from JetBlue Airways founder, will be a 'tech company that just happens to fly airplanes'. (Dallas Morning News)
Air Canada Begins Using a New Way to Distribute Fares to Partners. (Skift)
Congress passes bill at 2:52 A.M. giving airline passengers more legroom. (Secret Flying)
CEO says American Airlines may bar changes to nonrefundable tickets, if Congress limits fees. (Dallas Morning News)
American Airlines to remove business-class seats to make more room for premium economy. (Dallas Morning News)
Why Emirates Waited So Long to Add Premium Economy. (Skift)
Delta Will Fly Newest Jets With Fewer Middle Seats on Key Business Routes. (Skift)
Delta Air Lines raises bag fees, joining United and JetBlue. (Dallas Morning News)
Ryanair abolishes its free baggage policy. (Economist)
Why United Is Considering Putting Flatbed Seats on New Domestic Jets. (Skift)
Tours and Experiences: The Next Great Untapped Market in Online Travel. (Skift)
7 Issues Confronting the American Society of Travel Agents. (Skift)
Train Your Front Desk Team On The '5 Pillars Of Hospitality Excellence' –. (Hotel News Now)
Cruise ship rescue: How to survive for 10 hours in the water. (BBC News)
Growing Pains for Influencer Marketing Raise Questions for Travel Brands. (Skift)
TripAdvisor heralds landmark moment as fake reviews business is busted. (Tnooz)
Gen Z Travelers Will Overtake Millennials by 2019. (Skift)
Millennials Are Driving Sales of Tech-Enabled Airstream Trailers. (Skift)
MISCELLANY
What I actually mean when I say "I'm sorry". (Well & Good NYC)
To Get Your Kid to Do More, Talk Less. (Lifehacker)
'We Are All Accumulating Mountains of Things'. (The Atlantic)
How I Stopped Blowing My Budget On Weekends. (Girlboss)
Keeping Food Spending Low When You Live in a Food Desert. (The Simple Dollar)
Making the Super Quick and Convenient Lunch Much More Frugal. (The Simple Dollar)
An Oral History of How Maybelline Great Lash Came to Be the World's Most Recognizable Mascara. (Fashionista)
"In the Age of Fear". (Kelly in the City)
How Many of These Odd Friendships Are You Stuck In Right Now?. (Jezebel)
According to the "friendship theory," there are only six types of friends you can have. (Hello Giggles)
Finally, for a (sad) laugh: I'm Starting to Wonder If My Membership In This Fraternity Will Hamper My Future SCOTUS Prospects. (McSweeneys)
---
Like this post? Want more fun articles in real time? Follow me on Twitter or become a Facebook fan to get similar stories all week long.