This was a super short weekend as I prepare to go off the grid for a full week. I'm volunteering as a counselor at California Experience Camp, a totally free camp for children who have experienced the death of a parent. I've gone through a lot of training to prep me for it, but I'm still pretty nervous and don't fully know what to expect of the week. Wish me luck!
Between prepping to be out of office for a full week (the longest I have ever taken off work in my entire career) and attending a funeral in Chicago on Wednesday, this hasn't been a typical week. But I semi-kicked off my weekend on Thursday, by taking the night off to attend a charity event my friend Chris was hosting.
Our mutual friend Jen is a breast cancer survivor. After her mastectomy, she was given a pillow to help make car rides more comfortable… and to pay it forward, she created a charity, JWILL Pink Village, that makes and distributes heart-shaped pillows to other breast cancer patients on the road to recovery. Jen's goal in gifting these heart pillows is to give hope to those diagnosed and shine a positive light on their journey. This week was the one year anniversary of JWILL Pink Village, and Jen has already distributed over 800 pillows in that time! I'm incredibly impressed by her positive attitude and desire to help others, and I was so excited to be invited to Chris' pillow-making party.
I helped out a bit with desserts, and made these healthy coconut kiss candy bars and these fresh cherry cheesecake bars. The coconut kiss bars got pretty melty when they weren't kept cold, but I put the leftovers in the freezer at home and found them to be a yummy sweet treat (that are actually very low in sugar). The cherry cheesecake bars, on the other hand, were less pink, but a huge hit! No one could believe they were lightened up with Greek yogurt and low-fat cream cheese, and several women asked for the recipe. They were a little bit of a pain to make (probably about 40 minutes of active prep), but well worth it for all those compliments 🙂
The party itself was fabulous – I had a great time catching up with a few friends, and also getting to meet lots of delightful neighbors I hadn't had the opportunity to meet before. I started out sewing the pillows on my machine, but then migrated over to stuff the forms and then do the final hand sewing to close up the stuffed pillows… so I got to try a little bit of everything! I am planning to host a JWILL pillow-making party of my own this fall, when my mom (who is also a breast cancer survivor) comes to visit, and I can't wait.
My Friday morning started out with a few campaign things before I turned my attention to work: I led a group run to preview the Superior 5K course (which I'll be running in a few weeks on 8/26), and then attended my town's First Friday event, where representatives from our current Board of Trustees have open dialogue with residents about the latest hot topics.
From there, it was back home to work, work, work, trying to wrap up as much as I could before I'll be out next week. I'm taking a full five days off work (plus not working either this weekend or next weekend), and I think it's the longest I've ever taken off work in my career! I'm already a little anxious about what I'll be coming back to, but my teams are awesome and I know they'll do a great job keeping things buttoned up so the only thing that will probably be a mess is my email inbox 😉
After work, my friend Heather stopped by for coffee before heading out to dinner, and then after Heather left, I had an exciting Friday night of mowing the lawn and heading to the grocery 😉 But I ended up stopping to chat with a neighbor while mowing the lawn, and then running into another neighbor at Safeway… and despite how mundane those tasks were, seeing such wonderful people while doing those chores made me so appreciative of my incredible little town! I feel so lucky to have found my town, which I truly think is the best place in the country to live.
I cooked a quick dinner of health-ified chicken and waffles. I grilled the chicken with tons of seasoning, and then I mixed my waffle batter with garlic, chives, and a scoop of cottage cheese, so it would be savory and protein-filled but also a little cheesy. It was absolutely delicious! My neighbor Alpna has been using her waffle iron for a ton of meals lately (she posted on Facebook about making dosa batter and then cooking it in her waffle iron), and it definitely inspired me… I need to do this more often.
Unfortunately, I didn't get nearly enough sleep as I wanted going into a full week of camp – only 6.5 hours 🙁 I haven't really been sleeping well lately; I've been staying up late (11:30-midnight) but still getting up at my usual time (5:30-6:30) without an alarm, and I can't figure out why. But I woke up feeling decently well rested, so I went ahead with my plan: to sneak in a long trail run before flying out later in the afternoon.
Last week, I enjoyed cloudy skies and no wind on my run. This week, I headed out straight into a strong headwind, and when I turned off that stretch and into the trees, I realized that the headwind was masking some pretty hot temperatures. It was already 75 degrees at 7:00am, and by the time I finished running a little after 9am, it was 83 degrees! I was definitely really sticky and sweaty throughout, but I still really loved the run. It was fabulous to see the beautiful Flatirons now that they weren't hidden by clouds!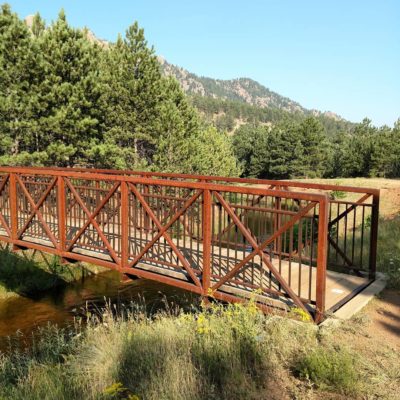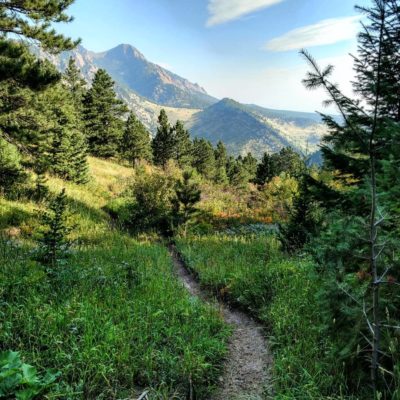 I was meeting with a neighbor for coffee at 10am, so I knew I wouldn't have time to do the full 13.1 mile loop I did last week, unless I was much faster this time. With the headwind and the heat, though, I wasn't any faster, so I skipped the out-and-back through Eldorado Canyon, shaving 1.6 miles off from my run. Bummer, too, because I love the views in that section, and also think the trail is pretty easy there, which probably would have helped me have a faster average pace! But even without that easy part, I kept an average pace of 11:25/mile – which is (to the second) the pace I ran last week. Not bad, especially at 15 degrees warmer!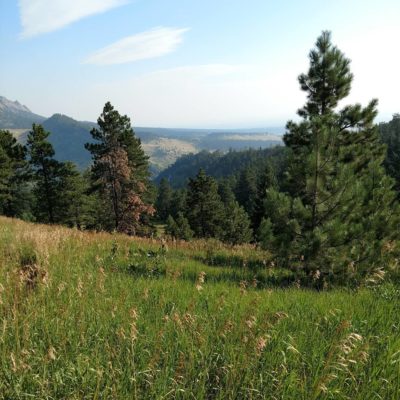 I finished my run at 9:25am, which left just enough time for me to hightail it home, take a quick shower, make a breakfast smoothie, and get to my neighbor Mo's house by 10am. We had a wonderful time sitting on her patio discussing some potential town development plans – and I got to enjoy the sweeping Flatirons views a bit longer! Mo had baked incredibly delicious cranberry muffins, which I gratefully enjoyed, and a few other neighbors stopped by as well.
This meeting just reinforced how much I love my small town – popping by a neighbor's for Sunday morning coffee was never something that happened in New York. And, it also made me realize how invested I am in town politics. I'm really passionate about the various development issues in our town, and it's surprised me (in a good way) how strong my opinions are. I'm happy to talk for hours about the merits and faults of closing a through-street to traffic and whether it should have speed bumps, and find the discussion fascinating. Who knew? 🙂
After Mo's, I headed home for some last minute packing and a very quick wolfed-down lunch, and then was off to the airport. I was able to meet up with a few friends at the airport, who were headed out on vacation, and then it was my own turn to board and fly out – to San Diego, where I'd be meeting a bus to take me to camp.
I'm pretty nervous about camp. I'm sure it will all be fine, but I know it's going to be a lot to handle emotionally. I have no idea what age group of kids I'll have – the girls at camp range in age from 9 to 17, and they haven't told me my bunk assignment yet. Those two polar ranges are quite different, so it's especially hard to get a sense of what my day to day routine will be like. (Will I be coaxing sullen teenagers out of bed at 7am, or dealing with nightmares and first-time-away-from-home tears at 9pm bedtime? We'll see.) But even though I'm nervous, I'm really excited for the experience.
See y'all next week!