This weekend was Cinco de Mayo, which is always one of my favorite holidays to celebrate. Margaritas and tacos, what more can you ask for?! But my annual Cinco de Mayo party this year is becoming an "Once de Mayo" party next Friday; this weekend, I had a "guac off" and a fiesta-themed wedding to attend.
I was working from home on Friday morning, and was able to take advantage of a listen-only all-hands call to chop up nine avocados for the two kinds of guacamole I was making. I never buy avocados (or make guacamole), in large part because I thought they were a pain. Um, what was I thinking?! They weren't difficult at all. I divided the avocados into two bowls, one of which was going to become this healthy yogurt guacamole, and one of which would get turned into tropical guacamole.
Well, in prepping the rest of the tropical guac, I realized that I had confused avocados with mangos in the category of "fruits with a core that's a huge pain to deal with." From now on, I'm only getting the pre-chopped frozen mango for recipes! But it was worth it, as the tropical guac came out delicious… and won third place in the guac off!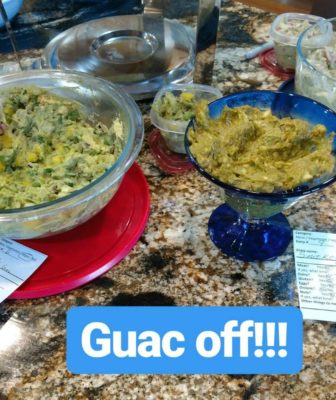 So to back up a bit… my friend Cathryn is quite a foodie, and runs a Facebook group called Put Your Best Food Forward, where she posts dozens of interesting (and usually healthy) recipes every day. Cathryn hosts an annual "ques-off" (cooking competition for everyone to make their best queso dip) every fall, and this spring, she decided to add a "guac off" to the rotation. We arrived at her house with our best guacs (or in my case, two recipes I thought sounded good but had never made until competition day), and enjoyed all the entries with chips plus a taco bar, various desserts, and of course some margaritas to make the voting more difficult 😉 We rated the guacs based on how they went onto a chip, mouthfeel, avocado-y-ness, spice level, and "je ne sais quoi" – those detailed criterion made it a little easier to distinguish between the many delicious options!
When the votes were announced, first place went to the great green guac. It was much greener than the other entrants, and really flavorful, but still fell into the category of "standard guacamole" rather than with strange ingredients – definitely a keeper! On the flip side of things, second place went to a sweet potato guac, which was really interesting and different, but totally delicious – it was actually my pick to win, and I can't wait to make it myself.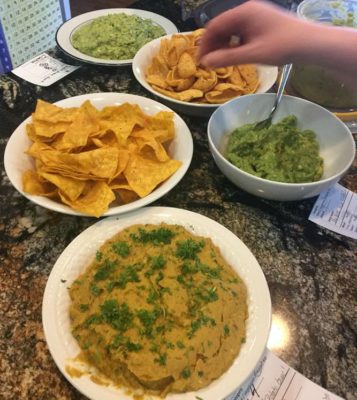 Third place, though, went to our friend Cameo's "It's been a crazy week and I ran out of time!" guac – which she had picked up at Chipotle on the way over 🙂 I, for one, was psyched to be able to compare Chipotle's offering to all the homemade ones – I liked that it was on the saltier / more flavorful side! But we disqualified that one since it wasn't homemade, so my tropical guac took third place. I should probably feel bad that I got beaten by chipotle, but there were 9 guacs in the competition, so mine still did pretty well 😉 I'm definitely going to make it again this week for my own Cinco de Mayo party!
You'd think that would be the end of the night… but I actually went to another neighbor's house for some informal margaritas and catch up. Pretty much the only thing I don't like about my town is that I can't really walk to any restaurants / bars. However, as I'm making more friends in the neighborhood, I'm finding that I don't need commercial places to socialize; it's really nice to get some low-key hang out time at friends' homes, and make our own fun! It was also incredibly peaceful getting to walk home and see all the beautiful stars – I am so lucky to live in Colorado, and in such a wonderful community!
After all that guacamole (and margaritas!), Saturday morning was a bit low key, but I got my butt in gear around 10am. After knocking out some chores around the house, I headed up to Boulder for some hiking. While I planned on doing the same Rattlesnake Gulch run/hike I did last week, my plans were thwarted by mud – the trailhead was closed to prevent people from damaging the trails. Instead, I headed up the road to Boulder to hike at Chatauqua Park.
By the time I got to Chautauqua, it was 12pm. I didn't think much of it till I started hiking and found hordes of people sharing the trails with me. This is why I normally go around 7am or 8am! Although I was listening to podcasts on my way up, I spent the entire hike with one earbud out. My usual MO is to wear both earbuds but remove one if there's anyone nearby, but there were so many people that I was never solo – not my ideal hiking scenario. Still, it was a beautiful day, and a great workout – I made it to Royal Arch in 41 minutes, and then down in 25.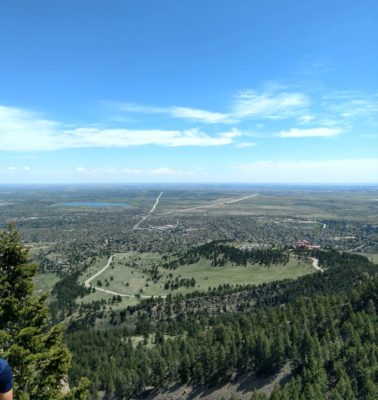 This is getting to be a speedy route for me!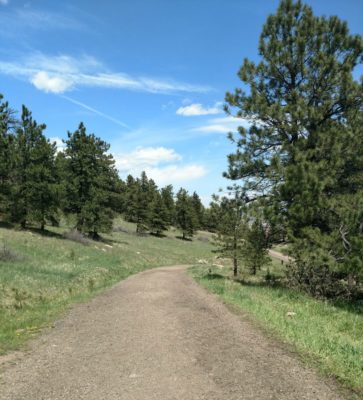 After hiking, I headed home, but didn't get out of my gym clothes yet. My neighbor Kathy, who had given me all the speedwell last week, had called to say she had plenty more if I wanted it… and I did! So I headed over there to dig up several more plastic bins of plants, then headed home to plant them, and capped off the gardening with (finally) mowing my lawn in preparation for the aeration I had scheduled for Sunday. I definitely need to dedicate more time to yardwork now that winter is over!
I ended up spending a bit more time in the yard than I intended, and so was rushed to get myself showered and all dressed up for two fun events: a Kentucky Derby party, and then my friend Claire's wedding.
Claire and Grayson had their wedding in Broomfield, overlooking Brunner Reservoir. I loved how casual the ceremony was – Claire's daughter was at Grayson's side, and Grayson's son and daughter stood by Claire, and all the kids were giggling and wriggling throughout. That didn't stop Claire and Grayson's vows from being incredibly heartfelt and moving – I felt so lucky to get to be there to witness the occasion! And then we headed inside for a Mexican fiesta, including a taco and churro bar. So fun! I also love that their anniversary will always be on Cinco de Mayo, giving them the perfect way to celebrate 🙂
After the night of margaritas Friday, though, I was pretty exhausted, and so didn't stay late at the wedding. Instead, I was perfectly happy to spend the rest of the night cuddled up on the couch in the basement with a blanket and a mug of hot tea, watching / falling asleep to Saturday Night Live. Maybe lame, but I loved it!
I don't have much to report here about Sunday – it was a pretty lazy, but relaxing and peaceful day. I definitely want more days like this! I finally dragged myself up and out of lounge mode in time for dinner (oops), when I checked out a new spot in Denver. Growler USA is a chain that recently opened locations both in Louisville (by me) and Sloan's Lake, and after checking out the Sloan's Lake location, I'm pretty sold. Their beer list was so extensive that I felt like I had to get a flight just because I couldn't decide. Meanwhile, their fried chicken tenders were the crispiest I've ever had – perfection! They're not by any means healthy, but I think I've found my new comfort food indulgence.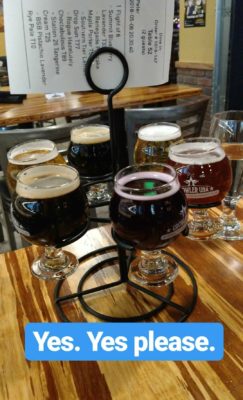 So – another fiesta next weekend when I host my belated Cinco de Mayo party?? I better rest up!