Want to stay in bed longer? Here's what I've been loving, laughing at, and getting intrigued by all week long. Now cozy up with your laptop/tablet and enjoy 🙂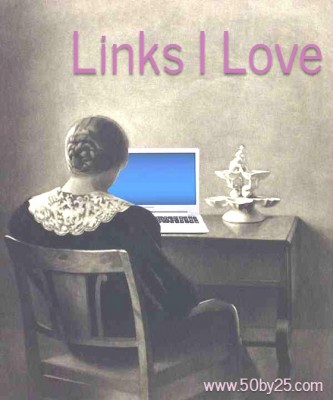 CAREER
Brag to Yourself Before You Head Into a Job Interview. (Lifehacker)
5 Ways To Spot A Toxic Workplace During Your Interview. (Medium)
How to Gain Power at Work When You Have None. (Wall Street Journal)
Are you missing this major opportunity to get ahead in your career?. (Well & Good NYC)
How your workplace is killing you. (BBC News)
Does Every Senior Leader On Your Team Have A Backup?. (Felt Thoughts)
Picture a Leader. Is She a Woman?. (New York Times)
The first 30 days…. (Patty Azzarello)
How Netflix's Customer Obsession Created a Customer Obsession. (Nir and Far)
Who should hold the keys to our data?. (Guardian)
How Facebook Became the Tech Company People Love to Hate. (The Atlantic)
Exclusive: Wal-Mart.com Redesigns As The Anti-Amazon. (Fast Company)
PRODUCTIVITY/SOCIAL PSYCHOLOGY
How High Performers Meditate. (Furthermore from Equinox)
This Is How To Become Mentally Strong: 3 Secrets From Neuroscience. (Barking Up the Wrong Tree)
Young Americans are the loneliest, surprising study from Cigna shows. (USA Today)
How prison changes people. (BBC News)
The Year I Learned to Quit. (New York Times)
The five habits that can add more than a decade to your life. (Guardian)
This One Question Will Make Every Decision In Your Life Easier. (Medium)
The Path to Consistent Exercise. (Deep Existence)
HEALTH/FITNESS
How to Start Working Out. (New York Times)
Runners Should Know the AQI. (Furthermore from Equinox)
Bananas vs. Sports Drinks? Bananas Win in Study. (New York Times)
How Helping Others Helped Desiree Linden Win Boston. (Runners World)
The Boston Marathon Awarded Prize Money to Non-Elite Women. They Didn't Have To.. (Runners World)
Make E-Stim More Effective. (Furthermore from Equinox)
How Redskins Used Cheerleaders: Topless Photo Shoots and an Uneasy Night Out. (New York Times)
Infections from ticks, mosquitoes, and fleas are on the rise—here are 5 tips to stay safe. (Well & Good NYC)
High SPF Sunscreens Really Are Better. (Lifehacker)
Older Americans Are 'Hooked' on Vitamins. (New York Times)
The Strange, Uplifting Tale of "Joy of Cooking" Versus the Food Scientist. (New Yorker)
You've Detailed Your Last Wishes, but Doctors May Not See Them. (New York Times)
Do trees sleep at night? Yes.. (Vox)
How to Kill a Fish. (Topic) Wow, I had no idea about all of this!
TRAVEL
All the Amenities Airlines are Offering for Healthier Flights. (New York Times)
APEX CEO: Airlines will use IFEC to maximise ancillary revenues, become turnkey travel solution providers. (Future Travel Experience)
Norwegian Is Taking a Big Risk Betting on a Fuel Price Drop. (Skift)
Wake up – loyalty means nothing without a quality experience. (Tnooz)
Marriott, Accor, Southwest and Virgin Australia Voted In as Top Loyalty Programs. (Skift)
Southwest Engine Maker Wanted Inspections Before Tragedy. (Skift)
Southwest Received Some Warning Signals on Its Safety Practices in the Past Decade. (Skift)
How tragedy brought the strangers of Southwest Flight 1380 together. (Dallas Morning News)
How Strong Are Airplane Windows?. (Skift)
Southwest Hoping Its 'Lovable' Reputation Will Help It Bounce Back. (Skift)
Questionable Motives and Tactics Cast a Shadow on the 60 Minutes Allegiant Story. (Cranky Flier)
New study on air fares reveals that airport charges don't determine ticket prices. (Airport World)
Why is Delta Hiding Lower Fares On Its Website? (Ask Cranky). (Cranky Flier)
Why You Should Consider Seat Size When Booking a Flight. (Lifehacker)
How to Pick the Most Comfortable, Spacious Seats on an Airplane. (Lifehacker)
Related: Would airplane seat sizes really stop shrinking under House's FAA reauthorization bill?. (Dallas Morning News)
Fly Early If You Want to Depart and Arrive On Time. (Lifehacker)
A measure of influence: Can you trust influencer marketing to deliver real engagement that leads to sales?. (Tnooz)
Travel Companies Face a Trust Deficit Unless They Reset Use of Customer Data. (Skift)
Why the Hotel Lobby Is the Perfect Antidote to Airbnb. (Skift)
Tenants of New Airbnb-Branded Complex in Florida Feel Blindsided. (Skift)
Fake hotels: the new weapon of choice for fraudsters. (Tnooz)
MISCELLANY
When Your Baby Is Your Roommate. (New York Times)
Homework Therapists' Job: Help Solve Math Problems, and Emotional Ones. (New York Times)
The YouTube stars being paid to sell cheating. (BBC News)
Stand for the Second': Students across USA plan 16-minute walkout to back Second Amendment. (USA Today)
What If the Problem Isn't the President—It's the Presidency?. (The Atlantic)
You could be flirting on dating apps with paid impersonators. (Quartz)
Frozen Food Sales Feel The Heat As Consumers Opt For Fresh. (NPR)
---
Like this post? Want more fun articles in real time? Follow me on Twitter or become a Facebook fan to get similar stories all week long.