Work has really been stressing me out these last few weeks, and I haven't been sleeping well as a result. I know the importance of sleep, and did my best to prioritize it, but many nights I would just wake up in the middle of the night worrying and unable to get back to sleep – so I'd get up at 3am and start my day then. I was surprised to find that even on such little sleep, I was completely functional. However, I was feeling pretty sad and hopeless, not really looking forward to anything, and was even wondering if I might have actual depression.
I started out last week thinking that I needed to plan something to look forward to – and that came in the form of a girls' night Friday followed by a ski day Saturday. I was already somewhat cheered to have that on the calendar, but then last week I ended up being able to get nearly eight hours of sleep every night – and that significantly improved my mood, to where I feel like I'm my positive, bubbly, happy self again. Maybe this is naive of me, but I hadn't realized before just how much sleep affects my mood! And so thanks to plenty of sleep last week and this weekend, I finally had a great weekend for the first time in a while 🙂
Friday night, I headed to my friend Sarah's house, and we then drove to our friend Kelli's house, where the three of us proceeded to enjoy some veggie dip and wine while we caught up on all the gossip. Kelli and Sarah also jointly prepared a healthy dinner for us – zoodles with chicken and spicy almond butter curry sauce. I absolutely loved the recipe, and was also intrigued by Kelli's preparation of the zoodles – just microwave them for one minute on high. I've always tossed zoodles directly into the stir fry pan, but the microwave technique yielded the perfect consistency – I'll definitely do that going forward.
I stayed the night at Sarah's house, and then the three of us plus Sarah's husband headed out to the mountains at 5:15am to try to beat the traffic. We weren't entirely successful in avoiding traffic, as it was still congested near Idaho Springs, but we made it to Keystone (Sarah and Kelli's favorite mountain on the Epic Pass) in about 90 minutes. That was fantastic compared to our friend Amber, who left an hour later and got stuck in traffic for three hours. No thanks!
I'm not a big Keystone fan, and unfortunately, Saturday further proved that to me. Even though Keystone had just gotten three inches of fresh powder, it felt kind of icy and skied off to me by mid-morning. And worse still, it was freezing cold – according to the weather app we checked, it was 1°F at the base with a "feels like" temp of -21°F! Our little group only got three runs in before we needed a long break to warm up our frozen toes, and by the time we headed to the bar for apres, we had only done about six runs for the day. Oops!
Fortunately, I made up for that with my other ski trips of the weekend – both to Breckenridge, my favorite mountain. I was able to ski there solo one day, and the other day, meet up with my friend Karl to ski together for a morning. Karl also works in consulting, and we hadn't seen each other in more than a year, so it was great to get to ride the lifts with him and catch up.
I've been improving a lot in my skiing this year – in large part because I've skied more this year than in years past, but also because I've been pushing myself to do more difficult runs. I'm really proud that lately, I can fearlessly go down any black diamond on the mountain without having to ask someone about it in advance. And as long as it's a groomed black, I'm now bombing down it with confidence as fast as anyone else on the run. (If it's a mogul run, I know I can still get down, but it's not ideal – we'll see if I work on that or just keep sticking with groomers.) In my solo runs at Breck, I was really proud of my performance – I'm definitely getting so much better!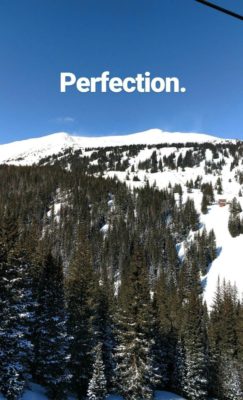 But when I skied with Karl, I have to confess, I was also selfishly thrilled that Karl is a former ski instructor, and so he was able to give me some great pointers on my form. After taking some runs on Peak 8, we ventured over to a new-to-us part of the terrain: Peak 6, whose lift takes you to the top of a beautiful bowl that's only blue (intermediate) in difficulty. I wrote a few weeks ago about finally heading to the back bowls of Breck to tackle the Whale's Tale and Y-Chute double black diamonds; while I'm not quite ready to hit that ridgeline again, the Peak 6 bowl was the perfect compromise in offering gorgeous views but relatively easy terrain.
And I rounded out my weekend with a fun new activity: cookbook club! Inspired by this Serious Eats article, some neighbors and I decided to form our own potluck group where we'd each cook a recipe from a certain cookbook or blog, and then come together to taste them. For the first event, there were only three of us, and we didn't pick a specific cuisine or cookbook; we all just cooked whatever new-to-us we felt like making. But the meal still came together surprisingly well: Tuscan chicken and zoodles (more zoodles!), Smitten Kitchen's Pizza Beans (my contribution), Beauty & the Bench Press' Air-Fried Brussel Sprouts, and Detoxinista's Vegan Flourless Brownies.
Everything was delicious, and literally all of them were recipes I can't wait to make again! Furthermore, the company was fantastic, and I'm now really looking forward to our next meeting in April, when we're all going to tackle healthy whole food recipes from Cookie + Kate. Anyone checked out that blog before?
All in all, this weekend was just wonderful – it was so great to get back to doing the things I love instead of working all the time. And, I got to sleep a ton too! I am still marveling at what a difference sleep makes in my mood, and I'm determined to make sure I get enough of it going forward, even as this week inevitably ends up being packed. We'll see how it goes…