The last week of 2017 was filled with a lot of mishaps – and yet, I didn't consider it a bad week at all. I think that's a pretty good representation of my year as a whole. I had some ups and downs, but for me, 2017 was most notable in that I developed a sense of optimism that got me through it all. That was definitely evident over the last week!
My mom and I flew to Colorado on Christmas evening. As I already wrote to kick off last weekend's recap, I promptly came down with strep throat on Tuesday morning, and was sick until Thursday. In hindsight, though, I am really grateful for this forced rest. I had a ton of stuff I wanted to get done on vacation, and there's no way I would have spent much time sitting around doing nothing. (I posted a bit on Instagram Stories about this, but I just feel icky if I go too long without getting things done.)
However, I found the forced rest kind of relaxing! I got a lot of reading done, and my mom and I enjoyed catching up on Fuller House and Great News, two sitcoms we only watch when we're together. Staying home and not doing anything turned out to really agree with us. Usually, at some point in every one of my mom's visits, we end up quarreling over some little silly thing… and this time, that didn't happen at all. Perhaps it was a result of the low-key expectations rather than trying to figure out where to go and what to do? I'll take it!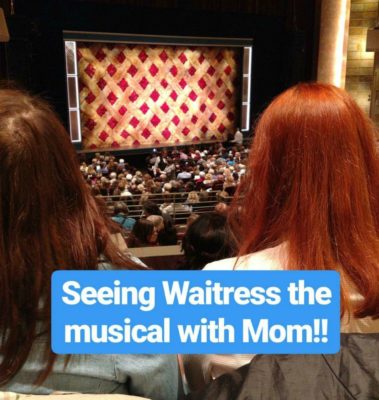 But even after things were on the upswing with me feeling better and us getting out to see the musical, there was more bad luck coming. Midday on Friday, my mom was walking around my (finished) basement, and noticed that the carpet was wet. She called me down, and we quickly discovered that half of the entire room was so waterlogged that stepping on the carpet produced a puddle of water. Furthermore, when I went into my mechanical room and lifted the hatch to look into the crawl space under the basement floor, I found two whole feet of water down there!
After turning off the water main and calling my plumber, I learned that a pipe had burst in the wall, and it had likely been leaking into the crawl space for a few days – eventually filling it so the water seeped up into the floor, carpet pad, and carpet. So much water!
But rather than being devastated by this news, all I could think was how lucky I was. Lucky that my mom was visiting to notice this – since even when I'm not traveling, I don't go down to the basement much. Lucky that it was a plumbing issue, which meant I knew exactly who to call for the pipe break (I first called Corey a few years ago and found him to be incredibly trustworthy and also fast to come over when it's an emergency; this time, he was at my door within 30 minutes of my call!). And lucky to live in an incredible community of people who did their best to help. Thanks to my neighborhood Facebook group, I had several neighbors offering me real-time advice on what to do, and within five minutes, I had a glowing recommendation for a restoration company owned by a guy who lives two blocks away. Shawn and his crew were over to my house within two hours, and they've been incredible to work with. Meanwhile, when I called a contractor yesterday to see about getting new carpeting and drywall installed, he answered with, "I thought you might be giving me a ring… how's the drying process going?" He had already seen my post on Facebook and been following along! I love living in such a small, close-knit town.
And the luckiest part of all? My insurance company has been amazing to deal with, and they've already reimbursed me for the claim – so I'm not having to pay too much out of pocket. Furthermore, the added silver lining to this saga is that while the drywall is already being repaired / replaced, my contractor may be able to get in there and run a gas line up to my kitchen so I can ditch my electric stove and start cooking with gas. That's something I've wanted to do for a while, but never prioritized – and now seems to be the time. Everything happens for a reason, huh?
Speaking of cooking – once I was better on Friday, my mom and I stayed in and made a fish fry feast. We used to do this a lot when I was a kid, and it's such a fun activity and special treat! We usually use cod, and dip the fish in flour, then egg, then breadcrumbs before putting it into a pan of hot oil. I didn't have much regular oil, so we ended up supplementing with coconut oil – and it turned out so crispy and delicious!
On Saturday, we headed up to Boulder to do a tour of the Celestial Seasonings factory – an activity I've long heard is a lot of fun, but hadn't yet tried. I was a little skeptical going in, but it was really fantastic! They had a tasting room with six teas already brewed, and a tea bar where you could request a fresh cup of any tea they sell – all totally free! Between the tasting room and the company background / history, I fell a little bit in love with Celestial Seasonings and its small-town home-y values… maybe going to work for them is my exit strategy if I ever decide to leave consulting?
Later that afternoon, my mom and I went to a free class at Core Power Yoga. I am not much of a yoga fan, but one of my New Year's resolutions is to work on my posture, and one of the ways I want to measure that is by committing to one yoga class a week. I figured this would be a good chance to test it out before making it a 2018 goal! I didn't love the class, but I still feel good about the goal – so it's sticking.
Finally, on Sunday, my mom and I spent the morning lazing around, and the afternoon preparing for New Year's Eve. This year, I had decided to host a theme party: New York New Year's Eve. The theme was not because I missed New York, but because it afforded me the opportunity to put the ball drop on live from Times Square and call it a night at 10pm Mountain Time 😉 Best idea ever! #30SomethingLife
The menu:
Skinny buffalo blue cheese dip (I make this all the time for parties and it's a huge hit; I leave out the chicken to accommodate vegetarians), served with tortilla chips and baby carrots
Korean barbecue flavored Kettle Chips to represent K-town
Waldorf salad (this homemade dressing is incredible; highly recommend it!)
Several pizzas (I cheated and used Digiorno's, but my fabulous neighbor brought over a giant homemade pepperoni calzone loaf so we barely touched those!)
Trader Joe's chicken dumplings to represent Chinatown
Black and white cookies
New York cheesecake (cheesecake is so easy to make and yet everyone is always impressed. This new-to-me recipe was no exception!)
And of course, an assortment of beer, wine, and champagne. I went to my local liquor store and asked for recommendations, and ended up with six different inexpensive ($10-15) bottles of bubbly. Naveran Brut was the winner – but there are a few bottles we didn't yet pop, so the jury's still out.
The party was great – lots of friends all coming and going, lots of great food, and of course, a fun champagne toast at midnight. One caveat if you ever want to replicate the idea: although the television was showing Times Square, we realized at 9:40pm MT that it was on a time delay, so we weren't going to see the ball drop until midnight Colorado time! I quickly scrambled to find a truly live feed online, and got it Chromecasting to my TV just as the 30 second countdown started. Phew! Next time, online feed the whole time.
But yes, there will be a next time – this was one of my favorite New Year's Eves in a long time. I think I may make it a tradition to host an East Coast New Year's party, but switch the theme city each year so I can make different cuisines (even though we'll still tune into the Times Square New Year's Eve)? Next year: Charleston, so I can make some yummy southern food! I'm already excited.
I know I usually do a year end recap, but… I think this weekend recap is enough. Thanks to this blog, I've already recapped most of the happenings in my life this year anyway! I'm really looking forward to continuing to writing in this little online journal in 2018 🙂
Stay tuned for my 2018 New Year's resolutions tomorrow…