I've had this entire week off work, which has been glorious! Unfortunately, I've spent most of it on the couch, since waking up the day after Christmas super sick 🙁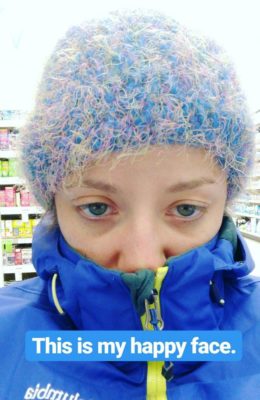 On Tuesday and Wednesday, I woke up with a swollen throat, but it went away within 30 minutes of waking up (and having some throat coat tea, which I've loved since I was a musical theater kid). The rest of the day, my back was really achy and I was just exhausted and out of it. I assumed flu, and was taking ibuprofen for the aches. Today, though, the achiness and exhaustion went away but my throat has been hurting all day, so I went to urgent care… and tested positive for strep throat.
In keeping with this year's positive attitude toward everything (I really have become a Pollyanna, haven't I?), I see this as good news. It means I'll be feeling better a lot faster than if I had the flu, and I'm only contagious for the first 24 hours of my antibiotics – so I'll be back to normal activities by Saturday. And I know exactly where it came from – my poor little nephew Torin had strep throat just before Christmas, and I wasn't at all careful about keeping my distance from him (I love snuggling with the kiddo!). But, even though that's where I picked up strep, it was totally worth it, because this was the best Christmas ever.
Things took a turn with work last week and I thought I was going to need to fly all the way over to LA from Florida before heading to New York for the holidays. Luckily, that didn't happen, and I was able to make it up to Albany on Thursday night as planned for dinner with my little sister. We went to TGI Friday's, which was where I always hung out with my friends when I was her age (she's 14), and even though they've remodeled and it looks pretty different, it was still a blast from the past to be there.
My coworkers have been teasing me about how much I'm adapting to the Florida climate. Thursday's temps were in the 70s and I declared it a hot coffee day (rather than iced) because I was cold 🙂 My coworkers said I'd be in big trouble when I headed up to New York, and they were right – Friday all the schools were closed due to a ton of snow! It was snowing all day, but I made it up to Saratoga for lunch with my dad before he dropped me off at my brother's house to finish work and then kick off Christmas – with a holiday party and a night out on the town.
My brother's friends had just finished a massive remodel on an old fixer upper house, and were hosting a party to celebrate. Their home was stunningly beautiful – the modern farmhouse style reminded me a lot of Joanna Gaines on Fixer Upper, and I just loved it. From there, we headed to the Adelphi Hotel for a few cocktails, and then wrapped up our night with an amazing dinner at Mouzon House. I got the rabbit ragu pasta as my entree and it was incredible; the pasta was really toothsome and delicious. And, of course, the company was wonderful – it was great to get a night out with my brother and sister-in-law and all their friends, sans kids.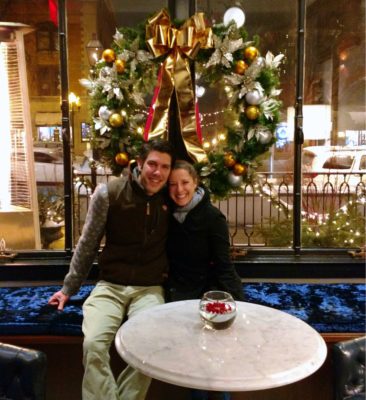 But Saturday morning, I was psyched to get the whole day with my nephews – and a whole lot of other family, too. Growing up, my holiday celebrations were always really small: just me, my mom, and my dad. I never really looked forward to the holidays the way most people do, because it just wasn't that exciting with only three of us. But now, as adults, my family includes my (half)-brother, his wife (who is basically the sister I always wished for as a kid), and their two sons; my sister-in-law's dad, stepmom, half-sister, and half-brother; my sister-in-law's sister, her husband, and their two kids; my sister-in-law's brother, his wife, and their two daughters; and my stepmom and little half-sister. Five nuclear families!!! And my brother and sister-in-law's house was packed with the four of them plus nine of us staying over on Saturday 🙂
My sister-in-law's brother-in-law (can someone help me out with some kind of a family tree diagram that gives me an easier way to describe all these half/step/in-law relationships?) is a professional wedding photographer. And not just any photographer; Greg has won a spot on The Knot's Best of Weddings list for the last two years. Well, lucky us – because that meant for the party at his house on Saturday night, we got to use his photo booth to catch some great shots all night long!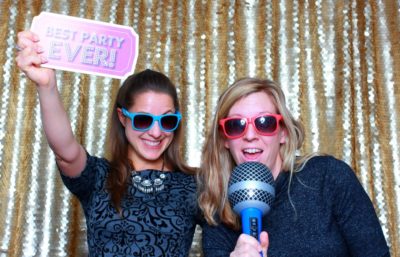 We had a blast watching all the kids go crazy opening presents for each other, and then the adults participated in our own dirty Santa gift exchange. There wasn't a lot of stealing, but I had the second-to-last pick and was thrilled with what I got without stealing: a hand-painted Frosty wine glass, a bottle of wine, and a winter-y cinnamon candle.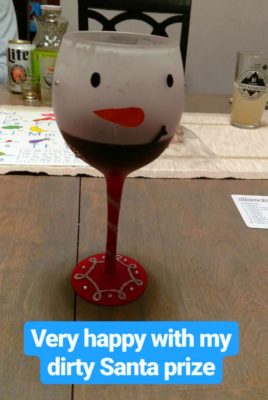 After dirty Santa, I headed home to my brother's house, and once we had gotten the kids to bed, the adults stayed up playing board games and enjoying some adult beverages. In short order, we finished the wine I had won (yum!), and also broke into some other fun bottles. In case you're looking for a new winter classic, Rumchata and Polar vanilla seltzer is delicious! We finally called it a night around 1am – what a blast.
Sunday was Christmas Eve, but it was a pretty low-key day for all of us – we mostly lounged around on the couch, played games with the kids, and generally did a lot of nothing. All sweat pants, all day… though I did "dress up" for dinner: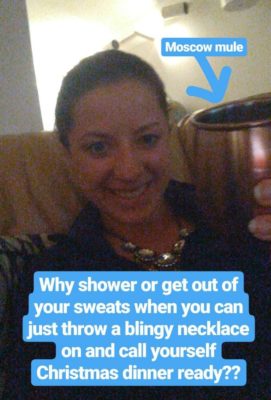 After a fabulous Kathy-cooked dinner of ham, prime rib, and the best ever mashed potatoes (Kathy's cooking is amazing!), I was exhausted, and fell asleep on the couch while the kids were getting tucked into bed. Unfortunately, that meant that I missed night two of adult drinks and games 🙁 But on the bright side, I was the first one up on Monday to discover that we had a truly "white Christmas", with fresh falling snow in the early morning!
We opened presents with the kids, and for once, I was super excited to discover that my gift was a hit. In addition to pajamas for the whole family (which has become my traditional gift), I got a ferry boat bathtub toy for my nephews, since they love both vehicles and "tubby time". My nephew Breckin was so excited about the gift that he wanted to stop opening the rest of the gifts in order to take a bath and test it out! I was thrilled to have found such a popular toy… now let's see if I can replicate its success next year.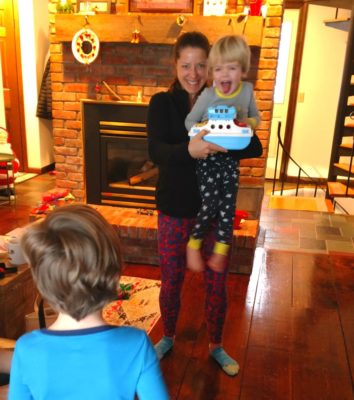 My dad, stepmom, and little sister came over for afternoon brunch and more presents, and then my brother's mom and stepdad came over for coffee… and then, Christmas was over and it was time for me to head to the airport. I used my Southwest Companion Pass to book a free ticket back to Colorado for my mom, so now she's here through New Year's Day. Andddddd, I can stay in Colorado and not get on a plane again till January 8th. That's one of the best Christmas presents of all 🙂
It sounds so corny, but this year, I truly didn't care about presents one bit – when a friend asked me what the best gift I got was, I had to stop and think hard, because gifts were so far off my radar. (Answer: a robot vacuum I bought myself on Black Friday and saved to put under my tree. #30sLife). I just feel so lucky and grateful to have so much wonderful family – who made this Christmas the best one I've ever had. This year, I finally understand why people love the holidays so much, and I can't wait for the next one with my amazing extended family.