This has been a really busy week every night for me, but I still wanted to do a quick recap of last weekend before I embark on this weekend's adventures – it was a good one!
Last Thursday, rather than heading home to Denver, I instead flew to Vegas. My friend Elizabeth is getting married next spring and she wanted to do an early bachelorette party in Sin City! I ended up getting stuck in Dallas overnight, but the festivities weren't supposed to start until Friday evening anyway. That meant I took my morning calls from the DFW Centurion Lounge, and was able to sneak in a trendy plum-colored manicure 🙂 Nice way to feel pampered before a night of going out!
What happens in Vegas stays in Vegas, obviously, but we had a good time playing craps at the Palazzo / Venetian and then enjoying cocktails at Lavo. Beyond that, my lips are sealed 😉
I caught the 9am flight home on Saturday morning, and was so thrilled to finally be back to Colorado! However, I didn't get to spend much time home just yet. After landing, I had two hours to get home, shower, make dessert to bring to a dinner party that night, and then head downtown for volunteering at 3pm. I didn't even get to throw the dirty clothes from my suitcase into the laundry, or sort through the mail! But I reminded myself that I'd be home Sunday and could make up for it then… just one more day.
And besides, I was thrilled with my lineup for Saturday. After meeting with my Champa House mentee and her baby, I headed over to Cherry Creek, where my good friend Mike was throwing a housewarming / dinner party. Not only was his new home incredibly beautiful and perfectly appointed, but the food was Martha Stewart-levels of delicious and elegantly plated. Even though it was technically a potluck where each guest brought a dish (I brought this slow cooker salted caramel rice pudding, which was both easy and delicious), Mike also made an entire spread on his own… including these gorgeous stuffed pear salads.
The food was so amazing, I left completely stuffed – and I didn't even try everything! But more importantly, the company was awesome. Mike is one of my closest friends, but he has another circle of friends that I hadn't yet had the opportunity to meet, so this was fabulous to finally meet many of the people I had heard so much about. Looking forward to seeing more of the people I met!
Sunday morning, though, I finally got to spend some time at home – and it was glorious. I knocked out a lot of cleaning / chores when I woke up, and then my friend Sarah came over at 7 to watch the New York Marathon! As long-time readers know, New York is absolutely my favorite marathon (which is why I picked it for my 100th marathon in 2014), and I totally teared up watching the start of the race and even a few of the commercials. There is nothing like the magic of New York City (nope, not even Boston), and it was especially incredible to see such excitement in the women's race, with Shalane Flanagan winning and Allie Kieffer (a self-coached athlete) coming in 5th place.
Post-race, Sarah and I took a quick trip over to Target for pretty much the most basic activity ever: scoping out Chip and Joanna Gaines' new line of home goods. The aisles by the Hearth & Home display were pretty busy, and we all encouraged each other to buy lots of things we didn't need. (Me: "Ooh, I love this big colander! But I don't know what I would use it for." Another woman: "You should put oranges in it!") Fortunately, we escaped unscathed, with my wallet none the lighter 😉
Later that afternoon, my friend Caeli invited me to join her and some other friends for another suburban adventure I've been meaning to check out for years: the Westminster Butterfly Pavilion! Sunday they were running a special for $5 admission, which was really perfect for our group. The Butterfly Pavilion was definitely more aimed at children/families than adults, but for $5, it was a lot of fun to check out all the different plants, exhibits, and creatures.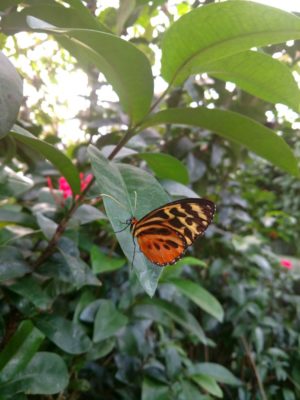 Finally, I rounded out my weekend with a night of cooking at home – exactly what I wanted after all that time on the road! Two more weeks of travel and then I get ten glorious days at home… I can't wait.