Thank you to Medtronic for sponsoring this post. Medtronic works hard to bring effective stroke treatments to patients who need it most, and I'm really glad to see they are also proactively trying to get the word out about this silent killer.
In the next week, there's a holiday coming up that's a lot scarier than Halloween. Sunday October 29 is World Stroke Day, and the World Stroke Organization and Medtronic are encouraging everyone to take just two minutes to learn about the signs of a stroke and then tell two people about those signs, as part of their Take 2… Tell 2 campaign.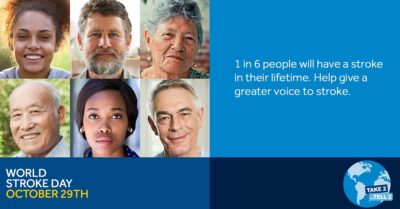 I'm very familiar with the symptoms of a stroke, having experienced a few of them earlier this year. As some of you may remember, I was on a flight from Florida to Texas when I suddenly lost my ability to read, write, and speak coherently (global aphasia). It was incredibly frightening, but what's potentially even more frightening is that I didn't recognize these as signs of a stroke and seek medical help immediately.
Instead, I chose to continue on my connecting flight, and then went home when I landed. It wasn't until the next day that I saw a doctor, and since I hadn't gotten brain scans as soon as this happened, it took a long time for them to figure out exactly what was going on. While things worked out for me in the end (I was eventually diagnosed with a specific kind of migraine with aura), I made a huge mistake in dismissing my symptoms, and I'm really lucky this didn't end in tragedy.  Unfortunately, I'm not alone in my response. A 2016 study found that only 1 in 3 people under age 45 would go to a hospital if they experienced symptoms of a stroke – and 73% said they'd do what I did, and wait to see if their symptoms improve.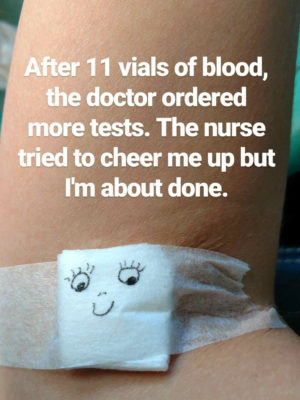 While I thought I couldn't have had a stroke because I'm too young for that, that's simply not true. According to the World Health Organization, 17 million people suffer stroke worldwide each year – and 6 million of those don't survive. Stroke can affect people all over the world regardless of gender, age, and race. Women are at a higher risk for stroke than men – and also more likely to dismiss signs of illness of any kind. And a major study published in 2011 found an increase in hospitalizations for strokes in people under age 45. While I was trying to identify what happened to me, I found the story of Diana Hardeman – an otherwise healthy woman about my age who had three cryptogenic strokes. Strokes can happen to anyone, and it's important to act fast if you suspect one.
Do you know the signs of a stroke? There are three major symptoms to look for: face drooping, arm or leg weakness or numbness, and speech difficulty. If someone is exhibiting even one of these symptoms, you should call emergency services and get them to a hospital immediately. The speed with which someone gets medical attention during a stroke is absolutely critical to their opportunity for full recovery; the Take 2… Tell 2 campaign is designed to demonstrate the impact of two minutes in saving a life.
I hope neither you nor your loved ones ever experience the scariness of not being able to communicate. But if you or someone else experience any signs of a stroke, please, get to an emergency room immediately. And in the meantime, please take two minutes and tell two people about the symptoms of stroke to help build awareness.