This was one of the best Colorado weekends I've had in a long time! It turns out that the rapid speed with which Labor Day is approaching is just the thing I need to motivate me to check off a whole bunch of things on my summer bucket list 😉
A lot of big companies let their employees leave a few hours early on Fridays in the summer. My company's policy is that if you work more than 40 hours by Thursday, you can take Friday off without using PTO. In theory, that's great news, as I can't remember a week that I didn't hit 40 hours by Thursday. But in practice, it's not easy to actually take the time off! This week, though, I managed to make it work: my Thursday night flight was on time for the first time in months, so I made it home by 11pm rather than the 1-2am arrivals I've sadly gotten used to. That meant I was easily able to start my work day at 6am, and then wrap up work with a few internal calls from the road on my way out to the mountains.
I was meeting up with a group of friends who had headed out Thursday morning and camped Thursday night; they were doing an awesome hike of Maroon Bells Friday morning. I was disappointed that I couldn't do that hike with them, so I planned to do a hike of my own in that afternoon before we met up. But I'm not very familiar with the Aspen area, as I usually don't go much farther than Frisco/Dillon. Where to go?
I've long used the sites ProTrails.com and AllTrails.com to scout out hiking routes and details on my computer. However, I've never signed up for membership as I thought you had to pay a subscription fee, and I try to avoid subscriptions as much as possible. Well, it turns out I was totally wrong – AllTrails is totally free to register, and their app is awesome! It finds you trails by location, by difficulty, and by user rating, and it was thanks to AllTrails that I was able to find a fabulous short hike about five minutes off the route I was driving anyway. Don't make the same mistake I did – get the AllTrails app ASAP!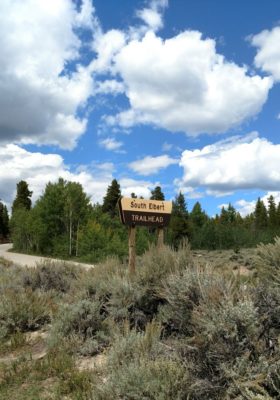 The trail I picked, Bartlett Gulch, was a loop. The outbound was single track through a forest of aspens, and the return was down a Jeep road with pretty mountain / lake / valley views every so often through the trees. It was only about four miles roundtrip, and I surprised myself by finishing in only about 90 minutes rather than the two hours I was expecting based on the elevation profile. What a great way to kick off my weekend!
From the trailhead, it was about an hour's drive to downtown Aspen, where I met my friends for a glass of wine at happy hour, hit the grocery store to restock supplies, and then headed to our campsite. The campsite was way off the beaten path – a little known spot near Margy's Hut on Larkspur Mountain. I was nervous for the drive, as my friends warned me that it was a narrow and steep mountain road to get up there. And then when we thought we were about 10 minutes away, my friend's Jeep blew a tire! Not what you want when you're already pressed for time to get to camp before dark 🙁 I started having déjà vu back to my miserable experience on Mount Princeton a few years ago, and I was really nervous for the outcome of this trip.
My friend stayed behind to change his tire, and we loaded most of the stuff / people into my car to lighten his load. I was now responsible for getting us to the campsite as quickly as possible (without having any tire incidents myself), and it was a race against the sun to do so. About ten minutes later down the road, we realized we had missed a turnoff about 6 miles back, so that cut even further into our daylight. We turned back, checked on my friend changing the tire and warned him that he had to backtrack once it was fixed, and then nervously proceeded down the road in what we hoped was now the right direction.
Fortunately, from there on, everything was great! We finally reached our campsite with about ten minutes of daylight to spare, and I got my tent set up while the other girls built the campfire. Soon after nightfall, our friend pulled in with his Jeep, now sporting the spare tire. Problem solved! (And note to self: get a spare tire for my own Jeep rather than relying on the donut, which I don't think would have made it more than a few feet in this situation.)
We had a great night cooking sausages, making s'mores, and sipping drinks by the fire while playing Kings Cup. I don't think I've played that game since college, but it was a ton of fun! Finally, it was (long past) time to put out the fire and snuggle up in our tents till sunrise. I had thought Friday would be a quiet night to help me rest up for the 5K I was doing back in town on Sunday, but I had stayed up a lot later than I planned, and had quite a bit more wine than expected too. Turns out it's hard to figure out just how much you're drinking when it's pitch black out and you're pouring into an opaque Solo cup! Plus, being at 12,000 feet didn't exactly help my sobriety…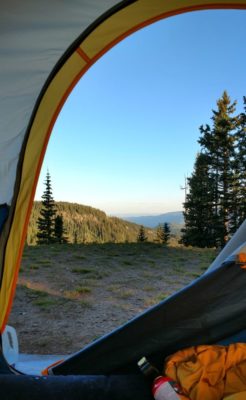 Saturday morning came way too early, but after packing everything up and driving down the mountain without incident, we stopped at a local spot in Carbondale for coffee and bagels. Then we were back in business!
Next up was a gorgeous drive on I-70 from Glenwood Springs to Frisco. I'm always struck by how much I enjoy driving long distances in Colorado – there's just so much beautiful scenery and the time flies! (Now I just need to remember that when I'm sitting at home not wanting to drive that far.)
After a bit of car shuffling in Frisco, we headed for Lake Dillon – a huge, beautiful lake I've always seen from the roads but never yet visited. Well, Saturday was the day! Friends of my friends had a sailboat they were living on for weekends in the summer (ooh la la, I like that idea), and they generously took us out sailing for a few hours. Check another item off my summer bucket list! I haven't sailed in years, and was a little embarrassed to realize that I had forgotten pretty much all the sailing skills I had as a kid… but had a blast anyway 🙂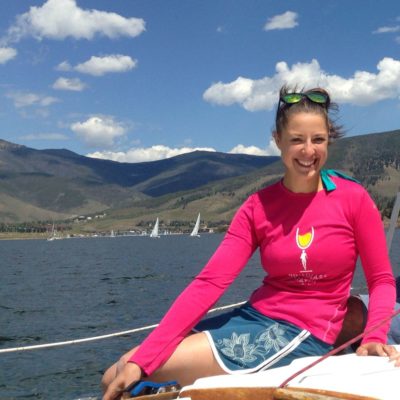 Lest that be the end of our water adventures for the day, we then drove most of the way back to town, but stopped in Golden for some tubing on Clear Creek. I hadn't been tubing in Colorado yet, and it was a lot of fun to cruise down the creek! And surprisingly low key too. There was a place to rent tubes just a two minute walk from the creek, and we ditched our shoes/clothes/etc in our parked cars there. Then, just walk along the creek until you're as far up as you want to be, jump in the water, and float downstream. We only had time to go once, but talked about how fun it would be to make a day of it and include stops at the nearby Mountain Toad brewery in between runs. The water was icy cold, but we did our best to stay on top of the tubes. And it did wake us up for the night still to come…
We wrapped up Saturday with drinks and dinner on the Avanti roofdeck overlooking the Denver skyline, and then ended the night with one more drink over at Finn's Manor in RiNo. Not a bad finish to a totally packed 48 hours! Maybe not quite the relaxing quiet time I had thought I'd have before Sunday morning's 5K… but that's a story for tomorrow. Stay tuned!