This post was sponsored by Tai Pei and all opinions expressed in my post are my own.
This morning, I attended one of my absolute favorite Colorado events: Fitness on the Rocks. It's kind of a combo of fitness expo and tons of workout classes, all held in and around the beautiful Red Rocks Amphitheater. This was my second year attending, and I had so much fun – but now I'm pretty spent! So more on that to come Monday 🙂
I got home from the event around noon, and even though I had eaten lots of samples of bars and gummies and Honey Stinger waffles, I still wanted lunch – and I didn't want to put too much effort in. I was craving pad thai, and while that would normally mean lots of veggie chopping and messing with spices and sauces, today I took a shortcut by grabbing one of the all-new Tai Pei single serve meals out of my freezer.
I usually freeze my own leftovers to grab when I'm in a hurry, and so don't buy a lot of prepackaged frozen meals anymore. However, the Tai Pei single serve entrees may have changed my mind on that. Tai Pei entrees are made with quality ingredients – when I read through the nutrition label, there weren't any ingredients I didn't like and didn't trust. All of Tai Pei's entrees are made without preservatives or artificial ingredients, which is rare for a processed food.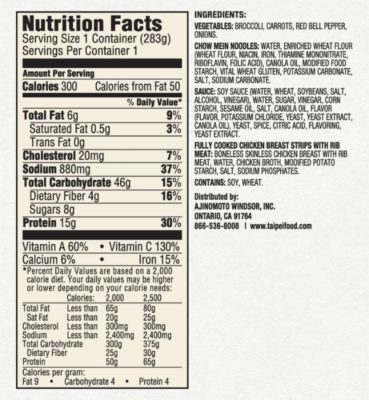 I was able to use this store locator to learn that Tai Pei entrees are sold at all the grocery stores close to my house, and I grabbed several of the Chicken Fried Rice and Chicken Chow Mein entrees. Asian rice and noodle dishes are always high on my list of cravings, but I try not to indulge too frequently. However, having these portion controlled options in my freezer is a big help – they're much lower in calories than what I'd get if I were ordering take out. They're also really easy to prepare. Unlike most frozen meals that are sold in plastic trays that I don't really feel comfortable putting in the microwave, Tai Pei is in cardboard packaging. Literally just take the plastic wrapper off and put the bowl into the microwave, and five minutes later you've got a meal. This was perfect for me today when I wanted something healthy with as little effort as possible before I flopped down on the couch!
When I bought the Tai Pei entrees, I planned to bulk them up a bit with some extra frozen veggies. However, I was pleasantly surprised to find that there were lots of veggies in them already. Even though the Chicken Lo Mein is only 300 calories, I think it would be perfectly filling on its own. Most of the non-noodle entrees include infused rice for extra flavor, and I really like that they give me a way to get my fried rice fix without overindulging.
Overall, I was pretty pleased by the Tai Pei Asian-inspired entrees. They definitely make it easy to enjoy a yummy Asian entree with minimal effort and without having to pay takeout prices. My local Safeway was selling the Tai Pei entrees for $3.99, which is a reasonable price especially considering the high quality ingredients. However, you also can click here for a coupon to save $1.00 on one Tai Pei entree (7.9 oz or larger) or appetizer if you'd like to give Tai Pei a try.
Thanks to Tai Pei for encouraging me to try something a little different with their delicious dishes! I'm happy to find a brand of frozen entrees that I trust from a health perspective, while still serving up yummy flavors in the form of Asian foods I crave.
Disclaimer: I was compensated for this review. However, all wording and opinions are my own. I am really happy with Tai Pei's ingredients and taste and will continue to buy their products on my own now that I've tried the brand!