Ever since I wrote that post last Monday about needing to get back to running… I've really lived up to my goal! Tuesday morning, I went out for a short run around my very hilly neighborhood, but ended up running 5.2 miles in 43 minutes. That's much faster than I've ever run those hills before, and an 8:20 average pace! On Wednesday, I didn't go for a proper run, but did two quick miles on my new* treadmill interspersed with some weight training. And on Thursday, I was able to go for a lunchtime run with one of my neighbors on a glorious spring day.
This week, I ran another quick two miles before my Monday morning flight (hooray for a treadmill making it easy to run when it's still dark!), and then followed that up with another treadmill run yesterday morning at the hotel. My legs were super sore from my hike on Sunday, so I thought I'd run easy… but as the time ticked by, I started speeding up every mile, and ended up covering four miles in just over 30 minutes! I was pretty thrilled with that pace as a recovery run. And this morning, I headed to an Orangetheory class where I hit my fastest paces ever: my base pace was 8.0mph (7:30 pace), my push pace was 9.0mph (6:40 pace), and my all-out pace was 11.5mph (5:13 pace) to 12.0mph (5:00 pace) – which is as fast as the treadmill can go!!! I have definitely come a long way in my running just through keeping up with Orangetheory workouts, and I'm pretty thrilled.
So… time to sign up for another race? I'm already set to run the Bolder Boulder on Memorial Day, but I decided to register for another race a few days later that promises be a lot of fun. The Broncos 7K in Fort Collins takes place on the grounds of the Anheuser-Busch Brewery, where I had a blast PRing in the Spring Equinox Four Miler last month. And while I've done a lot of crazy distances, I've never done a 7K… so that means this race will be an automatic PR!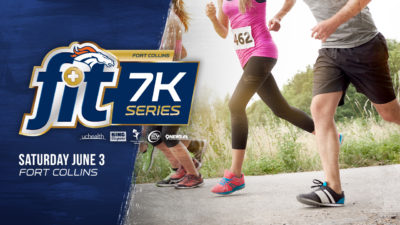 Even though I'm guaranteed a personal best since I have no record at the 7K distance, I'm still getting aggressive with my goals. The Broncos 7K course runs the opposite direction as the Spring Equinox course that I already ran, with just a short out-and-back added on to make up the extra third of a mile that turns a four miler into a 7K. At the Spring Equinox Four Miler, I ran a 7:39 pace despite having to stop for a train for more than a minute…. so I'm hoping to go sub-7:30 pace this time, which would mean a 32:37 finish time. I think I can do it! I'm just going to cross my fingers for no train stop… and no wind too 🙂
Beyond the course, though, this race has some other perks that I'm excited about. In addition to getting a cool finisher's medal and Broncos t-shirt (hooray, the perfect option for me to wear during football season!), there will be photo opps with the Broncos cheerleaders, Miles the Mascot, and all three Broncos Superbowl trophies. At the finisher festival, there will be giveaways and prizes, including Broncos merchandise and even game tickets (!).
The race is also timed to coincide with a pretty neat event for horse-lovers. The Budweiser Clydesdales made their first appearance on behalf of Anheuser-Busch on April 7, 1933, when they delivered a case of Budweiser to the White House in celebration of the repeal of prohibition of beer. And from May 19 to June 4, the iconic Budweiser Clydesdales will be returning home to the Fort Collins Anheuser-Busch brewery. During this time, guests can visit the Budweiser Clydesdales at the brewery stables Monday-Saturday from 10am-7:30pm, or Sundays from 10am-5:30pm. From 1-3pm daily during this period, one of the Clydesdales will also be available for a closeup photo – so bring your camera! Last fall, I ran a great 5K race up in Saratoga, NY and PRed at Run For the Horses, so I'm hoping that the Budweiser Clydesdales will bring me luck in this 7K too 🙂
But finally, my favorite part: since the race starts and ends at Anheuser-Busch Brewery, I can enjoy a delicious cold brew when I finish. This time, I'm telling all my friends to come with me – this brewery's biergarten is awesome!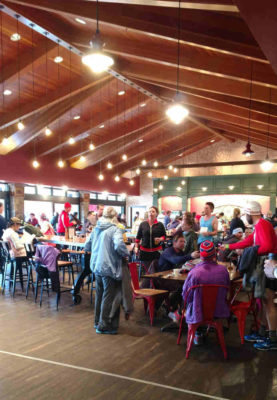 If any of you Colorado locals would like to come join me for the race, visit here to check out the Broncos 7K Series website. (If the June 3rd date doesn't work, there is also a race on Sunday September 3rd that finishes right in Mile High Stadium.) And as a bonus, you can take $5 off the entry fee with discount code 50by25!
Be sure to comment if you can make it on June 3rd, so we can make plans to toast a beer at the finish 🙂
*My treadmill is actually quite old; I bought it from a neighbor for $100 and it definitely doesn't have any of the bells and whistles. But my rule for new equipment like this is to buy the used/cheap version first, and see if I actually use it. If so, I get to upgrade. If not, I haven't wasted a ton of money. It's been a great strategy that has saved me from dropping a bundle on lots of Colorado gear that people have told me are "must-haves." 
Disclaimer: The Denver Broncos Football Club provided me with a free entry to this race in exchange for featuring it on my blog. However, all opinions expressed and miles run are purely my own 🙂