It's been a little while since I've blogged outside of my Links posts, huh? I was lucky enough to spend last week down in Seabrook Island, South Carolina, for my family's annual beach vacation.
Several years ago, my dad booked a condo on Seabrook Island for a spring break getaway that was driveable from upstate New York. (A very long drive, but driveable nonetheless.) Seabrook is about 30 minutes south of Charleston, where my brother Erik lives with his family, so my dad and his family were able to catch up with them too. Over the years, my mom started joining, then my other brother Lars and his family, and finally I joined last year for a long weekend. This year, I was able to go for (almost) the whole week – and it was great!
I wasn't able to fully take off work, but I was able to keep my work time to just a few hours a day, and the rest of the time I got to enjoy spending time with my family. My brothers are actually my half-brothers, and we didn't grow up together, so I love having the opportunity as an adult to build stronger relationships with them. It also helps that I love both of my sisters-in-law, who are really fun to hang out with.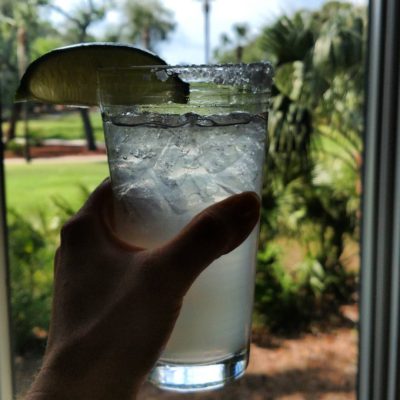 I also got to spend a lot of time with my nieces and nephews, who are at a really fun age (two at age 2, two at age 4)! I have generally felt like my family wasn't as close as some of my friends' families, but this trip felt like we all came together… and I'm looking forward to staying in closer touch and getting together in person more often.
I got home to Colorado late on Thursday night, and my first few days back from vacation were pretty good. I did a lot of work on Friday, took Saturday off, and then got asked to do some more work on Sunday. You might think that sucks to work on a Sunday, but I'm working with a fantastic team and doing really interesting work, so I didn't actually mind at all! And I was able to duck out mid-afternoon for a quick hike with my friend Laura.
Given my shortage of time, we just did a quick jaunt up and down Mount Sanitas, which is one of my favorite nearby hikes. It's only about 10 minutes from my house to the trailhead, and the whole hike can be done in an hour, so it's great for days when I'm time constrained. It was pretty crowded on Sunday afternoon (not surprising given the gorgeous weather), but we went up the back way and found the crowds lighter there.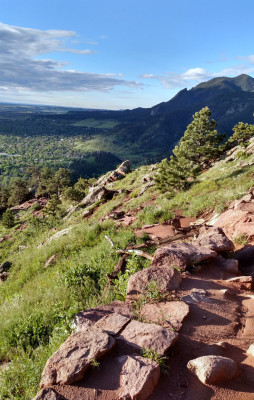 Monday passed fairly uneventfully at work. But when I went to my town's board meeting that night, I felt a little dizzy when I stood up to speak. (The town is considering the acquisition of a local fitness center as a community amenity, and I'm pretty passionate about seeing that happen!) I chalked it up to perhaps just standing up too fast, or maybe getting nervous about speaking or something. But in the middle of the night, I woke up sweaty and with the chills – and realized my bout of dizziness was a precursor to this bug. My temperature was normal in the middle of the night, but when I woke up first thing in the morning, it was 100° – and I felt awful to boot.
Although I've never in my life had a headache, I now had a splitting one – and moving even a little bit (e.g., turning my head an inch to one side) was agony. I tried to go from my bed to my closet to throw some extra sweats on and get warm, but just that 10 foot walk wiped me out and I ended up lying on the floor of my closet just trying to get the energy to stand up. I wasn't nauseous, thank goodness, but I've otherwise never felt so sick in my life.
I eventually made it downstairs, and spent all day yesterday on the couch – really unable to do anything else, as every movement took a lot of effort, even something so small as turning the page in a book. I ended up dozing half the day, going to bed at 8pm, and then sleeping till 7am the next morning. 18 hours of sleep in 24 hours – my body was definitely trying to fight off something!
Fortunately, today I woke up feeling just "normal sick". I'm definitely not all better, as I still had a headache and a bit of a fever, but today I could at least cook meals, move around the house, and generally function outside of naps. Hallelujah for that!
So, hopefully I can kick this bug by tomorrow? I'm sick of sleeping and ready to just get back to it!