What a quick weekend! I got home at 11pm Thursday night, and had to be out the door at 4:30am Friday to do a volunteer shift at Denver Rescue Mission before work. It was a busy day at work, coupled with another volunteer activity in the afternoon – this one at Girls Inc. A group of my colleagues organized an event where we led the girls in various activities. I was responsible for the cookie decorating station, which was definitely a hit!
Friday night, I managed to get a full 8.5 hours sleep, which was glorious. I hit up a strength bootcamp in the morning, then snuck in a quick three mile run afterward to add a bit more calorie burn. The run was a slog! My neighborhood is really hilly, but I was still a lot slower than I would have expected given my speedy race times recently. I felt sluggish the minute I started, but I told myself that I could cut the run short and avoid the biggest hills in the neighborhood. Then I accidentally took the wrong path-between-houses and entered the trails just before a doozy of a hill. Whoops! But great views at the top: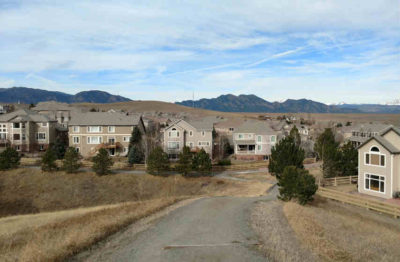 I ended up doing exactly three miles, which made me pretty happy (even though my paces didn't). I need to remember that just because I don't feel like going for a run doesn't mean I won't be happy afterward that I did! This wasn't a glorious or even a fun run, but I was still glad I did it.
After that, time for another suburban staple: my first experience with Lularoe! I had never heard of it before, but it's basically a clothing line that's sold exclusively by word of mouth through individual distributors (a la the Mary Kay model). I literally tried on more than 20 different styles/sizes at the open house I went to, and while a lot of the prints were fun-looking (Lularoe is known for their crazy prints), I generally wear solid colors, some stripes, and very few prints – so I had to think hard about what I would actually wear, vs what I thought would be cute for other people. I ended up getting a pair of the leggings (crazy soft!) and a tropical-print skirt that I think I can tone down with a neutral top for a cute Florida business outfit. The prices were more than I would normally pay for clothes ($25 for the leggings, and a whopping $42 for the skirt), but I also recognize that I'm generally more frugal than most on this front, so these really weren't outrageous 🙂
Saturday afternoon, Amanda came over for lunch and to watch a movie. (Can I call this Netflix and Chill or am I using that phrase horribly wrong?) I made kale veggie bowtie alfredo, using a healthy cauliflower sauce – it was really thick and creamy, and while not really cheesy, a decent substitute. And then we decided to watch Finding Dory, which I loved. I'm pretty sure Amanda laughed at me a few times for getting so invested in a kids movie (some of the "scary" things made me instinctively cower/cover my eyes, which goes to show how few scary movies I watch), but we both really loved it. Definitely watch it if you haven't seen it yet!
My neighbors stopped by for a quick visit Saturday evening, but for the most part it was a quiet night for me – I was in bed by 8pm. Since my time in Colorado was so short this weekend, I decided to just stay on Florida time with my bedtimes and wakeups. I managed to get another 8.5 hours of sleep last night (YAY!), but still felt sluggish in my morning workouts – which today were a Lagree pilates class and a Versaclimber class. I had never been on a Versaclimber before, and it was pretty tough! I can't say I enjoyed the workout, but I think a lot of that might have been from how slow I was feeling – so I'll definitely give it another try sometime soon.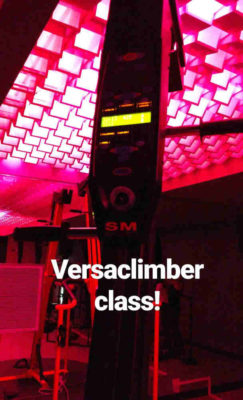 After class, I had time for a quick brunch with my friend Jill – but then it was time to head home to take a quick shower, pack, and hit the road. I am not really enjoying traveling on Sundays for work, as it just cuts the weekend so short! Even at brunch with Jill, I kept checking my watch, knowing that I'd have to get home to fly out in a few hours. I think I much prefer 6am flights on Monday mornings – even though I have to go to bed crazy early for a 3:30am wakeup call, I don't get anxious on Sundays the way I have the last few weeks, knowing that I have to work on Sunday. But, c'est la vie!
I have some pretty high hopes for the week ahead. There are a bunch of big things I want to get done at work early in the week, in order to make sure my current project is a success. But on the personal front, I also want to try to do a better job of eating healthy. My workouts are reasonably on point, but in the last few weeks I've found myself eating a lot of sweets, and I think that's what's throwing off my sleep/energy.
While starting to write this post on the plane last night, I found myself very tempted by the ice cream sundae offered to me by the flight attendant. With my health goals in mind, I somehow managed to stay strong and skip it, taking a decaf coffee instead to try to distract myself.
In all seriousness, I need to do this more often rather than having it be a rare occurrence. So, here are my health goals for the week:
1. Drink more water. I did a good job last week, but I need to keep up the momentum.
2. No sweets. I never used to have a sweet tooth and I seem to have developed one lately, but I think it's just habitual and I can get myself out of the habit if I really put my mind to it. Today I managed to avoid sugar entirely, so that's one day done! Hopefully I can keep that momentum going.
3. Finally, if I have any extra motivation in me, I'm going to try to walk a bit more. This particular client doesn't have a big meeting culture like some others where I've worked, so I frequently find myself sitting on my butt in the same conference room all day (rather than at least walking from conference room to conference room). While at work, it's rare that I get more than a few hundred steps in, so I'd like to try to change that up a bit! No formal plan yet, since I'm much more focused on goal #2, but I'm going to keep it in the back of my mind.
Happy Monday, y'all!