This weekend started off pretty fabulously. On Friday afternoon, I learned that I've been selected as one of BizWest Magazine's "40 Under Forty" – a huge honor that I still can't believe I've received! Fortunately, I already had plans for a Galentine's party that night with my best friends, so it was easy to pop open a bottle of bubbly and celebrate 🙂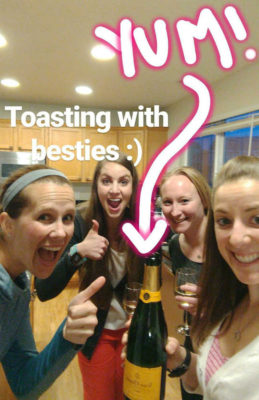 On Saturday and Sunday, though, things were much more low key – but not for good reasons. As wonderful as my new client is, I've been struggling to figure out a sleep schedule that will help me deal with the time zone change twice a week. I am definitely a morning person, but waking up at 5:30am Eastern time to work out is the equivalent of waking up at 3:30am Mountain time… which is probably why I had terrible insomnia all weekend. While I'm usually a strict 8-hours-a-night kind of woman to feel rested, I haven't gotten more than 7 hours in a night for the last week (and one night was an abysmal 4.5 hours). I hoped to catch up this weekend, but instead, I was keeping all kinds of crazy hours and feeling pretty terrible.
On Saturday, I woke up at 4am (because it was 6am Eastern time). I kept the lights out and stayed in bed reading, hoping I could get back to sleep, but no dice. You'd think that since I woke up so early, I would have had plenty of time to get to my 9am Pilates class, but I stayed in bed far too long and didn't get to class until I was already about a minute late. That kind of set the tone for the rest of my weekend :-/ Overall, I didn't plan too much this weekend, and that combined with my dearth of sleep really came back to bite me.
I tried to get to bed early on Saturday night, but insomnia struck again and I didn't fall asleep until well after 3am. I guiltily canceled my plans to go running with Lynne at 8am, and dragged myself out of bed for 10am Pilates only because I didn't want to pay the Classpass fine for late canceling. From there, it was on to meet Amanda at Denver Sports Recovery (to recover from the workouts I… didn't do), and Lynne and I were able to reschedule for a walk around Sloan's Lake in the afternoon. So that perked things up quite a bit 🙂
In all, though, I feel like this weekend was a bit of a bust. Sometimes it's nice to take a break from plans to relax and rest, but I feel like this weekend was the worst of both worlds: I didn't do all that much that was productive, but I also didn't really rest/relax. Rather than feeling energized by my weekend, I feel like I'm starting the week already tired/stressed out. Not good!
Looking on the positive side, this weekend reminded me what I always relearn whenever I get back on the road after a little while: that when I'm away from home so much, planning every bit of my weekends is what makes me happy and keeps me sane. (And planning is also the only way that I can get everything done and see all the people I want to see, since my time at home is so limited.) So with that in mind, I am already making my plans for next weekend. It's going to be a short one anyway since I won't be home until Friday night, and then I fly out again on Sunday night. Time to get scheduling!
This weekend's "failure" has also caused me to get hyper-motivated about the week ahead, and I'm excited to hopefully accomplish a lot in my time away – both from a work milestone perspective and also from a healthy habits perspective. On the latter front, my focus for the week is going to be increasing my water intake (since last week I was oddly lazy about filling my water bottle) and trying to get in some extra walking every evening, since I'm being pretty sedentary at my desk. We'll see how it goes!
Happy Monday 🙂