I was a bit stressed going into Thanksgiving, if my posts hadn't already made that clear. And I was particularly bummed that I didn't get to cook the holiday meal like I usually do. But looking on the brighter side, my post-Thanksgiving weekend was surprisingly good, and I'm actually really looking forward to the holiday season!
Thursday night after dinner, I stopped by the Michael's Black Friday sale (which started on Thursday night). All the holiday stuff was 70% off, and then there was a coupon for an additional 30% off your entire purchase! The prices were fantastic – comparable to the after-Christmas sales, but with everything fully in stock rather than just leftovers. I picked up a wreath ($12) two nutcrackers ($4.50 each), and some random knick knacks. I put the wreath on my front door within minutes of getting home, and I was so happy with it!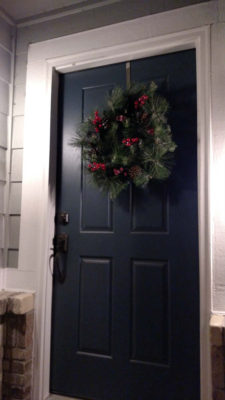 The next day, I opened up my Christmas storage bins that I had filled last year so I could get to work decorating… and discovered that I had actually bought a wreath at the after-Christmas sales last year. Whoops! But I loved my new wreath so much that I didn't want to return it, so I just left the new wreath on the outside of my front door where it was, and hung the one I had discovered on the inside of my front door. I'm sure that's not traditional at all, but I love the look and how it dresses up my plain white front door!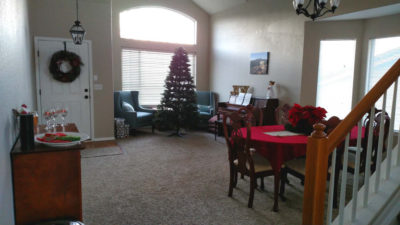 The (fake) tree I had gotten last year only took me about 15 minutes to lug up the stairs and set up (hooray for pre-strung lights!), which was awesome. In all, it took me less than an hour to get everything out and set up Christmas-y things everywhere. I was definitely helped out by Home Depot's annual Black Friday sale on poinsettias for 99 cents each – allowed me to put some real plants all over the house without spending much money.
But for the piece de resistance, I decided against opening the box that had all my pine garlands to string on the banisters. Several months ago, I started sanding my banisters in preparation to restain them from orange-y oak to a nice dark cherry. But the sanding was such a pain, and kicked up so much annoying dust, that I stopped working on it about halfway through and never got the motivation to get it going again. Well, Christmas turned out to be my motivation – I told myself that I couldn't put the pine garlands on the half-sanded banisters, and that I needed to stop procrastinating and just refinish them ASAP!
I decided that rather than put myself through the annoyance of sanding, I'd hire one of the local kids in the neighborhood to do it. (There are tons of high school / college students always posting on my neighborhood's Facebook page looking for odd jobs.) And since I felt guilty sitting around while the boy I hired was working, I used that time to clean out / reorganize my kitchen cabinets, sell a bunch of old small appliances on Craigslist, and deep clean the laundry room. In just one day, I made $100 from stuff I'm not using anymore! Just goes to show how much I desperately needed to clean things out of my house…
…and also started me on a home improvement project kick that led me to put the first coat of stain on the banisters yesterday. I was nervous about DIYing this, since I have no experience whatsoever in crafty/DIY things. I love all the possibilities at Home Depot, but I have zero confidence in my ability to execute on anything more difficult than changing a doorknob.
Luckily, the cherry gel stain I bought turned out beautifully, and I was in love with the color from the very first stroke. Unlike sanding, where I would scour for ten minutes and not feel like I made any progress, I loved the instant gratification of seeing the wood go from bare to rich, deep cherry. I'm so excited to finish next weekend!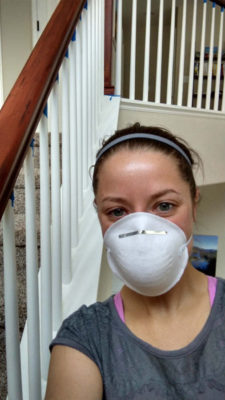 However, I won't finish until next weekend (or possibly even the weekend after). Each coat of stain takes 24 hours to dry, and in a twist of fate, I got staffed on a new project starting today, which will have me traveling most of the month – so I won't be "home for the holidays" like I thought. (Well, I'll be home for the actual holidays, but I had thought I'd be in Colorado the whole month.)
I'm really excited about my new project, though, which is a great fit for my background and will have me working with a different team of people than my usual circle. And, while it might be have been nice to stay in town for a few weeks, I know that the time away will help me appreciate my time at home that much more 🙂 I always love being so booked that I'm forced to schedule my free time; it helps me get a lot more done and that makes me happier as a result.
So – finishing up the banister stain over the next week or two, and then what? Who knows – maybe if this restain turns out well I'll have the confidence to tackle re-tiling my fireplace 🙂