I arrived at the Bivvi last night, super excited for this year's Gociety Mountain Gathering. However, after a drink at the bar and another at Breckenridge Brewery, I nearly got talked into trading today's summit of Father Dyer Peak for a late morning hike to Mohawk Lakes. But I really wanted to do a strenuous hike, so I forced myself to get up early for the Father Dyer hike. As luck would have it, we ended up at Mohawk Lakes anyway!
The plan was to meet at 6am at Spruce Creek Trailhead. However, after hanging out there for a few minutes and not seeing the Arcteryx Denver banner for the staff who were leading the hike, we realized we were supposed to be at upper Spruce Creek Trailhead. Off we went up the 4×4 road to get there.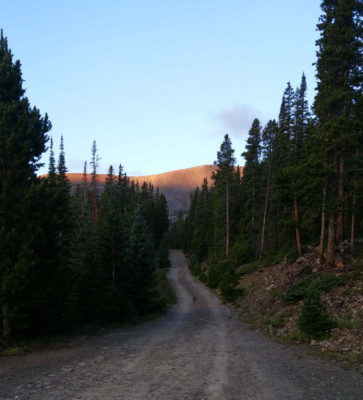 Although I have a Jeep (which I bought specifically for its high clearance on trails), I had never yet driven on a 4×4 road, and although I was a little nervous, I was the third car in line, and the other two were Subarus that seemed to have lower clearance than me. If they could do it, I could do it – and with that attitude, I forged ahead. My Gociety buddy David was riding with me, and I encouraged him to provide me with any feedback on my 4×4 skills, but he said I was doing great. Okay then!
The road started getting rougher as we proceeded, but my Jeep was still doing decently well. However, another mile or so in, the two cars in front of me pulled off, so I jumped out of my car to discuss. The road was too rough for them to go any further, so we decided to turn around and head back a bit. As the back of the pack driver, I now led the way – and I made it back to the agreed meeting point pretty quickly. But where were the others? Turns out, they had gotten stuck in one of the particularly bad ruts in the road, and had to all get out and push! I was really thankful for my car, and proud of myself for doing so well with the driving 🙂
At our newly-agreed upon trailhead, we found the Arcteryx crew just arriving… sweet! We layered up and hit the trails, heading down Wheeler Trail, which soon met up with Spruce Creek Trail. We followed this up to the junction of Spruce Creek Road, which I think was just past where we had given up on the 4×4 road. This was exactly one mile from where we started, and had little-to-no elevation gain, so it didn't seem like we had lost much by parking lower. However, I was a little worried about the rest of the hike: the whole thing was only supposed to be 7.5 miles roundtrip, so that meant with one mile down, we now had to cover 2500 feet of elevation gain over just 2.8 miles. This was going to be a steep climb!
We stopped for a quick break at a reservoir dam, and then resumed our hike – which was definitely now increasing in elevation. However, we soon came to a junction in the trail: should we go left toward Mohawk Lake, or right toward Mayflower Lake? We stopped for a few minutes while the Arcteryx guides tried to figure it out, and eventually concluded right. The trail flattened out a bit thanks to this decision, so I was pretty happy with it 🙂
But after traipsing through various unoccupied campsites, we realized that we weren't on a trail heading up the mountains; this seemed to be just a trail taking you from campsite to campsite. We decided to start heading up the talus field toward the peak, hoping to cut over and get back to the trail we were supposed to be on.
Our shortcut to get back to the trail seemed like a good plan – until we encountered a dense field of trees that there was no way to get through. So instead, we headed back down the way we had come, to hopefully get back on the right track that way.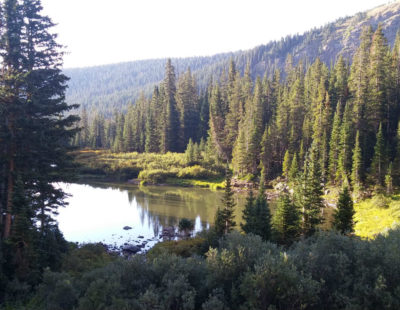 We took another of the many trail offshoots to head in a different direction, and arrived at a cabin/mining shed. We thought we were back on the right track, since the directions for Father Dyer Peak said that we would turn left and start heading up an old road near the remnants of an old mining building. However, while we were on a definite trail, what we were going up didn't seem to me like a road. In hindsight after more carefully reading the 14ers route description, we were wayyyyy off course and I don't know how we thought we were on the right track.
After some steep climbing (500′ of elevation gain in 0.4 miles), we reached an old rundown mine complete with cables heading down the mountain. Cool! While we may not have been progressing to Father Dyer, we were getting to see some cool things on the way.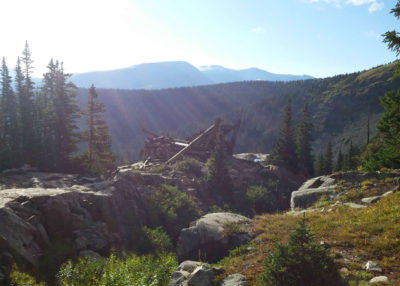 However, soon after this mine, we made another tactical error, veering right on a game trail instead of following the main trail to the left. This brought us to the beautiful Lower Mohawk Lake, though on the opposite side of the main trail. And in addition to being on the wrong side of Lower Mohawk Lake, we also weren't supposed to be anywhere near Mohawk Lakes in our quest for Father Dyer Peak – we were way off course.
For me, this is where the hike stopped being fun (despite the beautiful views). I was getting exhausted from the altitude, since we were at about 12,000 feet… but there was no end in site. Father Dyer Peak and Crystal Peak both stretched wayyyyyy above us by 1800′, and there didn't seem to be any discernible way up them, either. We tried crossing a creek to get over to the talus field, but discovered that what we thought was a trail was not. And while we searched for a way to get up the peaks, we just kept going up and up an interminable series of rolling hills, each of which seemed to be the last before we'd hit a flat area. (Spoiler: no flat areas in these parts.) Finally, we reached an unnamed lake that seemed to be the last in the chain.
We sat for a snack break and to admire the view, and here the group decided to split: half of us heading back down the main trail from Mohawk Lakes, and half still pushing onward in an attempt to bag Father Dyer Peak. I was really glad to be in the group heading down!
The trek down was a million times easier than the way up (duh), but I still wasn't very talkative – I was really eager to get back and refuel with a delicious breakfast burrito. (Several of us were talking about breakfast burritos on the hike, and then it became all I could think of.) However, it was really nice to be on a main trail rather than pushing our way through game trails and flat out non-trails – I felt a lot safer that way, and I also felt better that we were better adhering to leave no trace hiking principles by staying on the trail. Plus, staying on the main trail meant we got to see more of the major sights, like this amazing view of Upper Mohawk Lake.
We saw a lot of other hikers on the main trail down, and with about 1.5 miles to go, we saw another Gociety group – including Laura! This group had started at 10am, and it made me kind of wish I had gotten more sleep, since we ended up hiking the same trail anyway 🙁 But hey, sometimes even the best laid plans go awry when hiking, and you have to just go with the flow rather than stubbornly sticking to the same plan.
That said – I will fully admit that our plans were not the "best laid". I felt really dumb that I had relied on someone else to lead the way, rather than researching the route myself and knowing exactly where to go. That's a rookie mistake! Luckily, it all worked out on the end.
My goals for hiking today were to get a good burn in, get some good pictures, and avoid getting completely lost or having some kind of accident. By those metrics, today was definitely a success!