I think we've all heard the stat that 80% of women are wearing the wrong bra size… and yet, all of us think that can't possibly be us. I went to a sports bra fitting a few years ago in Dallas, and so thought for sure that I wasn't in the "wrong bra size" group now. But after receiving a personalized fitting this morning at Title Nine in Boulder, I realized that over the last few years I've actually drifted away from my correct size and might need to readjust.
While the average American woman wears a 36C bra, the vast majority of sports bras are built for A and B-cup women. (And my unscientific personal survey says that the vast majority of sports bras are modeled by A-cup or no-cup models, making it hard to tell from photos online how supportive a sports bra will actually be.) When I first started running, I will confess to doubling and even tripling up on lame cotton sports bras in order to get the support I needed!
Luckily, now there are so many great sports bras on the market that I don't have to do that anymore 🙂 Title Nine has tested thousands of bras and found just the right ones to support our workouts and our curves, whether you're a 32AA or a 40EEE. And, Title Nine uses expert bra fit specialists (which they call "bravangelists") to get women into the right bras. This morning I went to Title Nine in Boulder after a great brunch at Snooze, and was pleased to find several bras that were flattering even after I had a mountain of delicious pancakes in my belly 🙂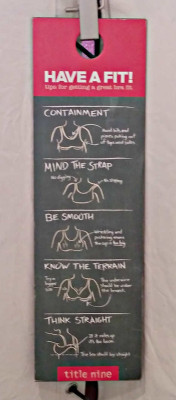 The bravangelist that I met with, Annie, first asked about what activities I'd be using the bra with (running), then whether I'd prefer racerback or split strap (racerback), and finally pulled out several options for me to try. Most of my options were Moving Comfort, which I already knew I loved, but Annie also pulled a few from a new-to-me brand, Shock Absorber. As luck would have it, the Shock Absorber was my favorite bra out of all the options I tried – a definite keeper.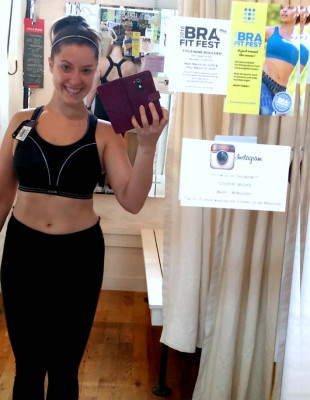 The perfect fit bra I ended up with was the Trade Up sports bra from Shock Absorber. It provided a ton of support, but was made of really thin, lightweight material that was surprisingly strong. I was also pleasantly surprised that although the Trade Up was a racerback, it didn't require me to put it on over my head. (Isn't that the worst at the end of a workout when you're trying to get your overhead bra off and it's all sweaty and you get stuck?! Straight out of a sitcom.) The Trade Up has two closure snaps in the back, and although it took me a little bit to get the hang of the top one that turns it into a racerback, I feel like a pro now. I just love that I can unhook it to take it on and off rather than struggling to squeeze into it! Plus, I felt like it was a pretty flattering fit, with a nice high neckline that won't show any cleavage at the top of my workout tanks.
Giveaway!
Title Nine is offering a complimentary fitting and sports bra for one lucky reader. This giveaway is open to anyone in the US and will include a personalized fitting (either in-store or by-phone, depending on location) and one bra. Winners within driving distance of a Title Nine store will be asked to redeem their prize at the closest/preferred retail location. To enter, leave a comment telling me your current favorite sports bra, and log that in the Rafflecopter widget below (if you're reading this in Feedly/Bloglovin'/email, you'll need to click through to enter). The contest will run through next Friday April 1 at 11:59pm MT, at which time a winner will be chosen by random drawing and contacted by email.
For those who aren't the lucky winner, Title Nine is offering personalized fittings with "bravangelists" their stores over the next few weeks, paired with "Fit Fests" to let you put their bras to the test. At a Fit Fest, you'll have an expert work with you to determine the perfect bra and fit, then try out your new bra at stations offering hula hooping, jump rope, and everyone's favorite, burpees. Title Nine is bringing an extended selection of bra styles/sizes in for each event, so you have every opportunity to find a bra that's right for you. For my friends in Colorado, you can attend a Fit Fest in Boulder (March 30 and 31), Denver (April 6 and 7), or Colorado Springs (April 13 and 14). Click here to find a Fit Fest near you and RSVP (very important to do that, since spaces are limited).
Disclosure: Title Nine invited me to this fitting event, and provided me with a free bra for review. All opinions are my own, though, and I would honestly recommend Title Nine's fittings and bras to any of my friends/family.