This morning was strength day at Orangetheory, and while you might think that means the weight room was king, I absolutely loved the treadmill portion of the workout! I really love treadmill sets where we have to cover a set distance before moving on to the next interval but we get to go at our own pace, rather than simply all running till the clock hits a certain point. It always makes me feel powerful if I can finish toward the beginning of the group. Plus, I like that if I work harder, I get done sooner – just like in a race. Gotta love a reward for hard effort!
The only downside of today's workout was that I felt like it wasn't explained very well. Orangetheory had gone to the trouble of printing up instructions for the first few intervals, but they were kind of vague about what to do after the first four, and I honestly got really confused. (I would blame the fact that it was 6am except that I am a morning person, so that isn't an excuse for me!) After my second row interval, I ended up having to go find the instructor in the weight room and ask him what I was supposed to be doing… oops! Hardly the way to make it a truly effective workout.
But after I figured out the workout, I loved it – and wanted to write it down as a workout I can do on my own at the gym. If you are at a gym that doesn't having a rowing machine (or doesn't have one near the treadmills), a great substitution for the 150m rows would be doing 10 reps of a weighted deadlift into upright row. We did that in the weight room today, and I really liked it as a compound movement – it forces you to really complete the deadlift all the way up, and also provides full-body benefits to get your heart rate higher. (Just like a rowing machine!) If you do have the benefit of a rowing machine, make sure that your row is not an easy break from the treadmill, but an all-out interval that you complete in a maximum of 45 seconds.
Finally, a note on pacing: Orangetheory tells you to be at your "push pace" for the first interval and then try to sustain the pace as long as you can for the rest of the runs. (Push pace is 1.5-2mph faster than your base pace that you could hold all day.) However, 1/4 mile run is finished fairly quickly, so I found that I could grit it out and get through just about all the inclines in this workout without having to slow my pace. It definitely gets tougher as you go, but it is amazing how flat and fast a 3% incline feels after coming off an interval of 6% incline.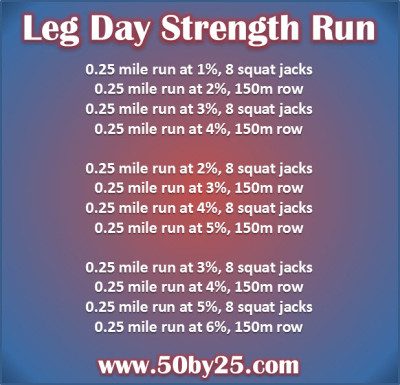 Finally, if you have time at the end of your last set, it's really fun to set the treadmill back down to 1% and see how fast you can do 1/4 or 1/2 mile for time. There is something about ending a workout with an all-out sprint that just makes me feel powerful!
Happy Tuesday 🙂