Adam and I have a bit of an inside joke where he refers to me as his "gamer girlfriend", because I like to play Cubistry on my Kindle. (I try to argue that it keeps my mind sharp, like a game of Memory, but it's really fairly brainless.) This year for Halloween, though, I lived up to my "gamer" moniker, by dressing up as video game characters from my childhood.
At my client in Dallas, Halloween is a very big deal. Everyone in the company (literally everyone) wears a costume to work, and the C-suite all dresses up in an annual group theme that is so elaborate, they bring in hair and makeup at 4am to ensure Halloween perfection. This year, my team at work also went with a group theme – Mario Kart.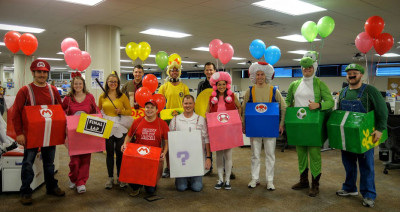 I had a fabulous day celebrating Halloween at the office on Friday: watching the elaborate 30 minute "skits" (more like one-act musicals) that each department rehearses for weeks, seeing adorable little kids run around in costume (most employees bring their kids to work to "trunk or treat"), touring the haunted houses and other complicated structures that are built around the office, and of course, racing the Mario Karts up and down the hallway.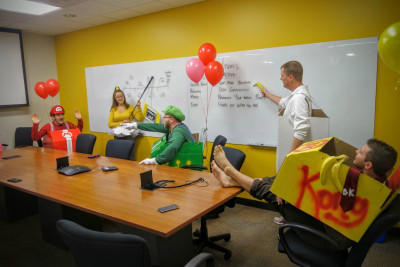 As you might have picked out from the pictures, rather than go as a Kart racer, I was actually dressed as the little man in the cloud who dangles a stoplight from a fishing pole to start the race – his name is "Lakitu." Turns out, though, I had just as much fun with that role as I would have had as a "real" character. I loaded the Mario Kart sound effects on my phone, and got a kick out of playing the starting theme song, count down, "welcome to Mario Kart!", and "congratulations!" wav files every chance I got 🙂 It was a blast! And really, what better way to celebrate Halloween than hearkening back to my youth?
But my Halloween wasn't over yet – I flew home to Colorado on Friday afternoon, in order to prepare for actual Halloween on Saturday at my house.
This was my first Halloween since growing up that I would spend in a house rather than an apartment, and I was incredibly excited to get trick or treaters at my very own front door. So while I had a blast last year flash mobbing Boulder with the Michael Jackson Thriller dance, I decided this year to throw a suburban-style house party for my friends, and hope that they wouldn't ditch me for something cooler and more age-appropriate. Fortunately, I had a great group of friends in attendance, and I was really happy with how the party turned out.
I put out a pretty big spread of snacks: my squash/goat cheese/cranberry appetizers that I usually make on Thanksgiving; a ton of hummus with fall-ish veggies (zucchini and carrots) and crackers; some Harvest Cheddar Sunchips; M&M cookies; and of course, a big bucket of candy! But the piece de resistance was a Martha Stewart recipe that was really simple: candy corn jello.
To drink, I made spiced spiked cider and also put out a blind wine tasting. For the tasting, Adam and I picked out two 2012 Sonoma County Cabernet Sauvignons, one priced at $8 and one at $40. I put each wine in a numbered decanter (and then promptly forgot which was which… thank goodness we tucked the original wine bottles away labeled with the corresponding numbers) and asked my guests to guess which was the cheap wine and which was the expensive one. Opinions were divided, but the big takeaway was that most of us really liked both – and even the "winners" who chose correctly said they'd gladly drink the other. Just goes to show that cheap wine can be delicious too!
But the hit of the party was not the food/drinks, or even the wine tasting game. Instead, it was another party game I came up with to hopefully get everyone else as excited about handing out candy as I was: trick or treat bingo.
Before the first trick or treater arrived, we all filled out blank bingo boards with different costumes that we thought might be worn by the kids coming to the door. If that costume came trick or treating, you got to check off the square. But except for Adam, all of us seemed to be totally out of touch with what kids are into these days… there was not a ghost, a zombie, a pumpkin, a cowboy, a Harry Potter, or even a Princess Elsa in sight all night! Instead, Star Wars seemed to be the theme of the night – which most of us had thought was too old for kids these days.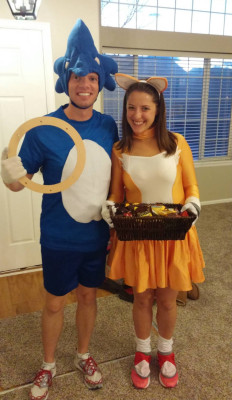 But whether we knew the popular costumes or not, it made for a really fun game – and us being totally out of touch with today's youth actually made it even more exciting and competitive at times as we hoped and prayed for certain costumes to show up. (Me: "Ohhh, are you a BUTTERFLY?!?!" Little girl: "No, I'm a fairy princess." All of us: "DAMN IT!") Adam ended up being the big winner, though by then I had drank enough spiced cider that I didn't much care about the competition anymore 🙂
My only disappointment about the night was that my neighborhood had a pretty low turnout compared to what I've heard it's had in years past – I counted a rough tally of only about 75 kids for the whole night. But that also means I have a ton of extra candy kicking around – so perhaps it's a win-win.
Overall, it was a fabulous Halloween weekend; I'm so thrilled that my party went off without a hitch. With it being my first year in my house, I'm really eager to establish some traditions that reoccur year after year. It's fun to reminisce about years past (as my throwback costumes reminded me), and I'd love to look back and remember that I've always done trick or treat bingo and served candy corn jello and spiced cider to celebrate Halloween. I feel so lucky that my friends were able to join me and share in my new Halloween tradition!