When I bought my house in March, I immediately signed up for internet… but didn't sign up for cable. There are so many ways to watch my favorite shows that I just don't see the point in paying for a cable subscription! Instead, I bought an AmazonBasics Indoor HDTV Antenna for each of my TVs, so that I could get free live TV when I'm home.
But what about DVR, since I'm usually not sitting around when primetime shows are airing? For someone like me who travels a lot, it doesn't make sense to have a DVR at home – I'm rarely home to watch it! So I love that streaming services let me catch up on my shows almost as soon as they air. I originally signed up for Hulu… but that unfortunately doesn't have all the shows I want to watch. Plus, the free version of Hulu (and a lot of other online streaming services) requires you to enter a cable provider username/password to get content quickly, which means you have to pay for cable even if you just want to watch an over-the-air show. However, NBC has recently released a new streaming service, NBC TVEverywhere, that allows you to watch TV on your computer or laptop totally free, without any kind of subscription.
My mom is visiting me this week, and she was very surprised to find out that I don't have cable at my house. Fortunately, that hasn't kept us from spending our nights curled up on the couch watching TV together. I know that a lot of people try to get away from screentime during the holidays, but sometimes sitting together to watch a show can be a nice way to connect, too! Tonight, we tried one of the new NBC shows, Chicago Med. It definitely took me back to my childhood, when we used to love watching Chicago Hope together (circa 1995). How funny that both medical dramas take place in the same big city!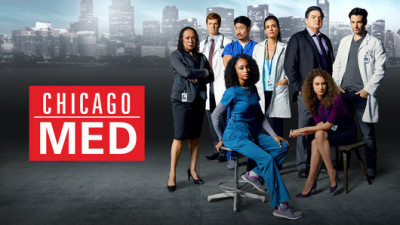 Even though Chicago Med is a brand new show that just debuted last week, NBC TVEverywhere allows us to watch the episode free the day after it airs. This is where TVEverywhere is perfect for me: I'm not often home, so it's nice to be able to easily watch shows for free when I'm away from home. No special equipment needed; you can just click here to log in and watch. Whether you're a viewer of Blacklist, Heroes, The Voice, Chicago Fire, Chicago Med, or Chicago P.D., they're all available live on the website. (Hey, maybe that's something to go hide in your guest room and watch when you're visiting family for the holidays? Kidding!)
Anyone else tried NBC TVEverywhere yet? Or what about giving me suggestions for any new fall shows I should be watching? I have to admit, I'm very behind on even a lot of my old favorites at the moment, but I can't wait to check out the new stuff too!
Disclaimer: This is a sponsored post, but all text and opinions are my own.