This weekend, with Adam's help, I went back to the simple life. We spent Friday night at the baseball game downtown, where my company hosts an annual event with amazing field-level seats.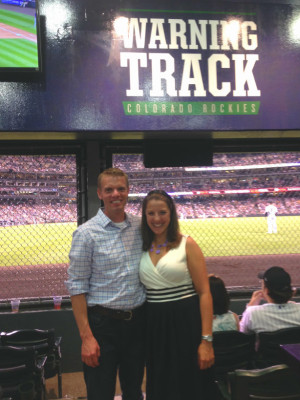 And then on Saturday, we planned literally nothing all day long, slept late, and got errands done. I now have a new stainless steel dishwasher! (The old one broke, which means I am officially replacing my kitchen appliances one at a time until everything is stainless.) Adam installed the dishwasher for me while I tackled learning how to reupholster the chairs of my new (to me) dining set that I got on Craigslist. I only got one chair done in about ninety minutes, but at least now I know the technique, figured out the tools I need, and got them at Home Depot so I'm ready to go when I resume reupholstering. As my mom always taught me, having the right tools for the job is half the battle!
Saturday night, Adam and I hosted a game night for a bunch of my friends, which was so much fun. For dinner, I did a make-your-own baked potato bar with tons of different toppings. It was really quick and easy to set up (well, outside the long time needed to bake the potatoes… but at least that was hands-off), and my friends loved it! I highly recommend this for your next party.
Finally, Adam and I had originally planned to go hiking on Sunday, but instead bagged that for a day of lying around, watching HGTV, checking out the new taphouse that opened down the street (which has 40 taps and the most amazing french fries ever!), cooking dinner together, and then going for a walk around my neighborhood before a little more HGTV and bed. So simple, so relaxing!
It was an amazing weekend, but you'll notice that I did not mention work anywhere in there. In fact, Saturday I literally didn't look at my laptop once all day! I honestly think it's been more than five years since I could say that – usually I have a bit of computer time every single day. When I realized that I had somehow forgotten to check email Saturday, I was a little in awe, since that is so not me… and I thought perhaps I should spend more Saturdays unplugged. Maybe even unplug every Saturday, like the Greatist article I recently read?
Unfortunately, by Sunday the reality had set in of why I can't do this more frequently – I was so behind! I literally worked from 6am to 8pm on Monday in order to catch up on what I had missed. So much for unplugging – I'd prefer to put in a few hours over the weekend rather than have such an intense start to my week.
On a slightly related note, this morning I finally read the NYT Amazon expose that everyone is talking about… and I have to say, now that I've read it, I'm a little surprised by all the backlash. I didn't think there was all that much in that article that was appalling, and in fact, hearing how upfront Amazon is and the challenging standards that they set made me want to work there myself! To me, it would be bizarre that you would not check your email when you leave the office, and as I referenced above, working on nights and weekends is something with which I'm very familiar. Yes, those practices are bad if they're your everyday life and causing you stress, but as a lot of the rebuttals pointed out, the authors actually took a lot of one-off examples and tried to pass them off as daily life. Meanwhile, I appreciate that Amazon sets such a high bar for its workers and gives them so much personal responsibility – it explains a lot about how Amazon is able to accomplish so much, and it sounds like a really fulfilling place to work with coworkers whose own work motivates you to give your best effort.
Overall, I think that it all comes down to personal choices. I can see how those practices might be appalling if we were talking about hourly workers who weren't being paid for anything they were doing outside the office, but I have to guess that these are salaried workers who are doing pretty darn well. Even in the article itself, they admit that Amazon pays very competitively.
So, that's your tradeoff: work nights/weekends and work with the best and brightest and be paid handsomely, or take a basic 9-5 job and get paid a lot less. (Of course, that is a very broad generalization – but I have to guess that many of the thousands of commenters earn much less than the well-paid Amazon engineers on which the article focuses. Hey, I wouldn't want those kind of demands for $40k a year either!) There are certainly 9-5 jobs that pay well and offer a challenge, and demanding jobs that don't, but that's why we have a free market economy: so you can choose wisely and move on if the job stops working for you and your desired lifestyle. I know plenty of people who have chosen each option, and there isn't a universal right or wrong – it's what's right or wrong for your values and the lifestyle you want, and those might change over time. Hooray for living in an era where you don't have to stay at the same company for your whole career!
If anything, I really appreciated that Amazon was incredibly honest about what they are looking for in an employee, and that it isn't the right fit for everyone. I think it's a great trend in talent that employers are emphasizing fit with the culture and lifestyle, and being transparent about what those truly are. With the cost of turnover estimated between 90-200% of an employee's salary, it's beneficial to both the worker and the company to be honest about what they're looking for and whether it truly is a good fit. Every decision in life has a tradeoff, and you can only make good choices about those tradeoffs if you're fully aware of what they are.
Right now, I am still working to find the balance of what works for me. This weekend was far too little work; other weekends, I fully admit that I've been more of a workaholic than perhaps I need to be. But I am happy that over the last few years, I am coming closer and closer to getting the balance just right.