When you're ten years old, you can't really think for yourself – you go to school and do what your parents tell you. When you're a baby, you can't even take care of your bodily functions. So I think that 20 is the first decade where it's fair to compare what you've made of yourself in the world. And boy, have I come a long way since I was 20!
Today I turned 30 years old, and I couldn't be happier with where I am. I'm a billion times more confident than I was at 20, and not afraid to say what I want and go after it. I haven't really changed careers in the last ten years, since I went into consulting right out of undergrad and am still working in that field today. But in the last few years I've come closer to finding my niche in my job and making my day-to-day as close to my perfect ideal as I ever could have thought possible. I live in the most magical place in the world, not because of luck or happenstance, but because I found it and knew it made me happy and found a way to move here.
Today, though, I'm most touched by the relationships I've made over the years.
Say what you will about the time-suck that is Facebook and how it allows people you haven't talked to you in years to reach out to you like no time has passed… but it allows people you haven't talked to in years to reach out to you like no time has passed. How amazing is that?! My email was blowing up like crazy today with Facebook notifications of birthday messages, and while hiking for me is usually a time of zoning out and not paying attention to social media, today I was checking it constantly and using even the tritest and most generic of "happy birthday" messages as a chance to tell Adam about someone who, at some point, had been very special to me in my life, and tell him the stories I shared with that person. Even if it was grade school friends that I hadn't talked to in years, it meant a lot to me that they took a few seconds out of their day to send me well wishes. Even if we're not still good friends today, I cherish the friendships we once had, and it's amazing to be reminded of those every once in a while. Friendships ebb and flow, but that doesn't mean I still don't celebrate every one of them.
As for my present-day friends, I have never in my life been more touched than tonight, when all my closest friends came to my house for a low-key celebration… and came bearing no gifts at all except for greeting cards and notes on stationery. (Per Adam's instructions.) Those notes are by far the best presents I have ever in my life received – as each of my friends wrote me a personal message about what our friendship means to them. Some of them made me laugh and a lot of them made me cry, but I have just never felt as special as I did in those moments while reading those cards. I am putting them into a scrapbook to get to read them again and again, and I can't wait to continue that tradition for future birthdays.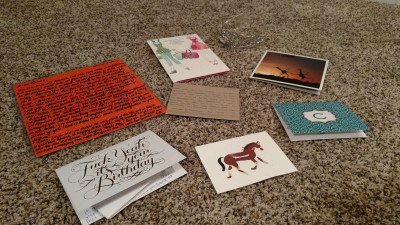 Finally, today reminded me how far I've come with my romantic relationships. Where just a year ago I thought that perhaps I was destined to be alone (and was fine with that – I'm really independent!), my 30th birthday has come to find me dating the love of my life, whom I actually met (at least virtually) eight years ago. We both started blogging in 2008 and began commenting on each other's blogs within a few months of starting to write – and both of us had literally no idea it could possibly lead to a relationship as fulfilling as this. I can't believe how lucky I am to find Adam and have our friendship blossom into something this amazing, and I am looking forward to many more decades spent with him. He is really the one to thank for the perfect day I had today, and I can't believe how lucky I am to find someone like him who would make all this happen.