I participated in an Influencer Activation on behalf of Influence Central for Mudderella. I received complimentary admission to facilitate my review as well as a promotional item to thank me for my participation.
Yesterday I wrote about what a blast Adam and I had running the Bolder Boulder this weekend. But as much fun as we had, walking the race made me kind of wistful. So many people were having so much fun running, and I wished we could do the same!
I still am honestly not sure what's up with my foot – some days it hurts a lot, other days it's totally fine. Until proven otherwise, I'm going with the likely possibility of a stress fracture, and just trying to avoid running. My doctor said that I can run on treadmills or trails, but I think it's probably safer for me to avoid anything high impact until it's healed – which will hopefully be by the end of June.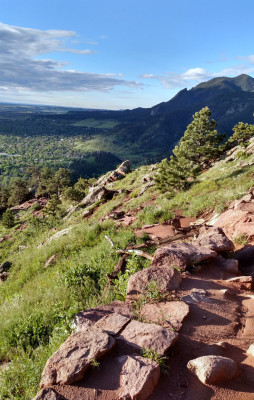 On the bright side, I had an incredible time hiking up and running down Mount Sanitas yesterday. Last week I wrote about how I haven't really been motivated to work out, but getting to go hiking before work this week has really inspired me. I just love that I live so close to the mountains that I can literally summit a peak as my morning workout, and still be at work by 8am… how awesome is that?! The views from Sanitas are amazing, and it really just starts my morning in the absolute perfect way to go hiking. I get to learn something from the podcasts I listen to on the way up, get incredibly sweaty from the steep slope (1300′ of elevation gain in 1.3 miles), and then bliss out listening to music as I fly back down the mountain to the trailhead. Amazing!
Plus, since I timed myself going up and down, I'd love to get a little self-competition going to see if I can get faster. I clocked in at 39 minutes up, 25 minutes down… which I'm pretty sure is faster than last year when I timed it once or twice! I was pretty pumped, though I definitely still have lots of room for improvement. But in order to get better, I have to make Sanitas part of my regular routine (practice makes perfect), and then also do some at-home strength workouts and perhaps some road running speedwork once I'm healed. Getting fitter for a hike is great motivation for me!
Hiking Sanitas is also good training for an event I have coming up at the end of the summer – Mudderella in Snowmass. Mudderella is the first and only full-day athletic event series designed for women, by women, to challenge all-round strength, balance, endurance and agility in a team environment. So basically, it's an obstacle course where you don't compete solo in the mud – you're with a team of your best girlfriends! (Who will totally laugh at me if I get prissy about not wanting to get a little dirty, like I did this week after all the rain. Guess I need to train for that too!) Doing a tough event with a team of friends is extra motivation for me to train, since I feel like I tend to be a much slower hiker than anyone I know. In order to succeed at Mudderella and not let my team down, I have to get stronger. It's training time!
Lately, there has definitely been a trend towards fitness activities that are also social. (And I love that in Colorado, most of the activities that people want to do.) Mudderella is designed to answer this need not just on event day, but through the ongoing social connections it builds, since you register as part of a team and can all cheer each other on through training. I'm looking forward to emailing back and forth with my team about our workouts for the next two months (that is definitely extra motivation for me to get my butt in gear) and perhaps even getting together for some hikes or other training. Speaking of which, the Mudderella organization has put together a great training program here. Whether you're signed up for Mudderella or not, you can check out a whole bunch of no-equipment workouts on their site.
If you'd like to sign up for Mudderella, there are a whole bunch of options. Right now Mudderella has nine US and two Canadian events planned for 2015; however, they've said they may add a few along the way! You can see all the latest details and register your team at Mudderella.com; the current 2015 event schedule of events is:
Chicago –

May 30, 2015

– Richmond, IL
NorCal –

June 27, 2015

– Vallejo, CA
Toronto –

July 11, 2015

– Kitchener, ON Canada
Capital Region –

July 25, 2015

– Clarksburg, MD
Colorado –

August 22, 2015

– Snowmass Village, CO
Pittsburgh –

September 12, 2015

– Slippery Rock, PA
Whistler –

September 26, 2015

– Blackcomb Mountain, Whistler, BC Canada
New England –

October 3, 2015

– Thompson, CT
I am really pumped to be doing the Snowmass Mudderella in August… and if you live in Colorado or would otherwise like to take a trip out (it's beautiful here in summer), you can join my team! Go to Mudderella.com to register, and when you're asked if you want to join a team or register as an individual, do a search for the "50by25" team (all one word) and join my friends and me. The more, the merrier, for sure! Then drop me an email and we can all coordinate rides from the Denver area, plus some fun stuff before/after the event 🙂
Disclaimer: Thank you to the Mudderella organization for providing me with complimentary entry to the event; I can't wait to report back on how it goes!