This morning I got up as usual, and went to the gym as usual, but then instead of sitting down at my computer, I spent a lot of time writing on stacks and stacks of paper. I swear, I've almost forgotten how to write, since I am pretty much always on a computer… but today it didn't matter if it was legible or not. I was signing all the paperwork to buy my first home in Colorado!
I am soooooo excited for this house, which is basically everything I was looking for. Rather than a big bang approach to moving, since it's only a few miles away from my current apartment, I've decided to spend the next few weeks slowly moving over all the smaller stuff – basically, anything I can fit in my SUV is fair game! Then I'm working on hiring movers to come at the end to take the big furniture so I don't have to try to deal with it myself (or coerce my friends into doing it).
I already had to make two trips over there today to meet with a fireplace cleaner (sorry, Adam, I forgot to make him do a Chim-Chim-Cheree dance for me) and a general contractor. Since I've decided to make a rule for myself that I never go over empty-handed, I brought over all the beer in my fridge and all of my cocktail dresses/formal gowns. The necessities, obviously! Haha. My actual rationale is that I need the beer for a small party tonight with my friends (happy St. Patrick's Day!) and the dresses were easy to grab and I definitely won't need them until well after I move in. In the next day or two, I'll start prioritizing/sorting through the rest of my stuff to figure out what I need and what I can start taking over, but again, since they're so close together, it wouldn't be the end of the world if I take something over that I need and have to go fetch it. That's just another forced trip in which to bring more stuff!
So speaking of the general contractor… while the previous owners put some nice cosmetic upgrades in (painted walls and new carpet!) and the house is really amazing, there are definitely some things I want to change to make it perfect for me. For example, since it has an unfinished walkout basement, I really want to finish that as soon as possible so that I can better host guests and also use the backyard for entertaining come summer. (Which I swear is going to be here like next week – it's been in the high 70s the last two days!) Plus, I want to create a home gym down there – and that's something that I'm incredibly eager to have! I am already getting nervous about not having an apartment gym anymore, though I'm planning to try out Classpass over the next month so that I can at least go to some group classes when I'm not doing home workouts.
The basement is definitely something that I can't do on my own, but for the rest of the rooms, I'd like to stay as cost-conscious as possible. Buying a house in Colorado is so expensive – like twice the price of where I grew up! And even though I bought a lot of furniture when I moved here from NYC, the furniture in my current apartment is not even going to come close to filling up the house, so I also have a lot to buy on that front.
On the repair/renovate front, I'd like to try to DIY as much as possible. I don't consider myself to be very handy at all, but I'm hoping I can change that about myself and learn! I think my first project is going to be restaining the bannister, since that seems not overly complicated – or at least something not-dangerous where I won't accidentally kill myself or destroy the house in the DIY process. (For example, swapping out the doorbell chime is high on my priority list, because I find the sound really annoying, but I'm kind of afraid I'm going to electrocute myself based on the instructions I read online.)
I've seen a lot of my favorite bloggers post about their home renovations, and so I thought it would be fun for me to post the "before" pictures now and then show my progress along the way as I start changing things up (and moving furniture in). I would also love any suggestions or help, since this is all new to me! I've started creating some Pinterest boards for things I like, but I think I'm going to be doing a lot of Craigslist/thrift store shopping in order to actually acquire it, so I'll need to be patient to find it all at an affordable price point.
I need to get a dining room table/chairs in here (thinking simple and Mission-ish, probably with seating for six or eight people) under the hanging lamp, as well as a (semi)-matching sideboard to go against the base of the stairs. For the front area by the window, I'd eventually like to get either an armchair or a settee, plus a piano… but that's definitely on the "someday" list of things I can't really afford to spend money on right now. In general, I'm trying to get as much as possible used (except upholstered furniture), so I need to wait till a decent upright piano comes on there for under $250 and then I can snatch it up 🙂
For now, I'm going to put my current brown leather living room furniture in here, with the TV over the fireplace. However, once the basement is finished, I'll likely move that stuff downstairs and get a new set for up here. Maybe an L-shaped sofa in a taupe microfiber?? I'd like to either do green or purple accents throughout this room (to be clear, that's "or" not "and"!) and try to make it feel more homey and comfy than the formal living room up front, but also not quite as casual as the basement.
The kitchen is already in pretty good shape – the countertops are brand new, and I already swapped out the stainless sink for a black granite one that I really love. I would like to eventually replace the appliances, and have gone back and forth with Becky via email a lot since she's thinking of doing the same in her new house! However, I definitely can't justify the expense right now, since these all work just fine (although the fridge is annoying with me with not being big enough, even though right now it just has a bunch of beer in it). As for that half wall dividing the space, I'm asking my contractor to extend the height of it and add a granite top to match the kitchen counters, so that it makes a countertop bar where I can sit and eat dinner and watch TV. Um, I mean, I never watch TV while I eat because it's terrible and lazy and slobby to do that? Moving on…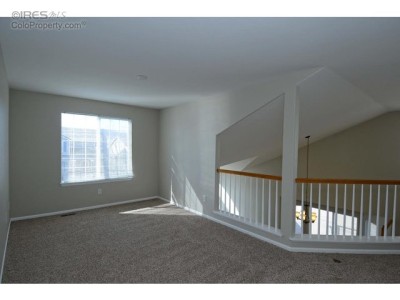 The open loft is my absolute favorite part of the house, and a big part of what sold me on it. I joked with my realtor that I can basically wake up in the morning and then lean over the railing to survey "my estate", but I seriously do love how open it is to the living room/dining room below (as seen in the first picture). I'm going to put a desk in this space (thinking a rolltop?) and a really comfy easy chair (maybe a chair-and-a-half style?) in the corner by the window – because this window has some of the best views of the house. I can see the Flatirons from it! I am so excited to be able to have that kind of view while I work, especially since I work from home a lot these days.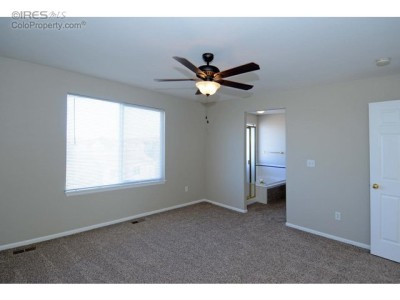 The master bedroom is a little bit boring with not much to tell. However, because the house is set on a hill, the window looks out over the top of the other homes behind it and I have some nice views of the city lights on the horizon at night! All I'm going to put in here is my bed and an easy chair, but I might repaint it (all the walls? Just one accent wall?) to make it a little more fun. I'll likely also swap out my current queen-sized bed for a king-sized, and then move my old bed to the guest room, but that's not going to be in the near future… maybe in six months or so. Through the door to the right is the master bathroom, where I'd like to update some fixtures, and a huge closet that is perfect just the way it is (once I get my dressers into it).
These other two bedrooms are similarly plain, and since I don't really know what I'm going to do with either of them yet, they'll probably just sit empty for a while. (Ideas welcome, please!) I had originally planned to use one bedroom as a home office, but this home came with the loft space that is already perfect for an office. And of course, I do need a guest bedroom, but that brings me to…
The walkout basement. It's unfinished (though roughed in) right now, so I've been soliciting lots of bids from contractors to get it finished in the next two months so that I can enjoy it as soon as possible. I'm planning to put in a guest bedroom and bathroom, a small gym area, and a large space for entertaining (probably with just a couch and TV, nothing fancy). I'm really excited about having room for guests in the basement, so that anyone who's visiting has their privacy. Before I moved to Colorado, I frequently stayed in my friend Kelly's guest bedroom in the basement, and I just loved feeling like I was out of the way and not bothering anyone when I stayed there. I hate feeling like I'm intruding when I'm a houseguest! And as I mentioned earlier, I'm really excited about having a home gym that I can use – I'm trying to do a layout where the equipment can be hidden away when guests are over but that can be open to the main room when I'm actually using it, so that it doesn't feel cramped. We'll see how that all works out!
Finally, the backyard is really snowy in this picture, but now that the snow has melted, I'm seeing that it's really cute – but is definitely going to need lots of landscaping. Yikes, that part is a little scary to me! I have no idea what I'm going to do with it, but I'm probably going to try to use lots of stone and minimal grass so that it won't be high maintenance. I also need to get some kind of small table and chairs set (maybe bar-style?) that can fit on the small deck off the kitchen, because I think that would be nice to be able to sit out there and eat in the summer.
So – welcome to my new house! If you know me, definitely come visit. And whether you do or don't, please share any and all ideas with me in the comments because I'd love some help with getting it to feel like my forever home 🙂