Several months ago, I was invited to try some really cool new technology: a sports bra that uses "smart" fabric so that the sensing fibers are woven directly into the garment. By wearing the Numetrex Seamless Sports Bra, you can track your heart rate without having to use an uncomfortable heart rate monitor! I was pretty impressed… it definitely brings new meaning to the concept of "wearable" technology 🙂
The sports bra wasn't quite as tight as the New Balance and Moving Comfort ones that I love for anyone with a larger chest, but the material was a really neat wicking nylon lycra fabric that was incredibly comfortable – and it provided enough support for me to hit the elliptical or do short runs on the treadmill; just not quite enough for me to do a long run. (Would probably be fine if you were a C cup or smaller – it's still pretty supportive.) I really liked how smooth and soft the fabric was, and even the addition of the two sensors along the bottom didn't make it at all uncomfortable. This is way better than having to wear a chest strap or position your hands just right on a cardio machine's handles to allow it to read your heart rate while you're still trying to keep moving!
However, one challenge I experienced when I was attempting to test out this heart rate monitor was that my Windows Phone had a weird bug in it that wouldn't allow me to check my heart rate using the Adidas MiCoach software. (To be clear, the software is available on pretty much all mobile operating systems except the Windows 8 Developer Preview Mode that I have.) Fortunately, I had a trick up my sleeve – I was getting the opportunity to test the brand new Motorola Droid Turbo! I started bringing that to the gym so that I could check out the app and use the heart rate monitor… and I fell in love.
So first, a little about the Motorola Droid Turbo. One of the first things that I noticed about it was the textured backing, which I wasn't sure if I liked. It adds a little bit of heft to the phone, and while it does make the phone really easy to hold without slipping, it seemed kind of pointless to me to add that bulk when I would probably just slap a case on it anyway. But then I learned that the textured backing is actually made of Kevlar, and not only protects the phone in case of falls, but is also water-resistant and will theoretically guard the phone through 20 minutes of a downpour! Wow – no need for a case after all, in which case this is pretty small compared to other phones (with cases).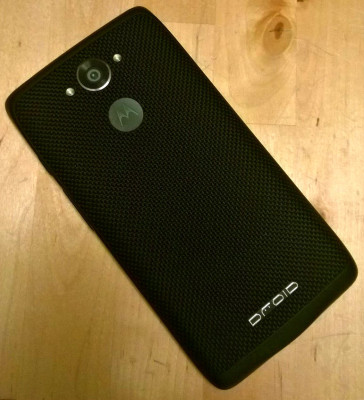 On the functionality front, one of the first things I noticed was the display, which is gorgeous and shiny and crystal-clear. In its 5.2 inch display, it has 2560×1440 resolution, or 565 pixels per inch. That's crazy dense, and means you can look at HD stuff without any loss of quality! Meanwhile, speaking of images, the camera was really spectacular. I loved that it was super fast to snap a picture (no waiting after you touch the screen, and in fact, this phone seemed to be super speedy at just about everything); it meant I could snap great photos while moving without having to stop. That's really important to me when I'm running or hiking and want to capture the view! I am honestly so in love with my 20MP camera on my Nokia Lumia Icon that I never thought I could ever really fall for another phone's camera. However, the Droid Turbo's is truly best in class, clocking in at a whopping 21 MP. (Apple fanboys, take note: the iPhone 6 camera only has a measly 8 MP.)
But, of course, one of the biggest perks of all of this phone: the Droid Turbo (obviously) is an Android! I have gotten used to my Windows phone over the last few months, but I do miss the huge Android app store and all its options. I've moved away from using apps for a lot of things (honestly, you can usually do just fine with the mobile websites), but there are so many cool new fitness apps out there, and the Android store has them all. I was psyched to get to test them out with this phone!
So that brings me to the app I love: the Adidas MiCoach (available for iPhone, Android, and Windows devices, as well as with a web interface that you can check anywhere). Like a lot of fitness apps, it gives you the ability to record your workouts and how you did, right down to what shoes you were wearing. (I have always meant to track my shoe usage so I know when to replace them, but have been too lazy about it.) The MiCoach app works for running, cycling, walking, and Nordic skiing (!). While I'm really eager to try some cross-country skiing this year, I've only tried the app for running so far… but it's pretty awesome.
As I mentioned, the Adidas MiCoach uses GPS to track where you are, and then provides a really nice summary of your workout afterward. Sure, there is the basic summary of duration, distance, time, and estimated calorie burn. But if you swipe through the screens, you also get really nice pace and elevation charts, a route map, and mile-by-mile splits. Okay, so this is kind of silly, but I loved that the app puts a little snail next to your slowest mile and a lightning bolt next to your fastest – saves me a few seconds scanning the list for that info!
The app also calculates a "run score" for every run, based on your age and gender. I like that even when I run shorter or longer distances, I can compare the scores to see if I was pushing it harder one day or another. The run score also predicts race finish times for you, and while I haven't done a marathon yet to know if it's accurate or not, it's predicting a 4:20 finish for me – which sounds about right. I'll find out later this month!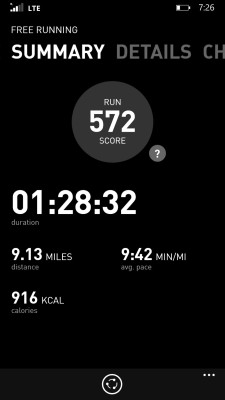 However, where the MiCoach really shines is that it's not just for after you run – it also comes up with a training plan and also gives you live feedback during the activity to help you make the most of your workout. When you first log into the app, you get to pick your coach's voice – and in addition to the standard choice of nationality and gender (e.g., British female), you can also choose to have the voice of a celebrity motivate you! I was really impressed that Adidas had been able to get sports stars like Ana Ivanovic (French Open Champion) and Derrick Rose (Chicago Bulls) to provide voices for the app. Now if only they could get Jillian Michaels…
After choosing your coach's voice, you can either take a fitness test to determine your abilities and create a customized training plan, or use one of the preset plans. The app will build a calendar of what you need to do when, and then whenever you open it up, it reminds you what's on the docket for that day. Furthermore, when you're out for a run, your virtual coach will tell you to pick up the pace if you're not hitting your marks. For any of you new year's resolutioners out there, this is a great way to get some guidance on your workouts without having to hire an expensive personal trainer! PS – the app is 100% free!
Overall, my only complaint about the Adidas MiCoach is that it can be a little intimidating to figure out how to use it to the fullest of its capabilities. There is a lot of functionality in this little app! However, if you just use it as a basic GPS tracker of speed and distance (like I did when I first started), you'll get used to it in time, and then start learning all the cool extras that make it a really exceptional fitness app. I love it!
Disclaimer: Numetrex provided me with a complimentary sports bra and heart rate transmitter to review them; meanwhile, Verizon gave me a loaner Droid Turbo to try out and review. However, all opinions expressed in this post are my own… I'm so excited for all the cool ways that technology is making our workouts better and easier!