I mentioned on Thursday how nervous I'm starting to get about my surgery next week… and now that the day is getting closer, my fear is growing even more. What if they can't find the source of the problem and fix it? After a lot of really painful testing, my doctors think they have an idea of what's wrong, but they've also admitted that mine isn't a standard case and the surgeon basically is not going to know what he needs to do until he actually opens up my arm and can start poking around. Um, scary! On a positive note, I'm really happy that all the problems are at least only happening in my left (non-dominant) arm. So, even if my nerve doesn't get fixed (or if it gets worse), it's a much smaller impact on my lifestyle than if it were my right arm. Small favors and thinking on the bright side, right?
However, there are certainly others who have much bigger problems than me… and yet they still manage to be optimistic about the outcome. I was invited to share Medtronic's Bakken Invitation program, which honors ten people from around the world who have overcome a life-changing medical challenge and are now making a difference in their communities. Instead of seeing their illness as a one-time challenge that could then be put in the past, the Bakken Invitation honorees realized that they had been granted a second opportunity to live each day to the fullest – and changed their lifestyle accordingly. I found their stories to be really inspirational, and would definitely encourage you to go read them yourself. You can read the stories of all ten honorees here.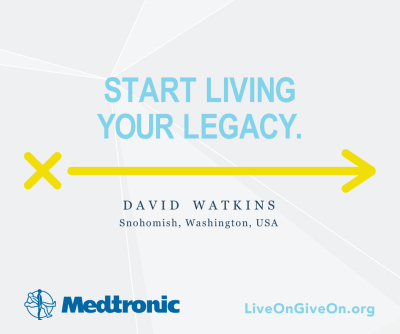 In particular, I loved David Watkins' story. David was a collegiate athlete who thought he was perfectly healthy… until he learned that he had actually been living with a bicuspid aortic valve his whole life. When he was diagnosed, it was pretty scary news: he was told that an aneurysm had developed and his heart's aortic root was dangerously close to rupturing. This really hit close to home for me; my father has undergone several heart attacks and my own doctor has told me that I have some abnormalities in my heart valves. Furthermore, a seemingly very healthy friend I had in high school died of heart problems while running the Army Ten Miler in Washington, DC. Just because you're an athlete doesn't mean that you're safe from heart problems!
David went through several surgeries to try to fix his heart valves (one in which his family was brought in to say their last words to him), and the last words he remembered before wheeled into surgery were, "What is your legacy? How will you be remembered by your kids?" After a grueling recovery, David decided to make sure that he had a solid answer to those questions in the future. He created the Ironheart Foundation and Ironheart Racing Team, to help other cardiac patients who had recovered and were getting active in sports. David says:
"Success can be determined based on three pillars of how you live your life. First is family. Next is your career. Finally, there is your greater community. Success comes with commitment. Are you providing a safe, nurturing sustainable environment? Do you show love? Do you show dedication? It's not about working 100 hours a week. Instead, it's about your actions in the time allowed. Be present in the moment. Live your legacy."
You don't need a life-altering moment to start living your legacy, or to give back to the community. Medtronic rewarded the ten honorees with a $20,000 grant each for their designated charity… but they also want to support smaller efforts as well. Medtronic is generously providing a $100 Visa gift card to one 50by25 reader, to be used for you to make a difference in your own community. The winner is free to choose how the money is spent, but it should benefit the community in some way. To enter, you'll need to click through from your reader/email and use the Rafflecopter widget below. Entries will close in one week, and the winner will be chosen next Saturday, December 20 extended to Saturday, December 27!
Thank you to Medtronic for sponsoring today's post and inspiring us to give back to our communities!