Hello! I am home from the hospital and sooooooo happy to report that everything is way better than what I was expecting. For once, though, this post will be very short. It's difficult (and frustrating) to type with only one hand!
I was terrified when I got to the hospital… there was a lot of time spent just sitting around in a hospital bed, filling out forms, and getting prep stuff done. As I promised, I had written "do not cut" on my right arm… but it turns out that's actually bad. In today's surgical protocol, they write stuff on the arm they are operating on, so writing on the other arm could be confusing! A nurse was super nice about scrubbing it off for me though.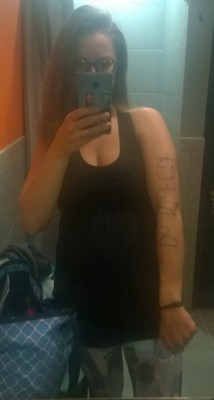 Of hilarious note: while under anesthesia, I had some dream about going to bars with friends and drinking way too much. When I first woke up in post op, I was like, "where am I??? I don't even remember how I got home from the bar! How did I get here?" The surgery and my recovery took about two hours longer than expected (not sure why?) and when I finally did wake up, I was shivering like crazy because of some sort of after effects of the anesthesia. Like, teeth banging, whole body shaking! Scary. But it went away in about 30 minutes, and my friend Kelly was able to come back and hang out with me. I was so excited to be so lucid! I hadn't been expecting that at all.
Since I came home, I have stayed totally with it, which just makes me SO happy! I am so relieved to not be sleeping 18 hours a day or thinking weird crazy thoughts; it totally makes up for the fact that so many everyday activities that I wouldn't expect to be are now hard/impossible. I now have a list of things to ask friends for help with when they come over:
-Open the childproof pill bottle that Walgreens thought was a good idea for my pain meds
-Tie off the garbage bag so I can take it out
-Cut off my hospital ID bracelet
-Take seltzer bottles out of six pack
-Hang up my coat
Also on that list was having someone put my hair into a ponytail for me. After I woke up and it was a mess from sleeping, I took it out of its ponytail holder… and then realized I had no way to get it back up and out of my face. I literally spent thirty minutes watching Youtube videos of how to put your hair up with one hand, and practicing myself… but even though I understood the technique, I could NOT do it. Instead, I resorted to using a towel turban just to get it out of my way.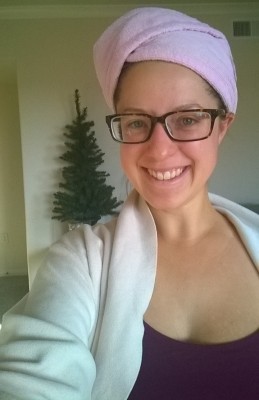 But just now, I finally invented this technique with a claw clip:
1. Put a headband on to get all the loose parts in one place (warning: this step alone is a two minute wrangling process).
2. Lie down face up on bed and spread hair behind head.
3. Wrap the hair into some semblance of a bun, keeping head pressed down on the bed to keep it together.
4. Open claw clip, reach under head with head still pressed down, then lift head for one sec then put claw clip in.
5. Repeat steps 2-4 until semi-successful at getting most hair captured, then bobby pin the rest.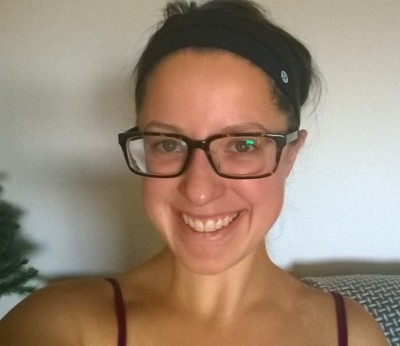 I can already see that the next few weeks will be incredibly challenging, but I'm going to focus on the small wins… and how very grateful I am for the friends that come by to help me with all the little things I can't master on my own. (Thank you, Caitlin, for cleaning up the full two pound bag of chia seeds I accidentally dumped out all over my kitchen floor.) And if you are a friend who isn't local, please also know how amazingly grateful I am for your calls, texts, emails, and IMs… they are keeping me both entertained and feeling very well-loved! XOXO