I participated in an Influencer Activation on behalf of Influence Central for Softcard. I received a promotional item to thank me for my participation.
Although I knew I'd be laid up after surgery, I didn't realize quite how useless my left arm would be. I knew it would be stuck in the cast, but didn't realize how sensitive it would be to movement. Literally just thinking about moving a muscle or twitching my fingers in any way sends pain shooting down my arm (which, fine, makes sense when you consider that the work was all about fixing the nerves). Unfortunately, I can't even use it as a dead weight to push against, and I have to actively focus on not moving it and keeping it perfectly still when I'm doing other things. Not good…
As a result, I'm really glad that I got most of my Christmas shopping done before my surgery! I also stayed up late the night before surgery wrapping everything, since I kind of guessed I wouldn't really be good at that afterward either. However, a few items that I ordered online as gifts hadn't yet arrived… so those people are just getting their presents slipped into gift bags. That is wrapping I can do single-handedly!
Today I managed to wrangle some real clothes onto my body and go on an adventure. (Okay, not a real shirt because I can't find anything but a tank top that can go over my cast… but jeans and a tank top with a blanket wrapped around my shoulders for warmth. Still better than PJs.) My friend Sarah drove me to the post office to mail my gifts to my brothers and their families, which was really helpful and is a huge load off my mind. Those were the main gifts I needed to ship, and now I know they'll get there in time for Christmas. Hooray!
Besides the feeling of accomplishment (I have so very little it's possible to check off my to-do list at the moment),  it felt great to just get outside and be dressed and semi-functional. I was going to try to wean myself off the oxycodone today, but the pain ended up being too severe so I had to keep taking it… which means no driving for me. I can't say enough how grateful I am to all my friends for bringing me food, giving me rides, and generally sending well-wishes and entertaining me with phone and online conversations! I'd be totally stir-crazy and miserable without them.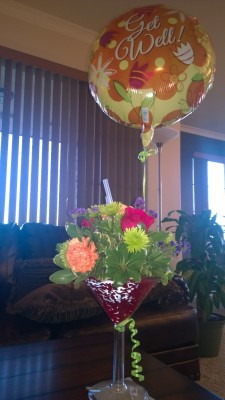 But in case you haven't yet finished your holiday shopping, I wanted to share some quick info on a cool app I just learned about. Remember how psyched I was to learn about the Dunkin Donuts DD Perks Rewards app that lets you pay with your phone? I just heard about another free app, Softcard, that is more of a generic cross-retailer mobile wallet. You store your credit card and rewards card data on it and then you can pay anywhere that NFC payments are accepted without having to pull out your card! Very helpful for me at the moment when I can't hold my wallet in one hand to slide a card out with the other… as I learned today at the post office with Sarah, using a physical card requires someone else's help. Softcard also offers coupons and promos for using it, so there is extra incentive to keep the cards tucked away and just go purely mobile with NFC.
What's NFC? It stands for near-field communications, and while the acronym may be unfamiliar, I bet you've used it before. I think you'll recognize an NFC reader as Tappy, Softcard's cute mascot who appears in this commercial:
In my area, retailers currently using NFC and accepting Softcard include Subway, Walgreens, and Jamba Juice – all places where I have loyalty rewards cards that I can now remove from my wallet in favor of the app. I love multifunctional tools like this! I am also betting that the number of participating retailers (currently 275,000 nationwide) is going to spike pretty dramatically in 2015 as more people get NFC-enabled devices and apps, and want more places at which to use them.
Finally, while usually Apple users get all the cool apps first, Softcard is actually available for Android and Windows phone users. Hooray! (But makes sense given that those operating systems tend to have a bit more cutting edge tech innovation rather than being quite as user-friendly as Apple.) Softcard uses state-of-the-art technology and layers of security to protect your information, and I'm really psyched to see them bringing that to the often-neglected Android and Windows Phone operating systems! Visit www.gosoftcard.com to learn if your device is compatible and get the app.
So… did you finish your holiday shopping yet?
Disclaimer: Softcard provided me with a promotional item in exchange for letting my readers know about the app. However, I was under no obligation to write a positive review… I just think it sounds like a great way to simplify my wallet and make payments easier (especially when things aren't all that easy for me right now).