Today I get my splint off, and I am so excited! While I realize that the two weeks my left arm has been immobilized is a pretty short time period in the grand scheme of things (and I hope I haven't been driving you all nuts with my whining about it!), it's really been a pain to not be able to use my arm over the holidays. As I've mentioned before, I've had to make lots of adaptations! Before I went into surgery, I knew it was going to be difficult, so I went out and picked up a few new products that might make my life easier with one hand. Some of them were just useful while I had my splint; others are things that I'm excited to keep using for a long time.
First, I had received an inquiry about a month ago from Firmoo, an online eyeglass company, to do a review of their service. I had heard great things about Firmoo before from Julie, and in fact, had been meaning to buy a pair of their glasses for a while. I didn't know if I'd be able to put my contacts in with one hand, so I thought it would be fun to have a cute pair of glasses to wear for these two weeks. As it turned out, I was able to put my contacts in with one hand… although like everything else it with a lot longer than normal. But I loved that glasses I got from Firmoo so much that I actually wore them some days instead of my contacts! That's definitely new for me, as I usually only wear my glasses right before bed or when I'm sick.
I found that the ordering process on Firmoo was very easy – you could upload a picture of your face to the website to virtually try on different pairs, which helped a lot with the selection process (I am so indecisive!). Then once you choose a style, you'd enter your prescription details from the take home sheet your eye doctor gives you after a visit. Firmoo also has really great prices – much better than at my doctor/local eyeglass stores – and they usually have a special of some kind to lower the cost even more. But they definitely don't skimp on quality – I really love my new glasses, and I was also very impressed with the beautiful glasses case they came in for shipping.
Two other drugstore-type products that I stocked up on were new bottles of shampoo and conditioner. Even though I still had half bottles of each left, I wanted to have brand new bottles so it would be easier to squeeze them with one hand. Silly, I know, but it turned out to be pretty important and I'm glad I did it! I also picked up some Herbal Essences Body Envy Dry Shampoo, for when I didn't want to maneuver my splint into a bag to shower; unfortunately, I really didn't love it and didn't really work all that well. Any suggestions for good brands for dry shampoo? (NOT pricey salon stuff, please.) Even with my arm back in commission, it could definitely come in handy post-workout when all I have time for is a quick rinse off.
Finally as far as toiletries go, I picked up some Oral-B Glide 3d White Floss Picks at Target. I always used regular floss before, but I knew I wouldn't be able to maneuver that with one hand, and I couldn't stand the idea of not flossing for two weeks. (Especially since I have a dentist appointment this Friday!) But as it turned out I actually flossed more the last two weeks than usual! I know that the little floss picks are wasteful and bad for the environment, but because they were just so easy to use, I found that I never skipped flossing. I have definitely been guilty in the past of letting the perfect be the enemy of the good, and this was just another example of how sometimes it's better to take the easy way out… because at least that way you'll do whatever it is that you're supposed to do. I'm planning to finish out this bag and then see if I've cemented the habit enough to where I can switch to regular floss without decreasing how often I actually use it.
Moving on to the kitchen… I stocked up on a lot of frozen meals and protein bars, but since I was stuck home all the time, cooking turned out to be one of the few activities I could enjoy doing to pass the time. I would also add that it was really hard to open the packaging on the protein bars and frozen meals with just one hand! Whenever friends came by, I had them pre-open some for me; otherwise, I just used scissors to haphazardly hack at the packaging until I could rip it open using my leg and the kitchen cabinet to hold it in place while I did so. Like I said, so many inventive new ways to do things!
Similarly, it took me a lot longer to slice/dice/etc foods than when I had two arms to use, but it was doable. However, I was thankful for the gift of a new kitchen gadget, the Keurig 2.0, which allows you to easily prepare coffee with one hand. Unlike the regular Keurig, which I'm sure you're all familiar with, the Keurig 2.0 allows you to brew either a cup or a full carafe of coffee, which has four cups. That's great if you're a big coffee drinker or if you have company over! It also have a bigger water reservoir than the regular Keurig, which is convenient because you don't have to fill it as often. When I was working overnight shifts in Dallas all summer, it seemed like we were constantly refilling the Keurig; having this would've been amazing!
You can also easily dispense hot water, which makes tea brewing and hot cocoa making very convenient. I've done a lot of tea drinking lately to stay warm when it's so cold and snowy outside! My absolute favorite is one that's only sold locally in Boulder, at the Ku Cha Teahouse. (Aloha Blend: Black tea, chocolate chips, cocoa bits, coconut flakes. YUM!) However I found it impossible to prepare loose leaf tea with one arm (at least with the teapot I have), so I also picked up a few new-to-me bagged teas. I liked the flavor of the Celestial Seasonings – Sugar Cookie Sleigh Ride, but found it was rarely strong enough. Meanwhile, the Stash Tea – Salted Caramel Mate and Stash Tea – White Chocolate Mocha were a bit bitter on their own, but good with some milk. Are you noticing a theme in my chocolate/cookie/candy tea preferences? Ha – tea is how I get through my afternoon sweet craving without going hog wild on junk food, so in all seriousness, more recommendations welcome! (BTW: all of these are linked through Amazon so I could show you the products, but I was able to find them at my local grocery store on sale for $2.50 a box… totally reasonable.)
Finally, to also help with staying cozy, I was beholden to a few clothing items. My New York friends know how much I love my black and white fleece jackets in the winter (yes, I know I wear them too much!), but I don't think I've blogged about them before. Old Navy regularly puts their performance fleece zip up jackets on sale for $10-15 at least once a month. That price point is perfect – the quality is decent for a basic fleece, but they're cheap enough that I don't have to worry about losing it, staining it, etc. (They are especially great for cold weather running because of this: if you overheat, you can take it off and leave it hidden somewhere on your running route, and if it's gone when you get back, not a big deal to replace it.) With my splint, I can't wear any kind of long sleeves over my left arm, and since it's below zero degrees here, that just doesn't work! Instead, I've been putting my right arm into the sleeve of the fleece, and then tucking the left collar under my tank top/bra strap so it sits over my left shoulder like a cape. Comfy and warm!
On the bottom, my favorite pants that I've been living in are by Fabletics. I'm not a huge fan of subscription boxes, usually because I can't see why it's reasonable to pay money for a sample (aren't those usually free?). As for the clothing subscription boxes, I want to pick out my own things, not be sent stuff; plus, I really don't need new clothes every month. But Fabletics offers a cool hybrid of the subscription box model – you can buy just one outfit for about $80 (pricier than I like to spend but still much cheaper than Lululemon), or commit to $50 per month which gets you one outfit that you choose yourself. That's a really good deal! I tried the Hawthorne tank and the Lima capri, and it was the latter that made me fall in love.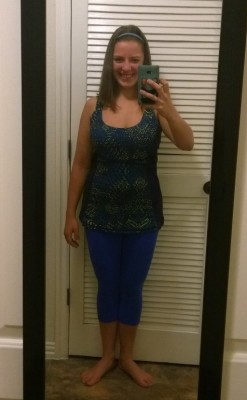 I've written before about my love for capris, and the Fabletics Lima capris are just perfect. They're reasonably thick and comfy for lounging, but not so thick that you overheat while exercising. (I would compare them to the Reebok One Fit capri I've reviewed before – same thickness and quality, but much less expensive.) I loved that they were super stretchy and easy to put on, but even after wearing them several days in a row without washing (don't judge… I couldn't do laundry by myself with just one arm) they didn't stretch out and sag. They come in in a ton of awesome colors – I got the beautiful cobalt blue – and even if you buy them solo, they're just $35. Not bad for such a high-quality pant!
But the one item I bought that was a complete fail? Ironically, it was the one thing specifically made for my injury: a plastic cast cover Walgreens that was supposed to allow me to shower easily. I couldn't even get my hand through the teeny tiny opening without a lot of pain! I ended up using a simple plastic bag over my arm when I needed to shower, and will be returning the cast cover later today.
Eee! I'm so excited to be getting my splint off. Talk to you when I'm once again typing with two hands 🙂
Disclaimer: I received a pair of glasses from Firmoo, a Keurig 2.0 complimentary from Influenster, an outfit from Fabletics to review. I received no other compensation for any of this, and receiving the products complimentary did not affect my opinions that I'm sharing with all of you. I have tried to describe the products and their value to me as if I bought them at the retail price, and all of the other products mentioned were things that I bought on my own but think others going through similar surgery would find helpful.