A few months ago, I had the opportunity to go to an event previewing Reebok's fall line of shoes and apparel. It was really pretty awesome – we got to try out the gear while doing various sports (running, Crossfit, dance, and yoga), and we were coached by experts in those areas while we did so! In addition to meeting tons of new interesting people from all around the world (and in my own backyard – Katie lives here in NYC too!), I had an amazing time testing out some clothes I might not otherwise have tried.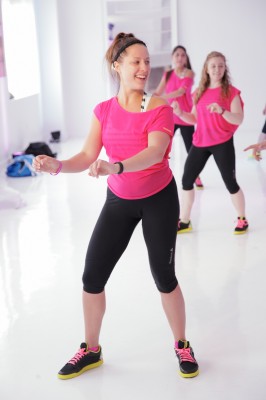 Two of the items I loved most from Reebok's fall line were capris, which is kind of funny because I've never been a big fan of capris. When I run, I typically wear skirts; when I hit the gym, it's usually in shorts. But ever since I tried the Reebok versions, capris have become my go-to bottoms for Flywheel, barre, pilates, and yoga classes! For Flywheel classes, I like that they always come down far enough to make sure your legs don't rub on the saddle (I used to try to wear long shorts only, which really aren't that cute). And for yoga/pilates/barre classes, they give me a nice long line while keeping me sleek and pulled in at the waist (which then reminds me to engage my stomach muscles to pull my own tummy in even further).
Now that it's fall marathon season, I've run a few races in capris – like the Adirondack Marathon. They help me to stay a little bit warmer than I would be in a skirt, without going full-on running tights. I've run in capris a few times before – once at the Rehoboth Beach Marathon last December, when I found out that it was going to be a lot colder than what I had packed for, and once at the Rockaway Beach Marathon last October. In that case, the Athleta Relay Capris I wore really saved me – I took a tumble and having fabric coverage on my knees helped them to not get quite as scraped up on the boardwalk as they otherwise might!
That said, at $79 a pop, the Athleta capris can be a bit pricey for my workout clothing budget, and so are the Lululemon versions I see a lot of women wearing ($88?? For crop pants to wear to the gym?? No thanks!). Instead, I thought I'd do a "battle of the capris" between Reebok and Old Navy – two brands that I think offer great value for your money.
1: Old Navy Women's Fold Over Capris – $18
These used to be my go-to pants for yoga, barre, pilates, and other workouts. I really like that they fit well and have a foldover waistband, which also helps to suck in the tummy a bit more! However, they are made of cotton, so they can get a bit heavy when wet – you definitely wouldn't want to wear them running in the rain. These are fitted on the butt/hips/upper thighs, but then bell out a bit at the knees, so they're a little more modest than the legging variety of capris that most of these others are. But the best part is the price – you can usually get these on sale for only about $10! For this reason, I have a few pairs and they are also great and comfy for lounging when you're not working out.
3: Reebok One Fit Capri – $50
These too are made of a slightly thicker material than a lot of leggings, but unlike the Old Navy, they're made of a wicking material instead of cotton. The material is really unique – kind of soft and squishy but still made of technical fabric that won't get you too hot (made with Reebok's PlayDry technology). While the outside of the material isn't crazy soft, the inside feels so good on my skin – in fact, I have worn them as PJs many a time because they're that comfy 🙂 They are just super flexible and ready to stretch into any position – perfect for pilates or yoga. Unfortunately for this high quality, you also have to pay a bit more – $50 is the going rate.
2: Old Navy Compression Capri – $23
These are the ones that I picked up on my way to the Rehoboth Beach Marathon – again, they were only $10 when I found them on clearance. They leg falls a bit lower than the others (to about mid-calf rather than just below the knee), but I'm fine with that. In general, I've gotten a lot of compliments on them (particularly since they come in lots of fun colors), and I love them for classes, since they're lightweight and wicking. However, I've found that they don't work very well for running. Maybe I just didn't get a big enough size (although I find them comfortable for everything else?), but they tend to ride down as I run. At Rehoboth, I even made a joking bet with my friends about when they would fall off completely and cause me to moon everyone on the course! I haven't purchased a second pair for this reason, though if you're not planning any long distance running in them, they're great – and super cheap.
4: Comparison: Reebok PWR Fitted Capri – $50
But now it's time to gush: these are my absolute favorite workout pants in the world. They come to just below my knee (shortest of the bunch), but don't ride up ever (even when I've worn them in marathons). The material is so incredibly lightweight/thin that they can be rolled up in a very small ball (and are great to toss in my bag when I'm wearing a dress/skirt but still want to take Citibike around town), but they still provide a decent amount of warmth. And because they're incredibly thin, they don't hold any moisture – making them the perfect choice for super sweaty workouts or running in the rain. While they are black like the infamous sheer Lululemon pants that made news this spring, these are completely solid with no chance of being see through. They are silky soft to the touch (I have made friends feel my legs to see just how nice the fabric is), and also provide a bit of shaping to make my legs look really lean. These are the perfect workout pants and I am absolutely in love with them – they work for just about everything!
Overall, all four of these pants are staples in my workout wardrobe, and I think each serves their purpose. The Old Navy ones are certainly cheaper (and it's why I have several pairs of them), but they aren't perfect for all situations, and that's where the Reebok ones come in. I have never been one to spend my money on an all-Lululemon wardrobe (in fact, I have just one Lulu outfit), and in general, I think you can mix inexpensive with high quality pieces to get a workout wardrobe that is extensive enough to always have something clean (not an easy feat!) without spending a ton of money. These four pants prove just that!
Disclaimer: Reebok invited me to a fitness event this spring and provided product samples for me to try, but the Old Navy capris I compared were ones that I bought myself. All opinions expressed are my own and I was not pressured for a positive review.