I just finished a 50 mile bike ride up and around the Colorado National Monument!!! It was a beautiful ride and just made me even more happy to live in this amazing state. (As if it's possible for me to love Colorado even more than I already do.) I did a similar ride up and around the monument two years ago, and that was part of what made me move to Colorado, so it was really fun to come back and do it now that I'm an actual resident. More to come on the ride and this whole trip on Monday!
Today, I wanted to do a quick review of the drink I've been using to give me stamina for these types of long workouts: BodyArmor. I'm generally rather reluctant to use sports drinks outside of marathons, but the amount of time that I'm spending hiking and biking these days is pretty equivalent to my time in a marathon, so it's important for me to make sure that I'm getting my electrolytes. BodyArmor delivers electrolytes (704mg of potassium!) plus plenty of B vitamins for energy and 100% of your RDI of vitamins A, C, and E.
But most importantly, I love that BodyArmor is made with natural ingredients – not chemicals. Although the ingredient list looks long on first glance, each bottle just contains water, cane sugar, coconut water, citric acid, a ton of different vitamins/electrolytes, and beta carotene for color. I am so grateful to see a sports drink that's sweetened with real sugar (instead of Splenda/sucralose/etc), and even more rare than that, a drink that doesn't have any artificial dyes for color! I won't say that my diet is perfectly healthy or all-natural, but it always kills me that we go out there and exercise hard to keep our bodies healthy… but then drink Gatorade with its Yellow Dye #5 in order to have the energy to keep going.
BodyArmor comes in six flavors: fruit punch, tropical punch, strawberry banana, mixed berry, orange mango, and grape, and each 16 ounce bottle contains only 140 calories – so you're not drinking back all the calories you burned during your workout. To be honest, I didn't pay all that much attention to which flavor I was guzzling when I was downing them mid-workout, but there wasn't a single one that I didn't like, and I found that they were sweet without being sickeningly sweet. Score! (For comparison, one serving of BodyArmor contains 18g of sugar, while Gatorade has 21g of sugar – so almost a full teaspoon of sugar more. I preferred the level of sweetness in the BodyArmor.)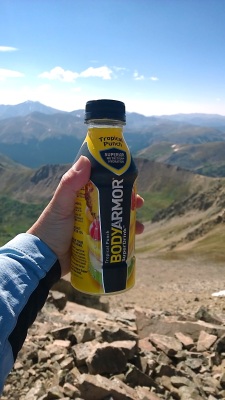 Overall, I'm really thrilled to have discovered BodyArmor; I am definitely adding it to my repertoire of "long workout essentials." To find BodyArmor near you, visit DrinkBodyArmor.com; alternately, you can order it online for just $24/case of 12, which I think is a totally reasonable price, especially given that you're getting a great product without chemicals.
Thank you to BodyArmor for sending me their drinks to try – they are definitely a new favorite that I wouldn't have otherwise discovered!
Disclaimer: BodyArmor sent me a case of their drinks and is also compensating me for this post; however, all opinions expressed are my own. And if you come over to my house anytime in the future, you will for sure see BodyArmor in my fridge, just waiting for me to take it on my next adventure! This stuff is great.