Krusteaz recently sent me some of their new flatbread mixes, and I was pumped. Flatbread is my absolute favorite kind of pizza, but I've never tried making it at home! I tried to plan a pizza party for some friends, but then ended up being sick for over a week and kept having to postpone. Finally, I decided that just because I was sick didn't mean I couldn't have pizza anyway! So last night, I treated myself to a solo pizza-and-movie night 🙂
Krusteaz Flatbread Mixes come in three flavors: garlic and onion, Italian herb, and whole wheat. Comparing the nutritionals, the whole wheat has more fiber and protein than the other two (and 10 more calories as a result), but they're otherwise all about the same. I decided to try the Italian herb for my own pizza, since I love my carbs to have as much flavor as possible. As soon as I opened the package, I knew I was in for lots of flavor – I could smell the herbs and seasonings right in the mix! I poured the mix, the yeast, and some warm water into a bowl and let it sit for the recommended time before I began shaping my dough.
The back of the box had some notes about what to do at high altitude, and I followed those instructions: use more water and let the dough rise longer. However, when I went to shape my dough, I found that it was way too sticky for me to shape… and I kind of made a mess of my kitchen trying to get the sticky dough off my hands. I added a bunch of flour to tame it, and eventually got it working. However, I think the problem may have been the extra water I added for being at "high altitude." Maybe my area doesn't count as high altitude and they mean like 10,000 feet? At this point I was pretty frustrated by this dough shaping process and ready to give up on the flatbread mixes, but I noted that just in case I wanted to make them again. Spoiler alert: I now want to make these a regular staple in my meals, so I am not giving up on figuring out how to make the dough without making a mess. I think the answer is just to have the surface and my hands already floured, so I'm not trying to do that after my hands are already sticky.
But pizza all the time… is that really a good thing? It's actually not a bad thing at all if you're eating a healthy homemade pizza instead of a greasy slice after last call at the bar. Pizza dough has a lot of carbs, but if you're including it as part of a well-balanced diet (meaning likely lower carb meals the rest of the day), that's fine. Your body needs carbs for energy! Pizza doesn't have to be unhealthy, and in fact, I've already made two personal pizzas using the Krusteaz mix that were under 500 calories each.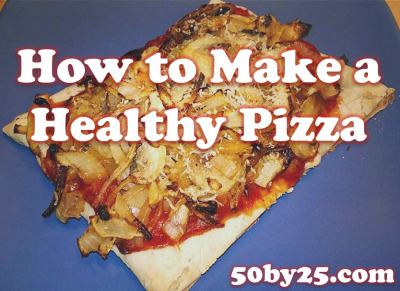 Healthy pizzamaking tip #1: figure out your desired serving size, and adjust your portions accordingly. One box of Krusteaz mix makes 10 servings, which is a lot of dough! I divided my dough into two equal rounds and then put half in the freezer (double bagged) for future pizza making. That left me with five servings, and I planned to divide the remaining dough into even smaller portions and build myself a personal pizza. If there are are more pieces of pizza, I always want more, so by making mine into a personal pizza it felt like I was getting an entire pizza to myself even though it was a perfectly reasonable serving size.
Healthy pizzamaking tip #2: add lots of precooked veggies to make your pizza more filling. I sauteed mushrooms and onions in a nonstick pan sprayed with olive oil. It ended up being a ton of veggies, which was great for filling me up without making me want to reach for more pizza! And by completely cooking the veggies before using them as toppings, you'll cook the water out of them so they don't make your crust soggy.
Healthy pizzamaking tip #3: parbake the crust for extra crispness. I pressed the five remaining servings out into one long flatbread oval and popped the whole thing into the oven, sans toppings. A few minutes later, I took it out and divided it into three equal portions, one of which would become my homemade pizza. (The other were left to cool off and then sealed up in an airtight container for me to eat Saturday and Sunday as part of other meals. Really handy to have them already parbaked but still fresh and ready to use in a new recipe!) By baking the crust halfway first, it would be crispier when I inevitably loaded it up with way too many veggies. Crispy pizza is the best, but mine usually comes out soggy because of how many veggies I put on! For extra crispness, make sure you roll your dough out very thin. The Krusteaz mix is made to be a thin flatbread, and I think I would have liked mine even better if I had gotten it cracker thin, but I didn't want to experiment too much on the first batch.
Healthy pizzamaking tip #4: choose your toppings carefully. I already mentioned that I sauteed mushrooms and onions for my pizza. Those are my favorite pizza toppings no matter what, but when you're making pizza at home, you can even indulge in toppings that you normally wouldn't at the pizza parlor, because you can be more careful of portions and ingredients (e.g., using turkey sausage instead of beef or pork sausage). Also, try going light on the cheese. For my pizza, I skipped the traditional mozzarella altogether, and just grated a layer of grana padano parmesan on top. I knew I'd be having a lot of cheese already this weekend at Sunday's Colorado Cheese Festival, and I also knew that putting the cheese layer on top rather than in between the veggie toppings meant that I'd be able to taste it better and get more bang for my caloric buck.
However, you don't have to skip the cheese to be healthy! For lunch today, I made a white bread pizza with one of the parbaked crusts – I roasted brussel sprouts and onions, then put a thin layer of Laughing Cow light on the dough, put the veggies on top, and dusted with a bit of parmesan. It was a really awesome combo, and still only about 350 calories.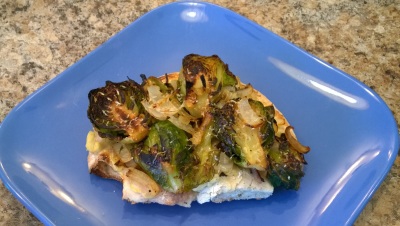 Healthy pizzamaking tip #5: don't forget the herbs and spices! You can dress your pizza up either before you bake it or after, but don't forget to add salt, pepper, oregano, basil, garlic, red pepper flakes, or any other spices you think might enhance your particular creation. (I added rosemary to mine!) Complex flavors can help make you feel like you've eaten more than you have, which is part of why I look for carbs that have lots of flavor instead of boring white rice or plain wheat bread.
The verdict? For once, my pizza came out totally solid and not at all mushy from extra veggies and sauce. I loved my toppings combo, but even more than that, I was obsessed with the crust! The Krusteaz Italian Herb variety just had so much flavor – it reminded me of the amazing bread at Macaroni Grill that I can't get enough of (and is the main reason I go to Macaroni Grill). As I already mentioned, the texture wasn't the cracker-thin crust that I'm used to for flatbread, but I think that was my fault for not being brave and rolling it out thinner. Instead, the definitely-still-thin crust that I got will work great for sandwiches or for dipping – I'm excited to try it a few different ways, and may even start keeping this on hand as my go-to bread slices when I bake it this thick instead of using it just for flatbread pizza.
Giveaway!
If you want to try Krusteaz Flatbread mixes, get excited, because Krusteaz is offering a prize pack exactly like the one I got to try: six Krusteaz Flatbread mixes (2 each of whole wheat, Italian herb, and garlic and onion), a branded apron, kitchen timer, pizza cutter, and recipe cards. You'll be all set to throw a pizza party or a solo night!
Thank you so much to Krusteaz for the chance to try their flatbreads – I am really excited to have them as a pantry staple going forward.
Disclaimer: Krusteaz provided me a prize pack exactly like the winner of this giveaway will be receiving. Otherwise, I received no compensation for this post, and all opinions expressed in this review are my own.