What is a healthy meal? To some people, it's one that's low in calories. They will eat a steady diet of Jenny Craig, Weight Watchers, and Lean Cuisine, and think they're doing something good for their body. In my opinion, that's not always the healthiest way to go. A low calorie diet will lead to weight loss, but isn't necessarily high in nutrients or really good for your body.
Don't get me wrong, I have been counting calories using MyFitnessPal (friend me!) religiously for several months… but I also recognize that sometimes things that are good for me aren't necessarily low in calories. No, I'm not talking about red wine! (I do love wine but I also know that the small dose of antioxidants doesn't make up for the alcohol to push that into the health food category.) Foods like nuts, seeds, avocados, whole eggs (not just the whites), olive oil, and bananas can all pack a decent amount of calories into a relatively small portion, but are still really good for you and shouldn't be avoided. Instead, it's better to include them in your diet but eat them in smaller quantities or on the same day that your other meals are lower in calories.
HG Sply Co is the perfect example of a restaurant that serves really "healthy" food, but isn't necessarily low-cal for those trying to lose weight. HG Sply Co is known for their Paleo-inspired meals… meaning that while the restaurant as a whole isn't completely Paleo, it's pretty easily for Caveman Diet followers to find lots of options that suit them. They see their menu items as "providing fuel for the next great adventure", so they're pretty hearty, but also made from great ingredients.
I've been to HG Sply Co probably half a dozen times: sometimes with colleagues, and sometimes by myself. One thing that's great about HG Sply Co is that it doesn't necessarily seem particularly healthy. That is, if you go with a group and some people don't care about watching what they eat, they wouldn't see anything amiss. Maybe I'm just too sensitive, but this is really important to me when I'm eating out while traveling! I don't want to be seen as the boring dieter, especially when some members of my team don't have to worry about that and just want to go eat something delicious – however indulgent it may be. But the atmosphere at HG Sply Co is far from clinical or overly nutritious; instead, it just seems like a relaxed local pub that happens to list each ingredient's source on the menu. (And what restaurant doesn't call out the ingredient brands nowadays?) However, it's these little details that distinguish HG Sply Co as a Paleo-inspired, healthy place.
Parking is always kind of a pain in Lower Greenville, but once you get that sorted out, your next challenge is getting into the restaurant. It's always packed! When I'm solo, though, I find that there's almost always a free stool at either the indoor bar or at the counter that spans the big front window (so half of it is inside and half is outside). Otherwise, your best bet is simply going onto Open Table a week or so before you want to eat (yes, even on weeknights) to reserve a table.
The menu is pretty simple: a section of appetizers, one of salads/soups, one of entrees, and then a selection of "bowls." The bowls are what I usually get: you can either pick from a pre-determined combo or make your own by picking a base, a protein, and a sauce. My favorite bases are the quinoa, shaved brussel sprouts, sauteed mushrooms, and curried cauliflower (though beware: the curry flavor is fairly pungent). On the sauce side, the almond romesco is pretty good, but the red wine demi glace is really fantastic. If I'm feeling indulgent, I'll go for steak (which is out-of-this-world flavorful); otherwise, I stick with chicken or turkey breast.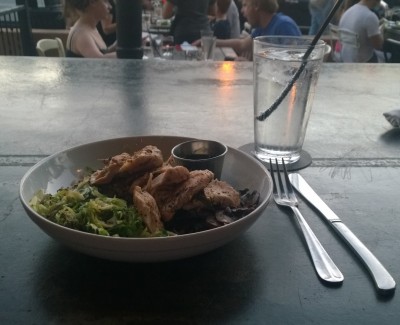 Other menu favorites include the bloody Mary Mexican shrimp cocktail (the sauce is more like salsa, and comes in a cute little mason jar), the ginger garlic hummus (comes with tons of veggies for dipping rather than just the standard pita bread), and the nachos. The nachos aren't exactly a healthy option, but they're healthier than most nachos in that they seem to be made with very fresh, local ingredients rather than Cheese Whiz and canned refried beans. I even think the tortilla chips are homemade! Well worth the indulgence.
And while we're talking about the not-so-Paleo options, I should also point out that HG Sply Co has a full bar with a great cocktail list. Don't miss the Double Under: beet-infused organic tequila with fresh lime and rosemary syrup. Yum!
Overall, I really love how HG Sply Co sources fantastic ingredients and prepares them really simply so that you can enjoy their full flavor. (Seriously, their food is some of the most flavorful I've found in Dallas… and that includes all the delicious barbecue spots.) Prices are really reasonable, especially given the high ingredient quality – most entrees are just $12-15. The only downsides are that service can be pretty slow, and as I mentioned before, it books up pretty fast and it can be really tough to get a table. But I guess I can't complain that HG Sply Co is a pretty popular spot; it really has something for everyone.
HG Sply Co is at 2008 Greenville Ave, Dallas, TX 75206. To make a reservation, visit Open Table or call 469.334.0896.