So, I'm pretty much madly in love with Colorado.
Last night I went to a fun event at Wonderland Brewery with a meetup group. Although I didn't love the Wonderland beers, the vibe was awesome – a huge garage (complete with sliding doors) with a huge bar, tons of tables/booths, half the room sectioned off for ping pong tables, and an outdoor patio. Plus, a food truck outside serving wood-fired pizza! Awesome. This reminded me of some of the hipster places in Brooklyn, and while I didn't go to the outer boroughs all that much when I lived in NYC, it was nice to have a little taste of home.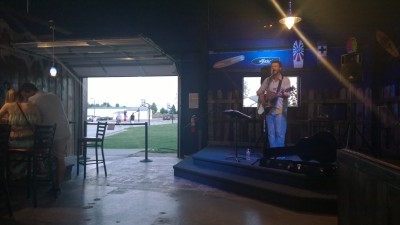 I had a blast meeting tons of new people at the event, but called it a bit of an early night – because this morning, I went hiking with my friend Mike!
Believe it or not, this was my very first time hiking in Colorado. I've wanted to get out to the trails, but been a little bit scared off, since I had no idea what my ability was. Plus, the prospect hiking just seems so daunting! There are so many supplies to bring, and it feels very much like everyone here "just knows" what they need. I was okay on the food/water front, but what else should I have in my pack?? I was really lucky that Mike came by my apartment to pick me up, because he was able to point out a few other things and check my supplies before we set off. (Also, since he had a pretty well-equipped pack, I was able to skip a lot of the basics – like a first aid kit – that I definitely need to get for next time.)
After browsing around TheCOHiker.com for a bit, we settled on a summit of Green Mountain. It was a 6.2 mile loop, which I figured would be more fun than an out-and-back. While the difficulty was marked as moderate-to-hard (and later I discovered it was just plain "hard" – not sure why I thought moderate!), it sounded doable. My biggest worry was that it would be technical, but it didn't sound like that would be the case.
So without further ado, we drove the fifteen minutes up to the trailhead (wow, so close), found parking, and headed up! We were probably very dumb in not bringing a map nor taking a picture of the map at the trailhead, but the route turned out to be reasonably well-trafficked, so we didn't really have many moments of getting lost. (I do realize that was dumb luck, though, and I need to find myself some sort of good "map of all Boulder/Denver trails" that I can keep in my pack. Suggestions, anyone?)
We accidentally went backwards, starting on the Amphitheater Trail, but we decided that was just fine. It was a loop anyway, so surely it wouldn't matter which way we went? The climb was pretty intense, though, and as I tried to chat with Mike, I realized just how much the altitude really does affect me. It was so hard to talk and breathe at the same time! I loved that I was getting a great workout in, though, and he was really nice about taking breaks and saying we could go as slowly as we needed to.
The first of the hike was really shady and nice (despite the steep incline), and within about 30 minutes, we reached this cool outcropping of rocks where we stopped for a rest break and to enjoy the view. At the time, I thought we were about halfway up, but in retrospect, I'd guess it was about a third of the way. Still, the views were stunning!
I loved the big flat boulder that we found to sit on, and it made me think that would be a great way to start some Friday mornings – heading up here at 6:30am or so, hiking up to this point for some exercise, enjoying breakfast from my perch on the rock, and then heading home to start work. I am so excited that I live in Colorado and can easily do things like this!!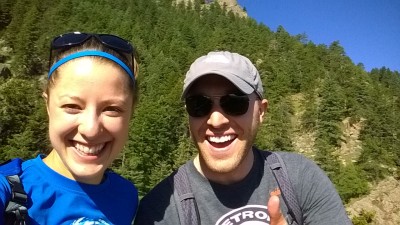 We kept heading up, and got to climb a ladder at one point, which I really liked. It was easier to climb the ladder than keep stepping up from rock to rock! (Though I know the ladder was actually there for the unfortunate reason that last year's flooding had made the trail otherwise impassable.) The Amphitheater Trail ended shortly after that, and we took the Saddle Rock Trail for a bit until we could connect to the E. M. Greenman trail that wound around the back of the mountain. Although most of this was still pretty covered by trees (hooray, since the sun is strong here), there were a few vantage points from which we had great views.
But one of my favorite view was actually in a completely covered part – where we saw a deer leaping around just 15 feet off the trail! I couldn't get my camera out fast enough for a close up pic, but I did snag a far away shot.
This part of the trail seemed to wind around and around on a lot of switchbacks, but Mike and I got wrapped up in a great conversation so I really didn't mind! Hiking is such a wonderful way to spend quality time with friends, and I love how you just get to talk and talk about anything and everything as you go. Since I was hiking in front of Mike (it wasn't a wide enough trail to really go two abreast, especially when we'd pass other hikers going a different speed or in the opposite direction), I had to get used to talking without looking at each other, but I got over that pretty fast and we ended up talking a lot about career goals, life goals, etc. Although we were still going uphill (and my calves were getting pretty tired), this was the point that was kind of like the 15 or so mile mark in a marathon – where you are somewhat tired but probably getting your runner's high and thinking  "I just want to run marathons ALL. THE. TIME." (Oh, just me?)
Finally, though, we reached the outcropping of rocks at the summit – and found a whole slew of hikers up there resting before the descent. It was definitely crowded, but that didn't make the views any less spectacular!
I wasn't really feeling hungry, but Mike warned me that it catches up on you pretty quickly when you're hiking, so we perched on the rocks for a bit to chow down on some protein bars and enjoy the view a bit. My Blend swag bag sure came in handy for supplying snacks! Last year I don't even think I ended up using all of them, but this year, I can see that hiking is going to require a lot of bars for fuel.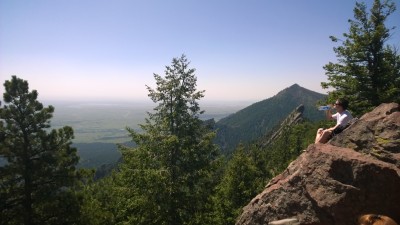 Before heading down, though, we climbed up the big boulder on top of the summit to get some pics off the back of the mountain – and these were awesome.
Oh, and for a behind-the-scenes story about that last shot? The boulder on top of the summit was pretty steep, and there was a big drop off on the back side of the mountain. So to get this shot, I was hugging the peak finder so as not to fall all the way down! See the next pic:
For the way down, we took the Greenman Trail to Gregory Canyon Trail – which is how most people go to start their day. We were glad we went the reverse, though, since Greenman Trail was a lot less steep than the way we had gone up. And I'd rather have the steep part on the ascent (when it gives you a workout) than on the descent (when you're terrified you're going to miss a step and knock your teeth out). The trail down was much faster than the way up (shocking, I know), so we ended up completing the 6.2 mile hike in about 4 hours. Not bad for 2700 feet of climb!
We immediately headed for REI in Boulder, to get our CORSAR cards and some other gear we had decided while hiking that we wanted for next time, and then went on to the Pearl Street Mall in Boulder for lunch. I was starving by that point, and easily tackled a big chicken burrito and some margaritas at Tahona. And people tell me that this is a typical Colorado Saturday and I can do it every single week if I want? I am all in, and just so happy I moved here!