This weekend, I managed to pack in a lot of fun stuff. I kicked off a long weekend by flying home a day early to volunteer at my office's take-your-kids-to-work-day. Wow, that has changed so much since I was a kid! I remember going to my mom's office in downtown Albany (she worked for the State of New York before she retired), doing a 30 minute tour of the office along with the other dozen or so kids who attended, and then either hanging out at her desk playing with office supplies, or sometimes, being put to work in the filing room. One year, I remember we all got to go to a different building to hear someone speak to all the kids who had come to visit across multiple departments – but that was about as structured as it got. Meanwhile, at my office's event this year, the kids were scheduled for a different activity every 30-60 minutes! It was a huge undertaking, and I was really impressed by our HR lead who organized the whole day. I think the kids learned a lot, especially since the jobs of accountant/auditor/consultant aren't very easy to explain to kids.
But one thing about the day was exactly the same as when I was a kid, and that was the most popular attraction in the office. Any bets on what it was? The soda machine! (Second place goes to the floor-to-ceiling white boards.) Our soda machine is free – just press the button and take whatever soda you want – and the kids had a field day with that one. I felt sorry for the parents who had to take their kids home filled with all that sugar 🙂
For my part, though, I headed from that event to another very different one – although just as fun. I had been invited to join a blogger tour and tasting of a factory just two minutes down the road from my house, and I was excited to do my own exploration of an industry I didn't know much about. 34 Degrees is an awesome small manufacturer that started as an import company, and eventually began making their own delicious crisps when that turned out to be their most popular product. The founder, Craig, was incredibly nice and down to earth, and he spoke really passionately about how he came to be in the cracker business rather than just importing products. When he introduced his kids, I loved when his son added, "my favorite flavor is… all of them!" I hadn't tried the crackers yet, but I already wanted to like them just because of how nice everyone there was 🙂
But we were kept in suspense for a little while longer before I actually got to taste the crisps. All of us bloggers suited up in lab coats and hairnets (stylish!) to head into the main room at the plant, where there were several lines running. In addition to getting to see a regular retailer order being produced, we also got to see a production line that was running a brand new test flavor – which meant that we got to see how exacting a science it is to produce these crisps. The crackers run on an assembly line, and in order for them to come out so super-duper thin, there are a lot of settings that have to get tweaked – the batter viscosity, the temperature of the ovens, the baking time, and the cooling time. The existing flavor of the crisps was running like clockwork, and the employees' speed with packing them up was seriously impressive. But on the line where the new flavor was being tested, some of the crackers were coming out bubbly and deformed, and Craig explained that the recipe/process were still getting tweaked to make this flavor perfect. I thought that was so interesting how just a few flavoring tweaks can affect production!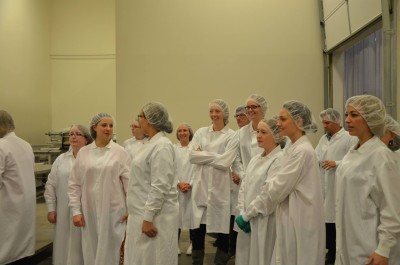 After the tour, we headed to a tasting room where 34 Degrees had brought in a fantastic chef as well as a cheese expert – actually, a CCP, or Certified Cheese Professional. (Darn it, I am in the wrong career path!) The two led us in a tasting of 34 Degrees crisps paired with cheese, fish, and meat, explaining how different 34 Degrees cracker flavors complement different toppings. So how did I like the crackers when I actually got to taste them? Well, Heidi can attest: when the first basket of crackers was passed around the table, I politely took just two crackers. But after I tasted how delicious they were, I showed no shame in grabbing a handful each time!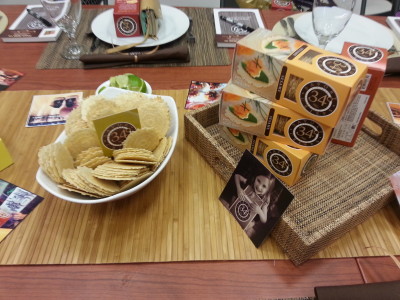 The crackers were incredibly light and thin, reminding me a little bit of Blue Diamond Nut Thins. However, these were even lighter in texture, and about the size of a water cracker rather than being bite-sized, so you could fit more onto them. (That said, when piled high with toppings, I discovered it was best to eat them in one bite. YUM.) I was really impressed by the consistency of the 34 Degrees crisps – they were slightly thinner and much lighter than a water cracker, but seemed just as sturdy, and managed to hold quite a good amount of toppings without breaking. Achieving this texture is no easy feat – when we tried the new flavor (which hadn't yet achieved quite the right consistency), it was much more fragile and breakable. But I have to admit that I actually kind of liked it that way, and told Craig so. It would be perfect crumbled on top of a salad instead of croutons. (So… can I have all the reject batches and put them to good use in this way?)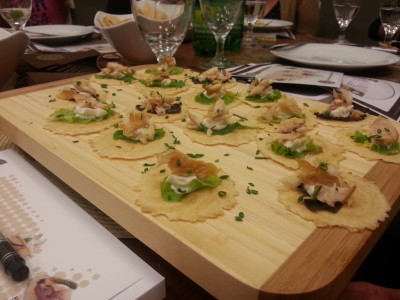 So speaking of the flavors – while I can't talk about the new ones yet, the existing ones were pretty darn delicious themselves. My two favorites were the cracked pepper and the rosemary, and I probably ate at least half a box while at the event. I didn't care as much for the plain flavors, though that changed when the head of marketing told us her favorite way to enjoy that kind: slathered with Nutella and topped with a slice of banana. Yes, please!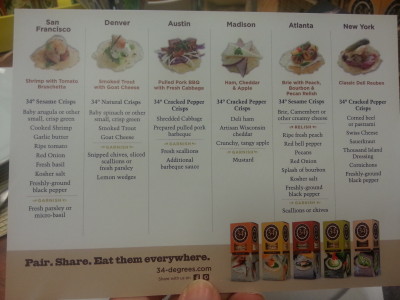 Giveaway!
I seriously love, love, loved these crackers – and so I was incredibly excited when 34 Degrees generously offered to allow me to host a giveaway so that one of you can enjoy them as well. To enter, you'll need to click through from your feed reader, and then use the Rafflecopter widget below. The contest will run through next Monday, May 5, and is open to all residents of the United States. You'll win a sampler pack of 34 Degrees crackers (and I want to hear back from the winner of what their favorite flavor is!), plus a cool 34 Degrees branded purse hook that is helpful when you're at a restaurant or a tasting like the one I went to.
Note: 34 Degrees hosted me for a tour and tasting event, and I definitely ate my weight in cheese and crackers there 🙂 They also gave me some product samples and a purse hook to take home, just like you'll be getting if you win. Otherwise, I received no compensation for this post. All opinions expressed in this review are my own. And if I'm taking the time/energy to mail some of these across the country to my mother, you know they've gotta be good!