Things have been a little rough around here lately… but, I have finally signed the lease on an apartment in Colorado, which is the start of me settling into a new life there. Hooray for that!
I took Thursday/Friday off work and flew out to Denver with a lot of questions still in my mind about where to live. I knew what my top pick for a suburban property was (a gorgeous Italian-inspired community in Broomfield), but I decided that I ought to at least check out a few places that were more urban.
I focused my search on the LoHi (Lower Highlands) area – it seemed reasonably close to nightlife, relatively young/trendy, but still with access to some pretty parks and trails along the Platte River. The unit was also brand-spanking new: I would have been the very first resident to live inside the walls for which I took a hard hat tour. Cool! And when I first saw the view from my potential bedroom window, I wavered – maybe this was the place for me?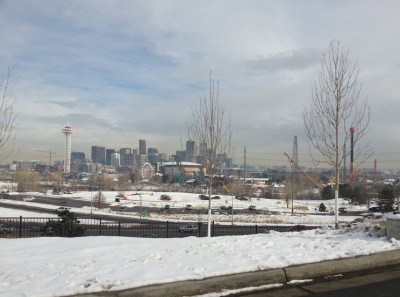 But while the apartment was gorgeous, when it came time to make a decision, it just didn't make sense for me. I would have been leasing a studio rather than a two bedroom (crazy price differences between suburbs and city!), I would have been next to Denver but far from Boulder, and ultimately, while the neighborhood was trendy, it was so not for me. Hey, there's a reason I lived on the Upper West Side in NYC and only visited neighborhoods like the Lower East Side or East Village! They are fun, hip areas, but that's not the kind of thing I personally look for / want in a home. When I really thought about it, I wanted lots of space for entertaining (instead of being forced to entertain outside the home like I did in NYC) and views of the mountains and nature. I wanted to get away from the concrete jungle, even if that meant sacrificing walkability, and I wanted peace/quiet all around my apartment.
What clinched it was when my friend Kelly's husband pointed out that if I moved to the suburb, I'd meet suburban friends and get into a very different routine than if I met city-dwelling friends and our lives revolved around the places in our local neighborhood. Even though I was considering living in the city now, I knew that it was not at all where I'd want to live in another year or so when I'll be buying a place – and that I might as well start adjusting to suburban life sooner rather than later. Besides, many Coloradans assured me that the Denver metroplex wasn't at all like New York City in terms of being snobby about those who don't live right in Manhattan, and that not only would I find plenty of people my own age in the Broomfield area, but that people were very willing to make plans all over the Metroplex rather than sticking to their own little areas.
So, I finally made the call, and signed a 15 month lease at the suburban property I've been eyeing ever since November when I first made the decision to move. My apartment is at the back of the property, overlooking a horse farm/pastures, and has a network of biking/running trails nearby that take me to my friend Caitlin's apartment a few miles away. It's still right on the park-and-ride line that has quick access to both downtown Denver and downtown Boulder – and I'm thrilled to be equidistant from both, since I have a sneaking suspicion I may prefer Boulder to Denver anyway.
Of course, this doesn't mean that I'm feeling more settled yet. Saturday morning, I flew back to Dallas – and I have to say that there's a lot to be said for the other D-city I call home as well.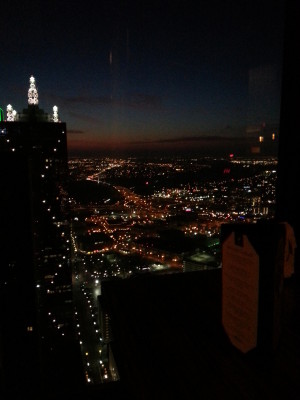 Right now, Dallas feels a lot more comfortable and homier than Denver does, even in the simple fact that I know my way around the roads and highways here. That feeling was further emphasized on Sunday when I went to Flywheel and found myself giving "hi I missed you!!!!" hugs to four different instructors I saw there. Apparently Cheers isn't the only place "where everybody knows (my) name"?
Since I'm not going to be in Denver again until I move, I don't expect that visitor-in-a-strange-place feeling there or my I-don't-belong-anywhere feeling here to change anytime soon, and that kind of sucks. (Yes, it's my own fault for doing it this way, but it still sucks and is way harder than I thought it would be when I made those plans.) Trying to stay positive, though, I'm hoping that the next six weeks will be a little bit easier knowing that there's a light at the end of the tunnel. Signing this lease is the first step to really settling down, and I'm happy to have at least made it this far.