Today was one of the most magical days of my life, and it's mostly due to all my incredible friends and family who supported me on such a beautiful day.
Of course a full race report is to come, but the short version is my legs are fine ("after all, they are mine" / I actually didn't listen to any Fun during the race; just the fun of the spectators!) while my face is insanely sore from smiling so hard all day. I can't possibly name all of the wonderful people who encouraged me, but know that your cheers, calls, texts, tweets, Facebook posts, and post-race toasts meant everything to me. Today I wasn't trying to run particularly fast (although I actually beat my time goal of sub-4); I just wanted to savor every moment and have fun. I did exactly that – this was one of the most amazing days of my life and I am so ridiculously happy right now.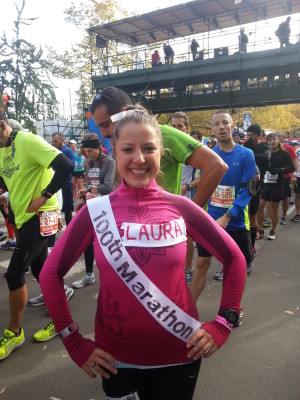 I have the day off from work tomorrow (I'm going to be working through next weekend, so the timing worked out well) and am super excited to be able to just hang out in my city after running all the way through it. But then Tuesday, I'm back to Dallas (and hey Dallas readers, come out and celebrate with me there on Tuesday night!) and then onto California on Friday to prep for a training course I'm facilitating next week. My travels won't stop anytime soon, and I suspect, neither will my running.
Thank you, thank you, thank you to everyone who helped me hit this major milestone. It's hard to believe that I went from training to run one mile to running well over 2600! But more than anything, I'm so grateful for the amazing, incredible, wonderful people to which marathon running has introduced me. You all rock.