I've seen a lot of bloggers do "Friday Favorites" where they post about their favorite products, but honestly, I'm not a huge "stuff" person. I'd much rather spend my money on traveling! However, I thought it could be neat to write about my favorite gear for traveling. Flying twice a week for the last few years has gotten me pretty attached to certain products.
It's really important to have a routine when you travel, and it can really mess you up when you break it – even if it's a new routine that you didn't . After traveling with a checked bag (not my norm) on three flights in Europe last spring, I went through the metal detectors at Madrid Barajas Airport and was pulled aside for various questioning. Meanwhile, unbeknownst to me, my now-carryon suitcase was pulled out to undergo inspection. Upon my return to the conveyor belts, I grabbed only what was still on the conveyor belt – leaving my suitcase behind! I got halfway through the airport before realizing and turning around, and luckily was able to get it back without incident. On that trip, I had been checking my bag for most flights (something I rarely do), but even doing it on just three flights had apparently gotten me used to not having a suitcase in hand – and so I left it behind. This is why I think it's so important to have a routine and standard set of stuff while traveling.
So what's part of my travel routine? Here we go…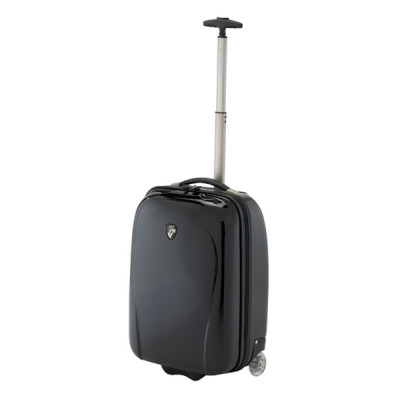 For my suitcase, I love the Heys X-Case 20″ Lightweight Carryon – which you can normally find on sale somewhere for about $80. I used to use a regular cloth Samsonite, but when that started to wear out, I looked into the lightest suitcase I could find at a reasonable price and came upon this model. I was a little worried about switching to a hard-side suitcase, since in the past I've liked being able to overstuff when I'm traveling for three weeks or more, but the hard sides allow you to actually pack your clothes more densely than an expandable case- without any worries about it fitting into the overhead. At 20″ x 14″ x 10″, it's fairly compact (and weighs only 5 pounds!) but it holds everything I need for trips of two weeks or shorter. It also comes in a lot of fun colors – though I stick with basic silver (my first one, which I've since passed on to my Dad) and black, since I don't want to be rolling into my client site with a turquoise suitcase 🙂 The only thing I don't like about it is that I occasionally wish it were a spinner – but those have the disadvantage of having the wheels protrude from the suitcase (reducing the size of the the "stuff" part of the bag) rather than being in line. Since this is pretty small and easy to maneuver anyway, I'll trade the spinner wheels for the extra packing room!
To pair with the suitcase, I recently got a new laptop backpack – and I absolutely adore it. I was looking for something relatively inexpensive to replace my favorite company-issued laptop backpack (from four years ago!), which provided good laptop padding but plenty of pockets and space. I landed on the Toshiba Extreme Backpack, which I scored on sale at BuyDig for $24 (including shipping), and I've been raving about it to my friends ever since. It has amazingly thick padding on the back that makes it very comfortable to wear no matter how full I pack it, and the padding has mesh ventilation on it so it also doesn't get too hot and sweaty if you're walking around for a while. Most importantly, though, it has room for a ton of stuff. I keep a ridiculously extensive collection of granola/protein bars in the front most pocket (you know, for when I have a chocolate craving to skip a meal because I'm running through the airport), my keys/office ID cards/chapstick in the tiny top pocket, my laptop in the back pocket, and still room for 4-5 hardcover books plus an extra laptop battery and various chargers in the main compartment. (I still read regular books instead of using an eReader because I do a ton of reading on planes between pushback and 10,000 feet, when you're not allowed to use electronic devices.)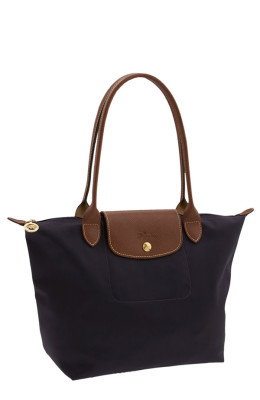 I usually also carry a purse while traveling, to hold my wallet/phone/chapstick/current book/pashmina for easy access, and I've been using the Longchamp Le Pliage for this. I bought it in black, which then goes with everything because the strap is brown, and I really like that it folds up to be pretty small if I get a stickler gate agent who doesn't want me bringing three things on the plane. (Yup, I totally know it's the rule, but I usually put my suitcase in the overhead, all the stuff out of my purse onto my lap, and then my purse into the backpack under the seat in front of me, so it's just convenient to keep the purse separate for faster settling in once I get to my seat.) Unfortunately, I don't like that the one mini-pocket inside can't be closed separately, since I frequently don't close the main compartment and don't want all the little stuff falling out. Plus, while the bag is totally versatile and can be dressed up or down, the Le Pliage is rather expensive – $125. I love the style of this one, but functionally, I still honestly want to keep looking for something a little better. (Dear Run Run Run: can you make purse-sized bags that aren't lined with insulation so my friends don't tease me for carrying a lunchbag? I loved those but they just did not approve!)
While we're talking fashion, I'd like to rave about the new Citizen Womens Eco-Drive Ciena Diamond Analog Stainless watch that I was recently gifted. I initially had a tough time choosing between the different Citizen watches (I love the one with the pink face!), but my friends assured me that this one was classic and would go with everything. I really like the slight diamond embellishments around the outside of the face, which make it look feminine but not too blinged-out, and the blue hands make it easy to read but still elegant. Most of all, though, I love the bracelet band and unique clasp. In the past, I've had "bangle bracelet" watches where you had to maneuver one end into the other to put it on; this watch has an "invisible double locking clasp" where you can very easily put it on and take it off singlehandedly (see this page for a good description of watch bands). I always need to know what time it is when I'm traveling, and since I usually like to sit in the first row of whichever cabin I'm in (where the flight attendant is doing her safety demo and can see every move I make), it's great to be able to check my wrist instead of surreptitiously trying to glance at my still-on-but-in-airplane-mode cell phone.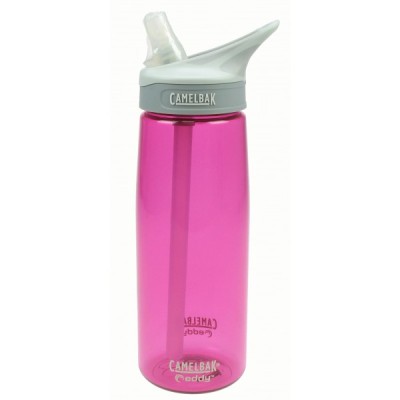 Finally, my favorite water bottle – I love the Camelbak Eddy, which comes in a variety of colors. (And here, I don't mind getting a little fun and jazzing it up with a fun raspberry color!) I always fill this inside the airport after going through security, so that I'm not stuck thirsty on the plane wondering when the flight attendants will come through offering a tiny cup of water. The 0.75 liter size is big enough to hold a pretty good amount of water, but small enough to still fit easily in my purse or in the cupholders of my car/my Flywheel bike. It's completely spillproof (as long as you've tightened the lid properly… a mistake I've made!), easy to fill (since it's a widemouth lid, even standard drinking fountains work well to get it almost completely full when you tip it), and I just find the "Big Bite" straw valve to be really comfy to sip on. I managed to get it on sale for $12, but even if you pay full-price, it comes with a lifetime guarantee, so I think it's well worth it.
What are your favorite items for traveling?
Disclaimer: Watchco provided me with a free watch in exchange for a link/mention on my blog, but all other items on this page were bought by me. All opinions expressed are my own and I was not pressured for a positive review.