Ever since I got injured in July, I've completely skipped my strength training. My physical therapist was giving me exercises with 1lb weights and I found them difficult, so how on earth could I get back to regular weight lifting?
But if I'm being really honest, that's more of an excuse than anything else. I had been skipping strength training for months – or at least, skipping free weight strength-only time at the gym in favor of workouts like Flywheel, CitySurf, and Physique 57 that incorporate strength but aren't solely the heavy weight/low rep approach that is best for building muscle.
But on Thursday, my orthopedic doctor gave me the all clear to get back to normal, and my physical therapist started transitioning me to only one visit per week + new exercises to try at home. (I'm going to conveniently ignore the fact that just eight hours later, I went to a Flywheel class and somehow strained my neck so badly that I couldn't even turn my head… because after using my at-home TENS unit to shock the muscles into submission, it had eased up considerably Friday, and was all better on Saturday.)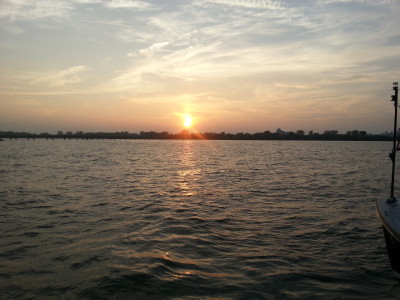 Before the pain hit Thursday night, though, my therapist and I discussed how even for the past month or so, there has only been one day where the pain was so bad that I had to go work from home so that I could lie down. Generally, "a tough day" for my neck has been a day where it hurts mildly, or feels tense and I know it will start to hurt if I don't baby it. (Thursday night being the exception that proves the rule, obviously.) With that baseline of "not terrible circumstances if we push it too far," my therapist and I mutually decided it was time to start really testing it to see what happens.
On Thursday at physical therapy, we did a lot more resistance exercises than usual. Tons of "bird dogs" with 1lb weights (ohhhh so hardcore), plenty of reverse flys (again with 1lb weights), and then we bumped it up to a whopping 6 lbs for reverse woodchops using a pulley. (Come to think of it, while those were all very light weights compared to what I used to use for weight lifting, the combination of all those exercises may have been to blame for why I was so sore on Thursday night.) Doing the exercises reminded me of how much I missed lifting… and so for the month of September, I'm getting back to it.
So, for anyone scared of dumbbells/free weights, I want to call this out: you do not have to use any kind of fancy gym equipment in order to do a focused resistance training workout. In fact, today my legs were burning like crazy from a bodyweight workout I did that really burned my legs yesterday! I source many of my resistance training workouts from Pinterest, and I actually have an entire Pinterest board dedicated to bodyweight workouts that can be done with no equipment at all. So many blogs are posting "pinnable" workouts that there are a million options to change it up each and every day – which is what I plan to do for the month of September.
But doesn't the body deserve a rest rather than working out every day? Absolutely. However, as long as you are doing body part/muscle specific workouts (e.g., "abs day", "back day", "chest day", "butt day", "arms day"), you can do resistance training every day while giving that body part a break. While I love Greatist's 30 minute bodyweight workout (in fact, I featured it in yesterday's Links I Love), this month I want to get a little more specific and pass on those full body workouts. Last week's Ben Greenfield podcast discussed how Hollywood celebrities get in shape so fast – namely, that they focus on one body part at a time and really tear it up before moving onto the next one. Full body workouts are certainly effective when you don't have a lot of time, but I'm afraid that I've been going so broad with my full body workouts that I'm not really working any muscles to fatigue – and am kind of half-assing it all over.
And so, I want to spend this month picking a different body part per day and maxing it out first thing in the morning. I've found that my friend Brit has some awesome workouts featured on her blog for this – and when I learned that she's training Blake all this month for a featured before-and-after, I decided it was as good a time as any to jump on the bandwagon and start getting back to my strength training. So yesterday? Brit's Labor Day workout killed my legs for the casual bike riding I did this morning… but that left my back free to do several sets of her back it up workout today. Tomorrow, I'm thinking I'll take it out on my biceps/triceps/shoulders before I hop on a plane to Dallas… perhaps even with a workout of my own.
I'm excited to see what Brit has in store for Blake this month, and even more excited that I'm getting back to something I've missed for a while. Now that Labor Day has come and gone, this weekend will be my first marathon of the fall season, and I'm excited to also kick off the fall by getting back to my other old and familiar routine of picking up heavy objects and putting them down again during the week. (On that note, I am also finally switching back from my dorky rolling laptop bag to my trusty old backpack… it will be so nice to only juggle one rolling bag on the plane again!) With fall marathon season starting in just a few days, I think it's especially important for me to get back to basics. Weight lifting is an integral part of any running training plan, and it's one that I've been really neglecting for a while.
Anyone out there want to join me in hitting the weight room and/or starting your day with some focused bodyweight exercises? And is anyone else out there a recovering Cardio Queen/King who only hits the elliptical/treadmill/open road? Let's do this together 🙂