I headed upstate to Albany on Friday afternoon, and was pleasantly surprised to find that the two hour bus ride was actually not terrible for my neck – as long as I stayed off the computer, that is. I spent most of the ride calling Dallas doctors and trying to find one who could fit me in early the next week, to no avail. (As I write this on Wednesday, I'm now so used to how impossible it is to get in with a doctor here in Dallas that it seems obvious, but at the time, I was shocked and so frustrated that I was at times brought to tears on the phone!) When I arrived, I set up a standing desk in my mom's kitchen, and spent a few hours trying to catch up on the work I had missed that week. So many emails to go through…
I got an incredible 11 hours of sleep on Friday night, and after a nice leisurely breakfast with my mom at Honest Weight Food Coop (an amazing natural-foods grocery in Albany that recently moved to gorgeous new facilities – check out this amazing savory breakfast pastry I sampled!), we headed over to Utica for the Boilermaker race expo. I was very honored to be speaking on an "Ask the Experts" Panel alongside running legends Bill Rodgers, Kathrine Switzer, and Roger Robinson!
I was honestly afraid going into it that I wouldn't have much to say and that I'd just hang back and defer to the greats, but I came to realize that we actually have very different niches. I have never been fast, and never won first place in any race (whereas Kathrine won the NYC Marathon and Bill won both NYC and Boston!), but there are many people just like who run races – who aren't "in it to win it" but are in it to prove to themselves that they can do the distance, or to beat their own best time from a previous year. Race strategies can be very different for middle-of-the-packers than for winners, and I had several people come up to me afterward and say just how much they enjoyed my answers and approach.
In general, I tried to focus on mental tricks to push through when you're having a rough day – like picking a different special person in your life for each mile, and then thinking of them if that mile got tough. That strategy helped me a lot for my first marathon in Vermont. Actually, I created a playlist of songs that my friends and family had sent in, so I could get a musical boost from hearing their songs – it reminded me how many people were along for the ride! 🙂
But after the race, I couldn't chat too long – my mom and I were both off to a wedding. I had known my friend Brendan since we were cast as Cratchitt children in our local professional theater's production of A Christmas Carol when I was in 6th grade. We were pulled out of school for some of the time, and I still remember how Brendan and I drove our tutors nuts with pranks like sticking half-and-half creamers (the brand was Mini Moos, which somehow made it even better) under the legs of the chairs in the theater's cafe where we studied – so when someone sat on a doctored chair, the cream would squirt everywhere and we would cackle in delight! Brendan and I did many community shows together after that, including some original musicals, so it was incredibly perfect that Brendan and his new husband decided to have their wedding reception at one of the community theaters where we used to perform – and the reception took place in the form of a cabaret!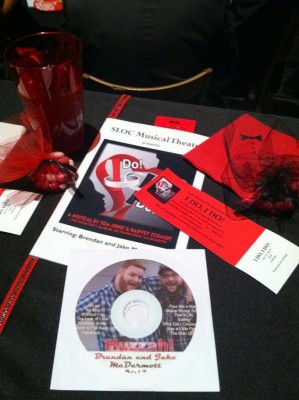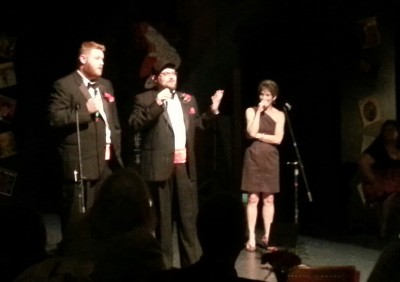 Brendan asked some guests to prepare songs/performances, and while I didn't prepare in advance, Brendan dragged up our foursome of women who had done so many shows together – Nellie Bly, American Dream, Working, to name a few. Peter Tyger, the writer of American Dream, had nicknamed us the "Dream Team", and it was so special to be back with the "team" again!
Whether I ran well the next day or not, I didn't care – celebrating with my all my old friends with the singing and dancing we love was SO worth it!