One of the perks of attending Wanderlust's Yoga in the City a few weeks ago was getting to try a lot of great healthy vendors at the booths next to the "yoga meadow." I was pretty impressed with the lineup – while I've been to some "healthy living" events that have vendors I would consider to be low-cal or low-fat but not necessarily healthy, I thought the Yoga in the City crew did a great job lining up a lot of vendors that I really loved and whose products I could see myself purchasing. One of those vendors was LYFE Kitchen, a fabulous restaurant-turned-frozen-meals company.
I have always found frozen meals to be a bit of a tradeoff – they're fine in a pinch, but they're not usually all that tasty, and they're often incredibly high in sodium. Furthermore, the portion sizes definitely aren't satisfying. Prepared meals are often a lifesaver for me when I'm only home a few days a week and don't want to buy tons of fresh ingredients that will spoil when I don't use them up, but I usually "bulk them out" by mixing frozen veggies in. Thus far, my favorite brand of prepared meals is Tasty Bite, which makes super-saucy Indian entrees that are shelf stable – I have about a dozen of them in my pantry. But I think LYFE Kitchen may be a new contender to fill a different niche…
LYFE stands for "Love Your Food Everyday", and LYFE Kitchen was founded by celebrity chef Art Smith, whose restaurants I adore. My mouth still waters when I think back to an amazing business dinner at Table Fifty Two in Chicago, which is said to be one of President Obama's favorite restaurants! Most chefs eschew food that's anything other than completely fresh, so I was really intrigued to see how such a renowned chef would handle convenience food. Surprise – frozen dinners don't have to be bland, salty, or bad for you! It turns out that with the motivation to avoid those traits, you actually can make a tasty and healthy frozen meal. I was so intrigued by this delicious new brand that I proactively reached out to LYFE to see if I could feature them on my blog.
Their PR agency was wonderful, offering me not just a few meals to try, but also an interview with chef John Mitchell, who is the VP of Product Development. (Note: LYFE Kitchen actually has a whole team of chefs, including one who was specifically consulted to help with the vegan options!) Since I have been traveling quite a bit lately, I had the meals sent to my office in Dallas, where they've been easy heat-and-eat options when my day is jam-packed with meetings. I've actually had a few coworkers asked where I got such yummy-looking food (surely not the cafeteria!), since they look pretty much homemade once I've heated and plated them.
All of the LYFE Kitchen entrees come in paper bags (based on the classic en papillote French cooking technique) that made me feel good about putting them in the microwave, whereas the plastic trays of other frozen meals tend to make me worry about chemicals leaching into my food. (See, mom, your hippie ways have rubbed off!) I followed the directions to wait 60 seconds after heating to open the pouch, and was pleasantly surprised to find that by doing so, I actually didn't get steam burned when I opened them. (Also: while the directions say to use scissors to open, I did fine just carefully ripping the bag at the top seam.) Meanwhile, I was really impressed that when I followed the directions to "slide the meal gently out of the bag and onto your plate," it always resulted in a beautifully composed plate that looked like someone had plated it, rather than a mishmash of ingredients like my other favorite heat-and-eat TastyBite meals. A stew-like consistency is perfectly fine for Indian, but for this type of American cuisine, I liked that it came out looking very elegant. You know how most frozen meals (or any convenience foods for that matter) look nothing like the pictures on the box? Without any help from me, this one looked like a food stylist had plated it!
My first LYFE Kitchen meal was the steel cut oatmeal with quinoa and fruit. I normally would just make my own oatmeal with water (my latest trick is adding chia seeds and ground flax to regular oatmeal to make it heartier and taste more like steel cut oats), but the LYFE Kitchen option was so packed with yummy stuff that I could see making the switch to pre-made/frozen. In addition to the quinoa mentioned in the dish name, the oatmeal has peaches, apples, pineapples, cinnamon, and coconut almond topping – delicious! The dish was really chewy and very filling, which was pretty impressive for the scant 270 calories it contained.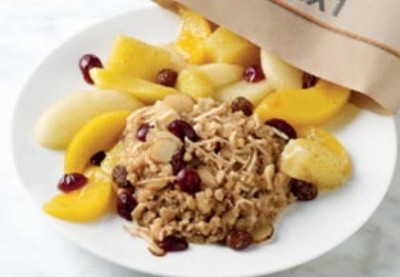 For lunch/dinner entrees, I got to try the orange mango chicken and chicken chile verde. Although both were chicken dishes, they were very different. The chicken chile verde was paired with creamy polenta and black beans, while the orange mango chicken was with veggies (kale and broccoli) and an incredible brown rice/quinoa/farro blend that had a lot of bite to it. (Seriously impressive to achieve that home-cooked texture in a frozen meal – they're usually so mushy!) The orange mango chicken was fairly sweet (but only had 16g of sugar in the entire entree), while the chicken chile verde was super smoky (in a good way). But what surprised me most about these meals was that while they were both salty enough to satisfy my usual midday craving for something savory, they each only had 20% and 12% of my RDA for sodium, respectively. That's incredible, compared to the usual 50% RDA sodium levels in most prepared meals! This was one of the topics I was most excited to discuss with Chef John in my interview.
What kind of challenges did you face translating food from fresh-cooked to grocery-ready?
The main challenge I faced translating food from fresh-cooked to grocery-ready was finding a manufacturer to do this with. Ultimately, we were looking for a culinary partner with the experience and technological capabilities to make it work. We went with Provita, an Illinois-based food manufacturer.
That's interesting to hear that finding a partner was so tough! Why do you think this concept (healthy / inexpensive / low sodium) has been so hard for other manufacturers to achieve?
I think this concept has been so hard for others to achieve simply because no other company has ever made a conscious effort to deliver high-quality, tasty food in the frozen category. LYFE Kitchen's goal is to shift the paradigm in the frozen food category – that frozen food can be good for you – and really exceed our consumers' expectations.
How did you address the challenges of sourcing, packaging, and recipes?
I addressed the challenges of sourcing, packaging, recipe-building, etc. by tapping a network of resources from my time working at Whole Foods. In the end, I was looking for the right packaging, products and recipes that would meet the quality of standards that is what LYFE Kitchen stands for today.
Whole Foods is known for their high standards – no wonder LYFE Kitchen is so great! What inspired you to create these particular recipes? Were there any dishes you wanted to include in the line that proved particularly challenging or just didn't work?
My inspiration came from the foods that I like, and others like, to eat. We didn't want to reinvent the wheel here. We just wanted to recreate flavors and recipes we all love, in a new way. A challenge dish would be Macaroni & Cheese. Since LYFE Kitchen does not use any butters or creams in our recipes, it has proven challenging, but we're still trying to create it!
Wow, I am so excited to try that one when you finally make it work! What's your personal favorite LYFE Kitchen meal?
My favorite meal is LYFE Kitchen's Chicken Chile Verde. And while we're on it, my favorite LYFE Kitchen dessert is the Fudge Greek Yogurt Bars.
Greek yogurt and chocolate? Sold! I am all about balancing health with treats, and that sounds like just the right balance. So for one final quesiton before we wrap up: what are your top three tips for healthy, happy living?
My top three tips for healthy, happy living are simple: Eat balanced meals, exercise regularly, and get a good night's sleep. Too often, these three pillars are overlooked and they truly are the most important.
Thank you to John for that great insight about the line! I was especially excited to hear that LYFE Kitchen seems to be a perfect example of one of my favorite quotes: "If you can dream it, you can do it." (Walt Disney) LYFE Kitchen seems to have found a way to offer healthy, affordable heat-and-eat meals, and it seems to me that if consumers realize that it's possible and start demanding it of manufacturers, perhaps more will shift over to similar principles. I think it's so great that the chefs at LYFE Kitchen are working so hard to remake typically unhealthy meals like macaroni and cheese, and I am so impressed that their ingredients list is all-natural  and that I recognize every single thing on its. While I think most professional chefs would sneer at the idea of frozen meals (see: the looks on Top Chef cheftestants' faces when they have do something like an airline food challenge), the quality of these meals is so high that I could see total foodies picking them up and loving them.
I know that some of my friends have tried LYFE Kitchen before: Theodora got to go to an event in NYC to taste the grocery meals, while Julie went directly to the LYFE Kitchen restaurant in Cali! But what about the rest of you – have you seen them on shelves (click here for a map of "where to buy" in your area), and would you give them a try? Honestly, I am just so impressed that LYFE Kitchen has found a way to do what so many other manufacturers haven't by making meals that are tasty, healthy, and affordable, and I'm hoping this is the beginning of a big change in the convenience foods industry. While "Love Your Food Everyday" might sound like a total cliche, I will definitely vouch for the fact that I would be more than happy to eat these every day – and I think my body would do quite well on that regimen.
---
Note: LYFE Kitchen provided me with product samples for testing, but I received no other compensation for this review, nor was I pressured to write a positive review. (In fact, I asked them if I could write about them because I loved them so much!) All opinions expressed in this review are my own.