Want to stay in bed longer? Here's what I've been loving, laughing, and getting intrigued by all week long. Now cozy up with your laptop/iPad and enjoy 🙂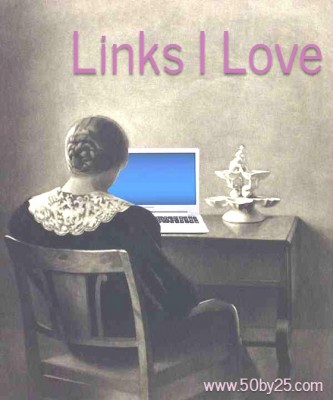 CAREER
In today's age of oversharing, more people need this flowchart: What should you post on Facebook?
Five things you can stop worrying about when you worry about getting a job. Fascinating insight into current employment trends.
What should you do with your life? Ah, if only it were as easy as reading one article and having an "aha" moment…. but this step by step guide is pretty darn good.
Really interesting story from both sides – I've run into this problem before with guys I'm dating and it's always a challenge how much to disclose! I Make Less Than My Wife': How 3 Real Men Feel About It.
Could Getting Ahead at Work Cost You at Home? Of course it can, but I think that's as it should be. It's unfair to expect to have it all; it's more important to make conscious choices about what's most important to you.
My daughter thinks she can't be president? The end of this is amazing, and I think is a great example of how sometimes the reasoning in our heads for something is not always what people expect.
PRODUCTIVITY/SOCIAL PSYCHOLOGY
I Failed is all about recognizing your faults, owning them, and moving forward. Love it!
How to easily increase willpower and improve self-control. This one has some really amazing tips!
The origin of the 8 hour work day and why we should rethink it. Robert Owen is my new hero – can we bring back his campaign?
This next one includes an app you can download to get the benefits anywhere, but I'm not sure I'm sold. How the Hum of a Coffee Shop Can Boost Creativity.
Pictures: 25 Motivational Quotes to Jump Start Your Week!
HEALTH/FITNESS
I love this image because it's how I started running! Thanks to my Yumilicious partner-in-crime Blake for passing it along.
Showing off or actually impressive skill? The New Fitness Power Move.
"SoulCycle for Homeless People" classes being taught at CitiBike docking stations. The title is rather offensive but the concept is cool – fitness should be free!
I actually really like "fitspo" but found this fascinating and I can certainly see the argument: 5 Reasons Photos of Hot Women and Catchy Slogans Are Ruining The World.
Floss Your Way Fit? I set a New Year's resolution in 2011 to floss daily, and have kept it up since, so that puts me right on track.
I love interval workouts and being as efficient as possible, so these two definitely caught my eye: The Rise of the Minimalist Workout, and Has Interval Training Made Exercise Just About Efficiency?
Something most of us don't consider, but should: Breathing Techniques When Lifting Weights.
I once fell off a treadmill – we've all been here before! Funniest Fitness Fails.
On a more serious note: Why is Healthy Food Such a Joke?
I'm all about variety,  so I thought this was a fantastic idea: Cross-Train Your Diet. It's all about balance!
Traveling for business and want to stay in shape? Under30CEO put out a great shortlist of Easy Tips to Keep Up Your Health Routine While on the Road, while PFITblog did an in-depth guide to exactly what you need to do to exercise on the go.
I've become addicted to foam rolling to help with the aches and pains of travel and working out; anyone tried these balls for deep tissue work? They look amazing!
TRAVEL
Irrational anger pointed at FAA's electronics ban might be displaced – maybe we should just get off our damn phones? I tend to agree with this one – the period of "no electronics" is always when I catch up on books.
But whether I agree or not doesn't matter; this may be changing anyway. Expert Panel to Tell FAA That Leaving Electronic Devices On is OK!
Apparently just traveling is no longer enough to set yourself apart: the rise of the big, unnecessary, crazy, travel adventure. But I think it's a good thing that everyone is recognizing the value of seeing the world?
11 Things We No Longer See on Airplanes sparked a really interesting Twitter discussion about additions – like "legroom" and "travelers behaving like humans." I blame falling ticket prices (relative to the rate of inflation) and people thinking air travel is a right rather than a privilege.
Hotel trends: Holiday Inn Express and Marriott Eye the Younger Traveler. I think we're going to see a lot more of this as business travel continues to evolve.
Eating In, Maybe With Carryout. Yes, yes, yes! For my long-term business travels, I've used Seamless in Boston, GrubHub in Dallas, and CampusFood in Charlottesville. It would be great if this became enough of a trend that there was one site with nationwide coverage – or perhaps the hotels themselves could even come up with an app to make it even more seamless?
The Shortcut to Getting Elite Frequent-Flier Perks. What this article fails to mention is that most status matches are "one per customer per lifetime" – so if you get AA to match you now, then have UA match you next year, you likely wouldn't be able to get AA to match back later. (Or maybe I'm just not elite enough?) Claim your matches carefully!
MISCELLANY
Riveting must-read: The Story of the Boston Marathon Attack.
This one isn't 100% suitable for work, but it's surprisingly not raunchy; instead, it's intellectual and fascinating. Deep Inside – A Study of 10,000 Porn Stars.
For a cool quick look: Single photograph looks like 4 individual photographs.
Last weekend, I went to a wedding solo. Apparently, the correct (and more hilarious answer) would have been to find a random guy on Craigslist! – This Wedding Season, Say Yes to Strangers: What I Learned From My Craigslist Date.
Wish I had read this before the picture taking extravaganza last weekend: 7 Ways To Look Better In Photos.
Guest Photographers or: Why You Should Have an Unplugged Wedding. I kind of disagree with this one, as my friends' wedding app showed that all the "guest photographers" got some really great shots. I just hope I wasn't one of the annoying people getting in the official photographers' way!
And finally, an interesting infographic: Corporate Map of the USA.
---
Like this post? Want more fun articles in real time? Follow me on Twitter or become a Facebook fan to get similar stories all week long.