Want to stay in bed longer? Here's what I've been loving, laughing, and getting intrigued by all week long. Now cozy up with your laptop/iPad and enjoy 🙂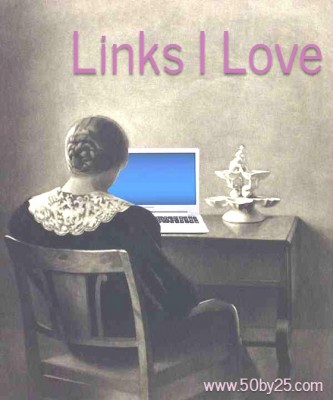 15 Tips for Standup Workstation Users, from Mark's Daily Apple. I have a pass-through kitchen and so have tried putting my laptop on the counter and not sitting down when I'm working from home… but my bed is just so much cozier! After reading these tips, though, I might have to take up the practice again.
All the jokes about bloggers taking pics with their hands on their hips for pics? Well, the NYT says it's a powerful stance that can be reassuring and authoritative. Who's laughing now?
Last week I published a request for my mom to be my matchmaker. This week, I'd like to implore her to find me a guy who travels. Who doesn't want to explore the world with their soulmate?
When the NYT published The Scientific 7-Minute Workout, I was skeptical and intrigued at the same time. Just a day later, though, Greatist came through for me – two of my friends there tried it and found it to be a great short circuit that can be done anywhere. I've added it to my No Equipment Workouts board on Pinterest, and can definitely see myself doing it when I've had a long day but still want to get a little sweaty before bed. (And while we're talking about that board, I also added Greatist's 30 Minute Advanced No-Gym Bodyweight Workout – perfect for taking it to the next level!)
Could you go a year without internet? I know there's no way I could (um, I even use it to plan my workouts!), but this guy did and had some interesting insights as a result. Not what you'd expect! (For a more balanced approach, try Dan's tip to cut back to 30 minutes of internet a day.)
Shutting out the noise of Twitter and Facebook can be important at times, though, and I really liked this article on 8 Ways to Zoom In to Get Your Most Important Work Done.
If you don't already have business cards, I implore you to copy one of these awesome unconventional business card designs. (I kind of want to change careers to photographer or baker just to be able to use those cool options.)
The debate about whether or not to set (or share) your goals may rage on, but ten research-based steps to a happier life found that people who set goals are happier since they live with a sense of meaning/purpose. "Progressing toward goals not only gives a purpose to life as a whole but also provides a structure and meaning to daily routines, strengthens social relationships, and helps us weather hard times."
Meanwhile, the Daily Nation claims that the secret to happiness is basically just a mindset. Interesting tips here too.
On the feel good front, I loved this post by Sarah over at Yes and Yes: Things We Don't Say Enough (And When to Say Them). Dear friends, I love you and am so grateful for you. (Yes, dear readers, I include you in that!)
Need a giggle? I've read this story more than once and can't help laughing out loud every time: Hilarious Yoga Mat For Sale Ad on Craigslist.
Do you drop pleasantries like "please" and "sorry" into conversation when you don't really mean them? I thought this perspective on language, honesty, and etiquette was neat. I definitely fall into the camp of being afraid to say what I really want at times!
Finally, this podcast episode featuring Merlin Mann is one of the best and most thought-provoking I've heard in a while. I loved his defintiion of productivity ("regardless of what's expected or asked, remaining mindful of what you want to accomplish"), as well as the innovative ways to look at a to-do list. I'll be writing a post inspired by this soon, but would highly recommend you listen to it in the meantime – it's really priceless.
Like this post? Want more fun articles in real time? Follow me on Twitter or become a Facebook fan to get similar stories all week long.