I knew the race was not going to go well:
-When it was 30 degrees out and we were shivering at the start.
-When I got my first and only runners high a few minutes after getting to the start, while listening to the pre-race music.
-When I was absolutely exhausted and feeling like I was at mile 22… but it was only mile 2.
-When I didn't have the energy to thank the volunteers or even ask "water or Gatorade?"… at mile 6.
-When I watched the 4:00 pace group pass me just after the halfway point, and I thought, "there goes my goal. There goes my job. Oh well." And proceeded to take a walk break.
-Oh, and the big one? When I actually fell asleep while running around mile 16.
After that, I did a combination of walking and running (running very little because after about 30 seconds of running I felt like I would die – not because of my muscles but because I didn't have the breath to keep going). I could barely keep my eyes open even though I was blasting my peppiest wake up music on my iPod. I contemplated taking a power nap on the course and asking a spectator to wake me up, but I realized that if I did that, they'd probably cart me off to the medical tent and wouldn't let me finish. And I did finish: 4:32.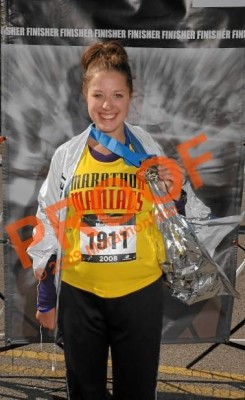 My flight isn't till 5 PM CST, so I was going to go explore Tulsa, but I think I'm skipping that in favor of going directly to the airport and falling asleep at my gate. Tomorrow, I am going to the doctor to see if I have mono or what the heck is wrong. So yeah, I'm still depressed, and for once, running a marathon didn't improve my mood. In fact, it made me feel like even more of a failure.
Ugh.