I wrote about my French Alps party menu for my birthday party in the mountains, which was a blast. The following Saturday, I was thrilled to host a big group of friends for a tiki-themed party at my house in Superior!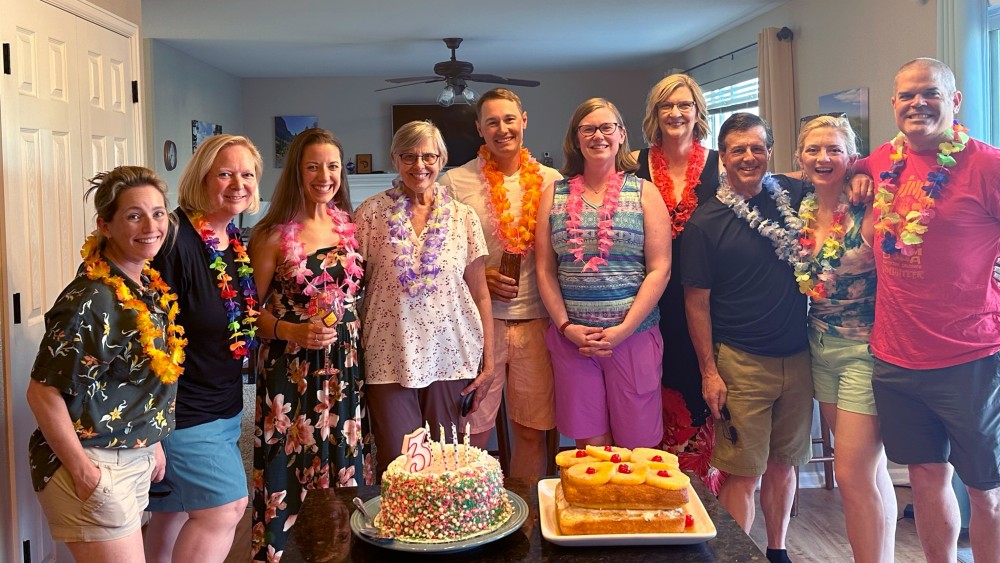 The tiki theme was one I had used before, but both times I've picked this as my birthday party theme, it's stemmed from me wanting tropical frozen drinks and Chinese food. I love both, and right I can't remember the last time I had a frozen drink, so it's a fun birthday treat to have them, even if they're not so healthy 🙃
My menu for this party was pretty simple – a lot of it was stuff I made the last time I had a tiki party, and most of the rest was storebought. I picked up egg rolls and chicken dumplings at Costco to serve as appetizers, and then also had chips and pineapple salsa in case that wasn't enough. (Turns out, I had way more food than I needed after some last minute cancellations and no-shows, but chips and salsa are an easy thing to put out even if they're mostly off-theme… I figured the pineapple salsa at least kept me in the realm of tiki!)
As far as dinner, my veggie side was this Hawaiian-style sesame cabbage salad, for which I made the dressing and shredded all the cabbage and green onions in the morning. When it was time to eat, I just dumped the noodles on top (so they'd still be crunchy), put a dish of chopped cilantro on the side (my friend Elisabeth is allergic to cilantro, and I also know a lot of people don't like it), and served the dressing on the side so people could put however much they wanted on their salad. Pretty easy!
Next, I made a massive crock pot of this slow cooker fried rice, which is my absolute favorite fried rice recipe. I always struggle to make restaurant-quality fried rice on the stove, and have wondered in the past if it's something about me not using stale enough rice to start. But this recipe starts with fresh rice and comes out absolutely perfect in both flavor and texture. Highly recommend this rice!
And to go atop the fried rice, I made this slow cooker pineapple chicken. I didn't remember that I had broken my second crockpot at some point in the last year, so I was forced to make this in my Instapot instead, but that worked out just fine (even though I normally find it hit or miss to slow cook in the Instapot). This recipe got a lot of rave reviews from my friends, but I thought it ended up a little bit gloopy this time. It was pretty good, but not my absolute favorite. (Or maybe that's just because I doubled the recipe and made so much I had to eat the leftovers for days afterward!)
Desserts were where I got a little bit lazy. I bought a storebought "unicorn cake" I keep seeing at the grocery but have never had an excuse to buy… it was pretty looking, but otherwise your standard grocery store bakery cake. I also grabbed a gallon of watermelon sherbet, which was my favorite flavor of ice cream at Friendly's as a kid, and generally pretty hard to find. Unfortunately, the Kroger watermelon sherbet has chocolate chips in it… and while I like chocolate, it felt a bit unnecessary here. However, the piece de resistance was a homemade pineapple upside cake that my friend / colleague Delaina brought – YUM! It was absolutely fabulous, and I need to get the recipe from her (will post it if I do).
Thank you so much to all my amazing friends and family for coming to celebrate with me – it was a wonderful afternoon / evening!