I read seven books in May, putting me at 32 books for the year, which is nine behind my goal to stay on track for 100 books this year. I need to get back on track with two books a week! I was doing pretty well until I got bogged down with a novel at the end of the month that I couldn't really get into. But, I do have an incredible five star read to share…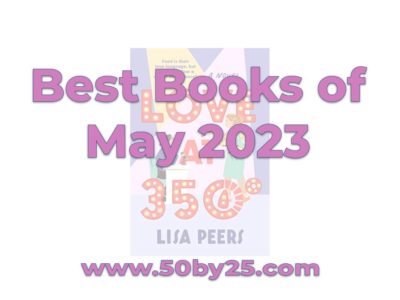 5 stars:
Love at 350°, by Lisa Peers: Tori is a chemistry teacher in her 40s who's famous for her class on baking, which demonstrates the practical applications of chemistry. At the urging of her twin teenagers, who are about to go to college, she auditions for "American Bake-o-Rama" (a fictional Great British Baking Show). Tori hopes that if she wins, she can use the money to quit teaching and open her own bakery. But on set, she starts getting distracted by her crush on the notoriously ruthless celebrity judge Kendra, who also has a lot of hopes riding on the show. Kendra's new restaurant is failing financially, and she has to do an awesome job as a judge to pay the bills. There is (obviously) a romance between the two, which both women are scared to explore, but it's a very slow burn, and the plot focuses much more on the competition than the romance. It was really cool to see behind of the scenes of a TV baking competition, and it gave me a lot of insight into GBBO – I ended up diving in and watching that right after reading, and it really enriched the experience! I also really appreciated that the writing was smart and realistic; both women were appropriately cautious with the relationship, and it felt like something that would actually happen. Highly, highly recommend this if you're looking for a lighter romance and are a cooking show fan – it earned a rare 5 stars from me!
4 stars:
The Wife App, by Carolyn Mackler: What a fun, yet insightful, novel! Three divorced best friends team up to create a Taskrabbit-like app with a twist. They call it "The Wife App", and encourage spouses to subscribe and dump their "Mental Load" into the app: from birthday party preparations, to school application forms, to gift shopping. While it's a practical use case, the friends have lofty dreams of the successful app highlighting all the free labor women are always doing unnoticed by their families. It was fun to see behind the scenes of a startup to create a consumer app, but the plot also followed the women's personal lives, with a fast pace and some fun snappy humor. The women are all very different – a tech genius, a teacher, and a trust fund baby – and I liked some more than others, but they all held my attention, and this wasn't one of those multiple POV books where I'm just skimming through hoping to get back to my favorite character's plotline soon. Overall, I really enjoyed this book.
Friends Don't Fall in Love, by Erin Hahn: Lorelai Jones was a rising country superstar when she played a political protest song at a concert – and the entire music industry, plus her crappy fiance (also a rising country star), blacklisted her. Five years later, she decides she wants to make a comeback, and she calls up the one person who stuck by her, her friend (and ex-fiance's former bandmate) Craig. Turns out Craig has had a crush on Lorelai for years, but he tries to put that aside to help her with her career. This is a sweet romance that has a good chunk of realism to it, and it's told from both Lorelai and Craig's perspectives, which keeps things moving quickly. I really liked the behind the scenes of country music, even if there were a few far-fetched plot points, and it was interesting to see what it takes to succeed in the music industry.
Love Interest, by Clare Gilmore: Casey is a 24 year old financial analyst who wants a sexy role project managing a new division of the company… but even though she was told she was a shoo in, it instead goes to the board chairman's son, Alex. Although he seems equally qualified, Casey hates him on principle, and I found the initial enemies part of this trope annoying. However, they soon put their differences aside and team up… both at work and also in a romance that builds slowly and realistically. Some of the workplace drama felt a little bit fake (the problems Casey and Alex were trying to solve felt like they would be well above the paygrade of 24 year olds, whether rockstars or not), but overall, I really enjoyed this debut novel.
What the Neighbors Saw, by Melissa Adelman: Alexis is thrilled when she and her husband can buy the worst house in the best neighborhood in DC – they plan to fix it up so it's appropriate for Sam to entertain colleagues and clients as he's on the cusp of making partner at his law firm. (Alexis, on the other hand, scaled back on her own path to partner at a consulting firm in order to have / raise kids.) But right after they move in, a neighbor is murdered on the neighborhood trails. Out of morbid curiosity, Alexis befriends his widow, Blair, and she soon gets drawn into all the domestic drama of the neighborhood; the book is told from both Alexis and Blair's perspectives. I found Alexis kind of annoying at times, but the plot was fast-paced and definitely suspenseful, and it kept me guessing until the end. Definitely a page-turning read!
3 stars:
Something Major: The New Playbook for Women at Work, by Randi Braun: This is supposed to be "the new playbook for women at work", but unfortunately, I didn't find it to be that new or exciting. Maybe it's just because I already read a lot in this genre ("Lean In", "Confidence Code", "Corporate Rehab"), but this felt like it was trying to repackage a lot of other works without having its own perspective. The author is an executive coach, and opens with a joke comparing work burnout to sex, but the humor in this instance and others fell flat for me, and felt forced and contrived. (The constant references to movies like "Mean Girls" and "Legally Blonde", or jokes about purses, felt downright demeaning.) As I got deeper into the book, i started to realize that there were very few personal stories, and instead, the author focused on repeating stories about celebrities that she clearly hadn't interviewed herself but was just repeating from other books / articles – not the depth of insight I was looking for. And maybe it was just because the book didn't hold my interest enough to read it all in one sitting, but it really lacked cohesion – it was lots of little bits of other people's research dumped into one book, with no throughline or actual framework. I was so excited about this book, but it just didn't live up to its initial promise; I would only recommend it very junior women who don't yet have any experience in the workplace.
The Predictable Heartbreaks of Imogen Finch, by Jacqueline Firkins: Imogen lives in a very small town where everyone knows everyone… and they all know that she just went through a breakup. So they also all watch with interest when Imogen's high school best friend and secret crush, Eliot, comes back to town. Imogen's mom is a psychic who predicts that she will never come first in anything or to anyone, so Imogen wasn't too shaken up by the breakup at the beginning of the story… but can she finally break the curse and maybe come first to Eliot? I found this novel really slow and hard to get through, since I wasn't eager to pick it up and keep reading. It felt much longer than it needed to be, and Imogen was kind of a doormat and hard to root for. Overall, this was fine, but not my favorite.
---
Any book recommendations for me? Follow me here on Goodreads to keep up with what I'm reading in real time.